The Toronto Maple Leafs are having a season to remember. A lot of it has to do with the rookies that are driving the team to new and exciting heights. The Leafs have proven one thing beyond a reasonable doubt this year. They can put the puck in the back of the net with the best of them.
On the flip side, they struggle to keep the puck out of their net and have blown more than a few leads over the course of the season. That can partly be attributed to the fact that the Leafs are a young team that is trying to learn how to win in today's NHL. The other point is that they don't really have a reliable shutdown defenseman. They're not easy to find, and while the Leafs have drafted prospects who have that potential, it may be worth looking elsewhere this summer to fill that need. It would be worth it for the Leafs to target Washington Capitals defender, Karl Alzner.
The 411 on Alzner
Alzner is a Canadian defenseman who was selected in the first round, fifth overall by the Washington Capitals in the 2007 NHL Entry Draft. Alzner is a rugged, shutdown defenseman. He's an excellent skater who also has phenomenal positional awareness, which allows him to be in the right place to make the play while conserving his energy.
He's calm, poised and experienced enough to log a lot of minutes on the backend without much effort. The former Calgary Hitmen is also a strong puck mover, especially in his own zone and, according to his stats on NHL.com,  he's reliable and hasn't missed a game since the 2009-10 season.
Check out Karl Alzner here while on the PK. He forces the turnover and then clears the puck from his knees. pic.twitter.com/xJVbxr04pq

— Ian Oland (@ianoland) February 2, 2017
Alzner is in the last year of a contract worth $2.8 million a season. The defenseman will be looking for a significant raise for his next one, and the cash-strapped Capitals will be in tough to match a potential offer.
Alzner might be in the market for a four or five-year deal that will pay him between $5 million and $6 million per year. Teams are hesitant to throw that kind of money at players who don't contribute much to the team's offense, but the Leafs need a dependable defensive presence so hopefully the two sides could find some middle ground.
Other Potential Options
One name that has been linked to the Maple Leafs is St. Louis Blues defenseman Kevin Shattenkirk. I don't think that he would work a few reasons. The Leafs are looking for someone who is more of a shutdown d-man who can handle tough minutes. Shattenkirk is talented but is more offensive-minded than anything.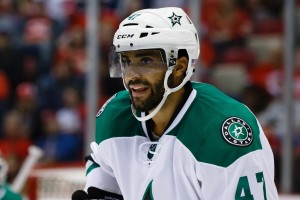 He's also going to demand a pile of money over a longer term this offseason and the Maple Leafs would be wise to use some cap management common sense and steer clear.
Out of the rest of the potential free agent defensemen that will hit the open market, I could see the Leafs making a play for Johnny Oduya of the Dallas Stars. It would be a short-term deal while Oduya could provide stability and championship experience to a young Leafs team.
Dmitry Kulikov of the Buffalo Sabres is also an intriguing option. He was nursing a back injury for the early part of the season but has since returned and played some big minutes for the Sabres. It would be a calculated gamble, as there are many people who believe Kulikov hasn't developed as well as initially thought.
The Pitch For Alzner
For Leafs management, the cream of the crop is Alzner. If they can come to terms on a reasonable contract, the addition of Alzner would go a long way in solidifying the Leafs' back end. The team will also probably be losing Matt Hunwick and Roman Polak over the summer, as both of their deals expire after this year.
Assuming the Leafs re-sign Nikita Zaitsev, that will give them a defense that features Morgan Rielly, Jake Gardiner, Connor Carrick, Martin Marincin and the newly acquired Alexey Marchenko. Adding Alzner to that mix will immediately make the Leafs blueline a more complete and effective unit. Every team needs a defenseman of his caliber to handle the tough matchups and munch some valuable minutes. With the Maple Leafs looking to improve their often porous defense, reaching out and attempting to sign Alzner might be the best move to make this summer.
My name is Anthony Fusco. Through school, I completed a joint degree involving an Honours B.A. in Journalism from Wilfrid Laurier University and a Videography and Broadcasting degree through Conestoga College.
I currently work for the University of Toronto as a Varsity Sports Announcer and for the Toronto Maple Leafs as part of their game presentation squad.
I'm also the play by play voice of the Kelowna Falcons, a baseball team located in British Columbia.
My goal is to one day be a hockey broadcaster.