Three Takes is a column that explores the world of the Columbus Blue Jackets and offers strong insights into the team and what to watch for. Have a strong take to share? Feel free to leave your comments below or tweet me anytime @THWMark.
Take One: Ryan Johansen
It certainly didn't take John Tortorella long to make an immediate impact on the Blue Jackets. He went straight to the top and made a bold statement.
In the third period of Thursday's game in Minnesota, Tortorella benched star-center Ryan Johansen for the last 6:10 of the game, when the score was 3-2. Instead, Tortorella rolled out Brandon Dubinsky and Alexander Wennberg at center at the end when the outcome of the game was not yet decided.
Let's look at this from both sides. From Tortorella's side, this is something that we've known that's always been a part of the way he coaches. If a player struggles for any reason, Tortorella will not hesitate to make a move to someone who is playing better. The fact that he made the move in his first game is a strong message. It's one that needed to happen.
At 0-8-0, the Blue Jackets need a major wake-up call. Everyone on the roster has to be held accountable for their play. This move shows that nobody is exempt from seeing a seat on the bench.
#CBJ C Ryan Johansen didn't play in the final 6:10 of the game, even down a goal. First salvo of the John Tortorello era.

— Aaron Portzline (@Aportzline) October 23, 2015
From Johansen's standpoint, the move had to come as a major shock. A new coach, and first game in, he finds himself on the bench with his team trailing by one. He should feel embarrassed that it came to this in the first place.
Keep in mind that Johansen is just 23. As talented a player as he is, there is still plenty of room for his game to grow. These last few games for him haven't been his best. It just seems like the way the season has started has worn on him, and the team.
#CBJ coach Tortorella:"With Joey in the middle of that line, I didn't think it was that effective. I tried to stay with it during the game."

— Aaron Portzline (@Aportzline) October 23, 2015
Now one of two things will happen. Johansen will either respond with his best play of the season, or with a continued lackluster effort. If the Blue Jackets want to start stringing wins together, Johansen must improve. The way he handles this stretch will go a long way in determining how the rest of this season goes.
Take Two: We Need More Brandon & Brandon
As a result of Johansen's situation, we finally got a look at something that I've wanted since the start of the season. Tortorella put the two Brandons, Saad and Dubinsky, on the top line. This must continue.
The mindset coming in was that Saad and Johansen would play together and become one of the more lethal duos in the league. They hit it off in the preseason. They haven't carried it over to the regular season.
Will we see Saad and Johansen back together at some point? That seems likely. I'm not sure that I agree with this though. Putting Saad and Dubinsky together is the better solution. Their games are more compatible with each other.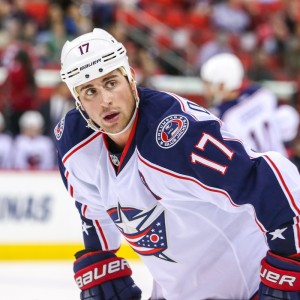 Saad spent most of his time in Chicago with Jonathan Toews. Toews isn't known as a 30-40 goal scorer. He's known for his relentless two-way play. Dubinsky is the closest thing the Blue Jackets have to a Toews-like player. They both can play a fast, relentless, two-way style that will give fits to opponents. Add Boone Jenner to this line, and you have the makings of something special.
Here's what I'd like to see for the lines:
Jenner-Dubinsky-Saad
Foligno-Johansen-Atkinson
Hartnell-Wennberg-Calvert
Karlsson-Campbell-Bourque
Couple of things to note about these lines. Foligno and Johansen have played well together, and should continue to play with each other. Foligno in this setup would go back to playing his natural left side. Atkinson would reunite with the line that helped him score over 20 goals last season.
The play of Wennberg has jumped off the screen this season. Playing with Scott Hartnell has done wonders for him. He's making smart decisions with the puck. He's drastically improved his play away from the puck. This will lead to more ice time for Wennberg, and deservedly so. Adding Calvert to this line will give them a nice mix of speed and energy.
The lines will change, but as long as the two Brandons stay together, good things will start to happen to the Blue Jackets.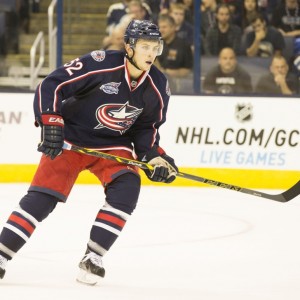 Take Three: Trades?
Now that the coach is in place, we can turn our attention back to the roster. Will we see any trades in the near future? At this point, it's not a matter of if, it's a matter of when.
The names that we keep hearing are Atkinson and Kerby Rychel. This makes sense. They could each bring back good talent in a trade. But according to Sportsnet's Elliotte Friedman, the price to acquire Rychel is too high. Friedman spoke of this on an interview with the Fan 960 in Calgary.
Flames Assistant GM Craig Conroy was reportedly in Winnipeg Thursday for the Lake Erie Monsters/Manitoba Moose game. Friedman believes that Rychel was the likely player Conroy was looking at.
The takeaway here is that Blue Jackets management will continue to have discussions about possible trades. If 0-8-0 becomes 2-13-0 or something worse, talk will only heat up more. Stay tuned and pay attention to who's at the Blue Jackets' games. We are far from done with potential changes.