There is no question that when the sun sets on the 2015 trade deadline at 3PM Eastern Standard Time on March 2nd, there will have been a number trades completed with a higher order of magnitude than the one between the Los Angeles Kings and Carolina Hurricanes that netted the Kings puck-moving defenseman Andrej Sekera. With that said, there are few that will equal it with respect to the fit between player and team.
Report: Hurricanes trade Sekera to Kings for 1st-round pick, prospect http://t.co/sMxYv1kDrx pic.twitter.com/ZWEdhEPRGU

— theScore NHL (@theScoreNHL) February 25, 2015
With the Kings still struggling to overcome the indefinite loss of defenseman Slava Voynov, general manager Dean Lombardi showed his aggressive nature by sending a conditional first round pick (either in 2015 or 2016, depending on whether Los Angeles makes the playoffs) and prospect Roland McKeown (#50 overall pick, 2014) for the smooth-skating left-handed defenseman. Per L.A. Kings Insider:
When it comes down to it, it comes down to your players," explained Lombardi. "If this was a team that maybe had gone out in the first round the last couple years or whatever, you back off. I don't know if it's the right word, but what they've accomplished and the way they keep fighting through, it's almost like you owe it to 'em."
The Kings got exactly what they needed
With Voynov still in legal limbo and facing the possibility that the 25-year old defenseman may have played his last game for the Kings, Lombardi chose to act decisively. Enter Sekera, widely considered one of the top players available at the trade deadline. He was the closest comparison to Voynov in terms of skill sets on the market, possessing excellent speed and offensive instincts, both in passing as well as putting the puck on net. Just two seasons ago, Sekera scored 11 goals and 33 assists, both career highs.
"I think it's the one area of the team that we felt was the one area that could be targeted in terms of an upgrade," said Lombardi. "I think the thing about him, number one, he's a competitive guy. We have no issues as far as him fitting in here with this group. No question he's going to be hungry. I think whenever you look at your back end, it's a mix-type thing, and things he can bring to us. He's very mobile, and even though he's not big, he certainly competes. He's a smart player" (L.A. Kings Insider).
Many saw it coming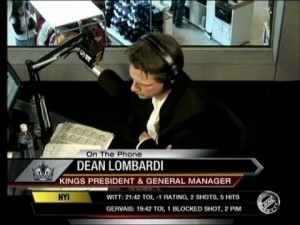 The Kings recent eight-game winning streak pushed the team out of the potential sellers camp and firmly into the buyers category. Rumors were flying about Sekera and the Kings, including
this CBS Sports report
. Heck, even I
listed Sekera as a high-value target
less than ten days before the deal went down.
It wasn't exactly a trade secret. Sekera, a pending unrestricted free agent, was heading out of town on or before the trade deadline, one way or the other. Although Los Angeles paid a high price, they had the need and the assets to make it happen.
Sekera is finally with a winner
For Sekera, the upside of the deal is enormous. In the blink of an eye, he was whisked away from a franchise that hasn't made the playoffs in five straight years to join the Kings, a club that has won two of the past three Stanley Cups. He is reported to be close to a number of Kings players, including former teammate Robyn Regehr and fellow countryman Marian Gaborik. On that point, he was asked if he had talked to both players about the environment in Los Angeles. Once again, per L.A. Kings Insider:
Yeah, it's a high-end club and losing isn't an option here. It's great to be in an environment like that. I'm looking forward to it. It's going to be fun and it's going to be a challenge.
Southern California has the beach, fantastic weather and plenty of opportunities to shine both on and off the ice. Although there are no guarantees Sekera will re-sign with the Kings, it is unlikely Lombardi would have traded for him unless he felt confident something could be worked out.
Sekera and the Kings — a marriage Lombardi hopes lasts at least as long as it takes to win a third Cup in four seasons. If weather, Hollywood and organizational heft mean anything to the 28-year old Slovakian, maybe even four or five years longer than that.
Walter McLaughlin is a Los Angeles Kings correspondent for The Hockey Writers. He is an avid sports fan, having followed the Kings since living in L.A. in the mid-1970's, as well as suffering through Seattle sports teams' general futility. He has a Bachelor's degree in Finance and has worked in community banking for over 25 years, specializing in SBA loans. He is married and has two daughters.