The Minnesota Wild took to the 2014 Traverse City Prospect Tournament with a roster that looked to be extremely solid on the back end, but lacking star power up front. In a tournament featuring multiple teams with deep systems, the Wild were not expected to thrive. Teams like the Buffalo Sabres, Columbus Blue Jackets, and Detroit Red Wings featured rosters with a plethora of 1st round picks and potential star power. The tournament was highlighted by top prospects in the league including Sam Reinhart, Anthony Mantha, Alex Wennberg, Kerby Rychel, and Nikita Zadorov. In all, the Minnesota Wild weren't exactly the 'team to watch'. You can check out Minnesota's tournament roster here.
Wild Results
Game 1: 6-4 Loss vs Columbus Blue Jackets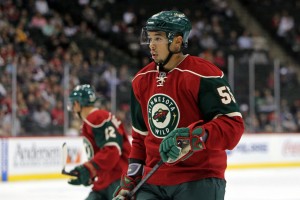 Minnesota was outshot 32-24 and gave up 4 third period goals in their opening loss to the eventual tournament champions. Goaltender Johan Gustafsson allowed 5 goals on 31 shots. Invitee, Ryan Walters, put up 2 goals in a very solid debut performance. However, assistant GM, Brent Flahr, noted three defensemen as the Wild's best players. 2013 2nd round pick, Gustav Olofsson was awarded the Wild's first star for his strong defensive play and impressive intelligence shown through his smooth breakouts and shutdown of opponents. Flahr also noted Mat Dumba and Christian Folin had strong games. Up front, 2013 3rd round pick, Kurtis Gabriel, was applauded for his battle and drive for the net. He tallied one goal in the game. "That's what Kurtis is," Flahr said. "He's not going to score pretty goals, but he's a big, strong guy … He can make those chances himself."
Game 2: 4-3 OT Win vs St. Louis Blues
The Wild were outshot 32-22, but Johan Gustafsson allowed just 3 goals. Again, the defence left their mark on the game. Aside from a strong game in their own end, the D-men also contributed for 3 of the 4 goals. Again, Dumba, Olofsson, and especially Folin, stood out, all putting up goals. Director of Player Development, Brad Bombardir, gave Christian Folin the first star of the game. "I thought he had a really strong game for us," Bombardir said. "I thought he showed up, played well and did some good things. And got better from yesterday. That's the most important thing." Folin netted the OT winner on a 4 on 3 power play. Invitee, Ryan Walters, had another great game, putting up a gaol and an assist.
Game 3: 5-1 Loss vs Detroit Red Wings
Minnesota outshot Detriot 28-23, but goaltender, Jared Coreau, would only allow one past him. Brandon Whitney got his first start for the Wild, allowing 4 goals on 22 shots. 2014 7th round pick, Pavel Jenys, would pot the team's only goal. As expected, Dumba was once again one of Minnesota's best players, assisting on Jenys' goal. "Dumba made a heads-up play at the far blue line, firing a a stretch pass to give Jenys a breakaway," Wild Assistant General Manager Brent Flahr said. "He was really involved at both ends of the ice, he competed defensively and made things happen offensively. He was our best player, as he should be." Kurtis Gabriel made his presence felt when he dropped the gloves with Colin Campbell. There weren't many other positives to take away than that.
Game 4: 6-3 Win vs New York Rangers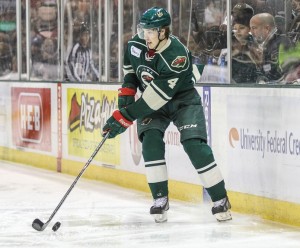 The Wild won the 5th-place game on the contribution of a Zack Mitchell hat trick. The shots were 29 a piece, with Brandon Whitney stopping 26 of them. Zack Mitchell finished the game with 3 goals and an assist, but once again, Mathew Dumba was a force to be reckoned with. He picked up a goal and an assist, totalling 2 goals and 3 assists in his 4 games. Most notably, the power play went 4 for 5 on the night. "When you score four power play goals in a game, you're doing something right," Wild Assistant General Manager Brent Flahr said. "They were doing a lot of things right tonight, came out hard and special teams was a big part of it." Tyler Graovac also played well, with a goal and an assist, giving him 4 points in the tournament. "Dumba, Folin and Graovac all played well," Flahr said. "We expect a lot of things from them and they showed it here." The Minnesota Wild at least left on a positive note.
Training camp begins on Friday, with 21 players from the Traverse City team earning an invite to the main camp. The list of those players can be found here. As for the Wild's future, it looks as if they could use a little more fire power in the system, although 2014 1st round pick, Alex Tuch, did not participate. For now, they must settle with their 5th place finish.
Contributor for the Toronto Maple Leafs and Prospects. Scout with the Oakville Blades of the OJHL. For questions, concerns, or comments, contact me at devinslawson123@hotmail.com or on twitter @SlawsonTHW.