One year ago, the Rangers sent a group of players to take part in the annual Traverse City Prospects Tournament that, quite honestly, largely consisted of non-prospects. While 2012 first rounder Brady Skjei, 2015 second round pick Ryan Gropp, and 2013 fourth rounder Ryan Graves were notable exceptions, the Blueshirts' roster at last year's tournament was not representative of the future. To make matters worse, goaltender Brandon Halverson—the club's top pick in the 2014 NHL Draft and a Traverse City, Mich. native to boot, was injured and could not participate.
Things are quite different this year, though, as nearly all the organization's top prospects are taking part in the tournament, which finished its preliminary round of play on Tuesday.
The intrigue surrounding this group of Blueshirt prospects—which has fashioned a 2-0-1 record, so far, while playing a trio of one-goal games—is very high because there are players on the cusp of possibly helping the Rangers immediately this season, others that will be beginning their pro careers in the AHL with the Hartford Wolf Pack, and still others that are providing a glimpse of what may be several years down the road.
Broadway-Bound This Season
The Rangers' top two forward prospects, Jimmy Vesey and Pavel Buchnevich, are both playing in this year's Traverse City Tournament. That alone is cause for excitement for fans and team management alike.
Both Vesey and Buchnevich are expected to contribute at the NHL level this season. The 23 year-old Vesey won the Hobey Baker Award as college hockey's top player in 2015-16 and was a finalist for the trophy the year before. As a senior at Harvard, Vesey, the team captain, scored 24 goals and totaled 46 points in 33 games. The season before, in 2014-15, Vesey notched a career-high 32 goals and 58 points.
A bit of a late-bloomer, Vesey turned into an offensive stud in college, and the Rangers are desperate to add scoring punch—especially from young blood on an entry-level contract—to their lineup. The Rangers won the much-hyped battle to sign Vesey as a free agent in August in part because they guaranteed him a roster spot on varsity this fall.
Vesey has not disappointed in Traverse City, leading the tournament with three goals and five points through three games. On Monday, he netted both of New York's goals in a 2-1 victory over Minnesota.
Prior to Vesey's signing this summer, the organization's most exciting prospect up front, hands down, had been Buchnevich, a 2013 third round pick who has decided to play in North America this year after three full seasons in the KHL back home in Russia.
Buchnevich seems to be more of a skilled playmaker than sniper, though he did score 16 goals last season. Like Vesey, he should add offensive flair to the Rangers' attack, and, given the chance, improve the puck moving on the team's often-struggling power play.
It is likely that Buchnevich, barring a poor or overmatched training camp, will join Vesey as a rookie on the Blueshirts' opening-night roster. The big question, though, is if he physically will be strong enough to compete over the grind of an 82-game National Hockey League season. He has played against men at the KHL level since he was an 18-year-old, but even Rangers director of player personnel Gordie Clark admitted to NHL.com's Mike Morreale that Buchnevich needs to build himself up physically—something he has worked on this summer since arriving in New York.
Though he has been held without a point in Traverse City, Buchnevich has shown flashes while skating on a line with Vesey, and there is no questioning his high-end skill level.
Future Blue
Halverson is healthy and in goal for the Rangers this year in his hometown. He and Gropp are both taking part in this tournament in advance of their rookie pro seasons, likely in Hartford, though Halverson will have to battle incumbents Magnus Hellberg, Mackenzie Skapski and Jeff Malcolm during training camp to earn a spot with the Wolf Pack or end up in the ECHL with Greenville.
Still, the presence of Halverson and Gropp—the latter of whom the Rangers traded up to select in the 2015 draft and who scored 34 goals in the WHL last season—is important at this week's tournament. They are joined by centers Boo Nieves and Steven Fogarty, Rangers' draft picks who both have developed slowly, spent four years in college, made their AHL debuts on PTOs last spring upon graduating, and who are ticketed to play big roles in Hartford this year.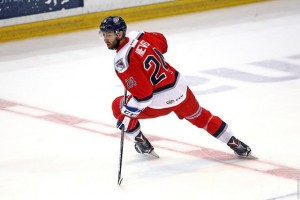 Nieves, a second round selection in the 2012 NHL Draft, is an elite skater who has filled out his 6-foot-3 frame nicely.He recorded a career-high 31 points in 35 games at the University of Michigan a year ago as a senior, and has impressed so far in Traverse City. While centering Vesey and Buchnevich and serving as team captain, Nieves has registered a goal and two assists so far, with Clark referring to him as "a monster" in this tournament for his solid all-around play.
Fogarty, captain at Notre Dame last season, is a solid two-way center, projected to likely fill a bottom-six role one day in the NHL. The team's third round pick in 2011, Fogarty is a player to watch this coming season,  as well.
Several other players round out an intriguing group of Blueshirts at Traverse City. Defenseman Sean Day, the club's top pick this past spring, albeit in the third round, is a high-end talent who has had his moments already in this tournament. Swedish forwards Robin Kovacs (19, third rounder in 2015) and Malte Stromwall (22, undrafted free agent) have also stood out in this tournament after impressing during the team's prospects development camp in late June/early July.
ICYMI @maltestromwall's bottle pop in yesterday's #NYR win at #NYRTCT. pic.twitter.com/aGjAfvS8dY

— New York Rangers (@NYRangers) September 18, 2016
Stromwall had a pair of goals and a shootout game-winner in Saturday's 5-4 victory over the Dallas Stars, while Kovacs scored twice over the first two games.