The Winnipeg Jets had a disappointing season last year. After a 2014-15 campaign that saw them make the playoffs for the first time since arriving, the fan base believed they would be seeing a lot more "whiteouts" in the coming years. However, the Winnipeg Jets stuck with Kevin Cheveldayoff's plan, went towards the youth movement, and took a step back in the standings.
In other ways, the season was a huge success. Mark Scheifele became the first line center they drafted him to be. Blake Wheeler had a career year. Nikolaj Ehlers had a solid rookie campaign, and Connor Hellebuyck gave fans a glimmer of hope in net. The year had a fairy tale ending as well, as the Jets leapfrogged the draft table into the number two slot, where they selected Patrik Laine, an Alex Ovechkin-like player with a deadly shot.
Team 2015-16 Record:  35-39-8 (7th in the Central Division)
Offseason Moves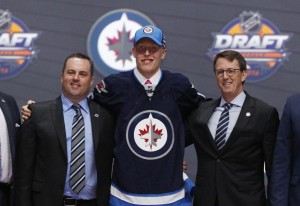 Key Roster Additions:
Patrik Laine
Shawn Matthias
Quinton Howden
Key Roster Losses:
Key Organization Changes:
The only change in the organization was the hiring of new assistant coach Todd Woodcroft. He spent the last three seasons with the Calgary Flames as their scouting director and professional scout.
Forwards:
Projected Lines:
Ehlers-Scheifele-Wheeler
Perrault-Little-Laine
Connor-Lowry-Stafford
Burmistrov-Howden-Matthias
Mark Scheifele
Since the year he was drafted, Mark Scheifele has been under pressure. Last year, he finally showed the hockey world that it didn't bother him, putting up career numbers and taking over the number one center role on the Jets.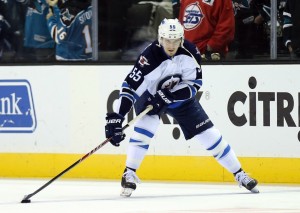 The pressure is back on this year. Scheifele turned last season into a long, 8-year extension and a letter on his jersey. He now has to prove last year wasn't a fluke, and will need to continue improving. He'll be given every chance to succeed. His linemates will be some combination of Ehlers, Wheeler or Laine. There will be enough skill around him to bring his point total up almost regardless of how he plays. It will be on Scheifele to prove that he is the real deal and that he's ready to be the Jets 2.0 franchise player.
Patrik Laine
There have been plenty of great players drafted top-five in the past five years. Players like Nathan Mackinnon, Aaron Ekblad, Connor McDavid, and Jack Eichel were all highly anticipated and were watched carefully to see if they would live up to their high draft status. Most are playing heavy and important minutes for their NHL clubs.
But until the Winnipeg Jets drafted Patrik Laine in the 2016 Entry Draft, no top 5 pick was nearly as interesting. He's outspoken, confident, and good. Very good. Good enough to make the World Cup roster for Finland, and he hasn't played a single NHL game.
Patrik Laine will have a lot to prove once the season starts, but will be given every chance to prove it. His line will have either one or two of Mark Scheifele, Blake Wheeler or Bryan Little, which will boost his goal total. He has experience against men, playing in the Finnish Elite League, as well as the IIHF World Championship, and now, the World Cup. All this adds up to Patrik Laine being the most interesting player to watch for the Jets this year, and possibly, the entire National Hockey League.
Alexander Burmistrov
Alexander Burmistrov was drafted with Atlanta's first round pick in the 2010 draft. He was considered a high-risk, high-reward prospect. His skills were obvious, as was his speed. The knock on him was his size and defensive play. Many, including the Thrasher's ownership group, figured that he would continue to grow and learn, and eventually become a special player capable of putting up big numbers.
That didn't pan out, and Burmistrov, just shy of his 25th birthday, has put up a career high of 28 points. He has one year left on his contract that he signed after returning from Russia, and with the prospects that are lining up behind him, this is the year Burmistrov has to prove himself. His defensive game needs to improve, and so does his point total. He'll start on the fourth line, and possibly even be a healthy scratch.
Burmistrov has a chance to save his NHL career this year. Will we see the playmaking, speedy center that the Thrashers drafted, or the one the Jets have seen since 2011?
Defense:
Projected Pairings:
Trouba-Byfuglien
Enstrom-Myers
Morrissey-Chiarot/Stuart
Jacob Trouba
Let us assume that Trouba will be signed before the season starts (Kevin Cheveldayoff said he would match any offer sheet). Trouba will be an interesting player to watch, especially if Paul Maurice finally takes him off Stuart's line and pairs him up with any of Byfuglien, Myers or Morrissey.
Trouba has everything needed to become a number one defenceman in the NHL. One scout said "Look at all the blue-lines across the league and ask who in the league is 25 or younger, who has real big upside? You have to come to Jacob Trouba." While some are a little more skeptical, the general consensus is that he is a special player. Trouba knows that which is likely the biggest reason is has yet to be signed.
"Look at all the blue-lines across the league and ask who in the league is 25 or younger, who has real big upside? You have to come to Jacob Trouba." While some are a little more skeptical, the general consensus is that he is a special player. Trouba knows that which is likely the biggest reason is has yet to be signed.
While some are a little more skeptical, the general consensus is that he is a special player. Trouba knows that, which is likely the biggest reason he has yet to be signed.
Regardless of the contract signed, 2016-17 will be a big year for Trouba. If Maurice can get him away from Stuart, then Trouba may have a chance to show the NHL the type of defenceman he truly is. That will be great news for the Jets and bad news for the rest of the league.
Tyler Myers
Tyler Myers hit 48 points as a rookie with the Buffalo Sabres. He has yet to hit 40 since that year. His plus/minus has not been as good since his first year either. In fact, Myers has yet to hit the potential he flashed in his first year in the league.
Obviously, most of his career so far was spent with the Sabres, who have been historically bad recently. But Tyler Myers will be 26 going into this season, which is typically around the time defensemen hit their prime. Myers has been a serviceable second pair defenseman, but he needs to prove that he is more than that on a Jets team that has a lot of defensive prospects looking to come up and take his spot.
Brian Strait
In a string of low-key but solid free-agent signings by Cheveldayoff, the Winnipeg Jets signed Brian Strait to a very cheap, one-year deal. The move may seem a little strange, considering most Jets fans are thinking that Josh Morrissey ill get his chance to crack the lineup.
UPDATE: @NHLJets sign D Brian Strait to one-year, one-way contract worth an AAV of $600,000 #TSNHockey pic.twitter.com/mlMDWYFwWH

— SportsCentre (@SportsCentre) July 1, 2016
Let's get this out there right off the bat: Brian Strait is not an amazing hockey player. He is good enough to play in the NHL against some of the weaker opposition. Nobody is saying that the Jets signed him to be a mainstay on the blue line.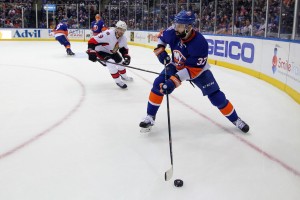 Strait is a left-handed defenseman, something the Jets don't have much of. Morrissey is as well. This move tells me that they want to bring up Morrissey, but give him a fallback option if he struggles. Or a serviceable player to plug into the Moose lineup on most nights. Regardless of the reason, it could be Strait's last season with a job in the NHL. Can he be better this year and earn another contract? Best case scenario for the Jets would be that he plays well enough to be flipped for a pick at the trade deadline. Worst case scenario is that $600K is sitting in the press box. Either way, it's a low-risk signing, but could make or break Strait's career.
Regardless of the reason, it could be Strait's last season with a job in the NHL. Can he be better this year and earn another contract? Best case scenario for the Jets would be that he plays well enough to be flipped for a pick at the trade deadline. Worst case scenario is that $600,000 is sitting in the press box. Either way, it's a low-risk signing, but could make or break Strait's career.
The absolute worst case scenario is he somehow manages to singlehandedly cause the Jets to miss the playoffs by 'accidentally' injuring all of the team's top players. If that's the case, something else is definitely going on.
Goaltending: Who Will Be No. 1?
There is no question who the Winnipeg Jets No. 1 goalie should be: Connor Hellebuyck. He played about a third of the games last season and finished with the best stats of all Jets goalies. He's also the youngest, the cheapest, and has the highest potential. In fact, of goalies who played at least 1000 minutes last year, Hellebuyck led the league in 5-on-5 save percentage with 94.07%.
Whether he actually will be the Jets starter is a completely different question. Ondrej Pavelec still has one year left on his contract until he becomes a free agent, and the team just signed Michael Hutchinson for another two years. Pavelec has been the Jets starter since the beginning and has had only one good statistical year. That happened to coincide with the only year the Jets have ever made the playoffs.
The Winnipeg Jets aren't expecting to win a cup this year, so it could serve them well to either let Hellebuyck get another year of experience with the Moose, or bring him up and run him and Pavelec as a 1A/1B option. The best case scenario for the Jets is Pavelec has a good year, and the Jets can flip him at the trade deadline for a couple of draft picks.
Breakout Player: Nikolaj Ehlers
Nikolaj Ehlers had a solid year last year but really turned it on once he was on a line with Mark Scheifele and Blake Wheeler. That line is likely to start the year, and if Ehlers doesn't want to lose that first line spot to an upcoming Patrik Laine, he'll have to bring his 'A' game.
Patrik Laine will bring some intense competition to Ehlers. Laine is projected to be a first liner. It will be up to Ehlers to make sure that doesn't happen. Count on him stepping up his game big time to hold off the competition he will have below him. A full year with newly appointed captain Blake Wheeler and last year's breakout star, Mark Scheifele will only help his confidence and his stats.
Player with Most to Prove: Tobias Enstrom
For the past five years, the Winnipeg Jets have been weak on the left side of the defence. So for five years, Tobias Enstrom has quietly and effectively filled that role. Sitting at 5 foot 10, Enstrom has never played a physical style of hockey, rather, relying on positioning and skill to be an effective defender. He has played first-line minutes as the only left-handed defender the Jets really had.
The problem is that Enstrom isn't a first line defender. In fact, his numbers suggest he is a great second or third-pairing defender. His shot suppression is outstanding. But Enstrom barely produces points and doesn't create shots when he is on the ice.
Paul Maurice has already talked about moving Trouba to the left side to create more minutes for him. Josh Morrissey is on his way up and looking to get a spot on the left side. Newly drafted Logan Stanley will make a 'big' impact at training camp. The first line suddenly won't be Enstrom's alone, with a bunch of young guns nipping at his heels.
Tobias Enstrom will need to prove he belongs in the lineup, or he will be forced out by younger and cheaper options. Enstrom has done a valiant job until now, but he is going to have to take his game to another level. And when you are 31-years-old, taking your game to 'another level' isn't always the easiest thing to do.
First Players in the 'Call-Up' Line: Petan, Lemieux, Kostalek
Nic Petan had a 26 game stint with the Jets last year. He didn't prove much and was sent back down to the Moose for more seasoning. 32 points and 47 games later, Petan has proven he isn't interested in being in the AHL. The problem for him now is the forward lines are pretty packed, and unless they are looking to have Petan play fourth line minutes again, there is just no room for him. Nic Petan plays a small but smart game, and would be a great fill-in on the second line if there was an injury to one of the top-six.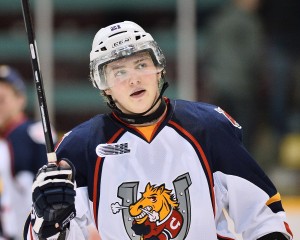 Brendan Lemieux is the son of former NHL player Claude Lemieux. If you didn't know that, you may be able to figure it out by watching his game. Lemieux likes to bang and crash and is incredibly tenacious. The difference between him and his old man is the shot. Brendan has an amazing shot, scoring 23 goals in 34 games last year for the Windsor Spitfires. He was called up to the Manitoba Moose for five games and managed to pick up three points. He is willing to jump in on offensive rushes and would be a solid third-line replacement if needed.
The Jets right side on defence is set. There is no room for any prospects. But if anyone falls to injury or even an extended slump, look for Jan Kostalek to get a fair look. Kostalek is a smaller guy (on a Jets abnormally tall defensive core) at 6 foot 1 but is solid in his own end. He's the best defenceman not named Morrissey on the Manitoba Moose, and will be pushing for a spot in training camp.
Season Outlook:
The biggest question for all Winnipeg Jets fans is this: Will the Winnipeg Jets make the playoffs? Let's take our magic eight ball and shake it. My guess is that it comes up with 'outlook looks bleak'.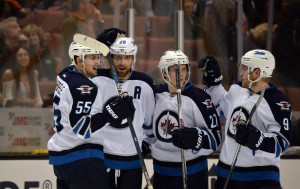 That's not to say the Winnipeg Jets won't be a good team. The Jets are poised to become one of the best teams in the NHL, but they have not quite grown up yet. Kevin Cheveldayoff and company have stocked the cupboards, and the future looks incredibly bright. Talents like Scheifele, Trouba, Ehlers, Laine, Morrissey, Kyle Connor and Hellebuyck are all headed towards amazing things. But they will need a couple years to make it work.
Not only that, but the Jets are in arguably the toughest division in hockey, with Chicago, St. Louis, Nashville, and Minnesota all playoff teams in their own right. The Avalanche have already been through the growing pains as well and are getting better. The chances of the Jets making the playoffs wouldn't be high regardless of the division they played in, but it's almost impossible in the Central.
Don't expect a playoff team this year. But you can expect an incredibly fun team. This year may not fulfill all expectations of Jets fans, but there is definitely one thing it won't be; boring.
Team 2016-17 Record Prediction:  34-37-11 (7th in the Central Division)
How do you think the Jets will do this season? Will Laine be everything we hope? Will Scheifele continue to make himself a number one center? Comment below, or find us on Twitter or Facebook.
Judson Rempel was born and raised in the Great White North, skating on ponds and watching hockey every Saturday night in small town Manitoba. When he's not watching hockey, he's playing hockey with his son and daughter, and trying to convince his wife to let him watch more hockey.