This is the 3rd part in a series discussing NHL performances since the '04-'05 lockout.
Please read about the team by team performances as follows:
Click here for the Western Conference.
Click here for the Eastern Conference.
After researching and writing about NHL team performances since the lockout, a few surprising trends and notes came to the forefront. Here is a look at some of the lessons and anomalies from post-lockout hockey.
1.  Rebuilding was Necessary…
The last four teams to win the Stanley Cup (Pittsburgh, Chicago, Boston, and Los Angeles) each had at least one season with less than 30 wins after the lockout. Consequently, they each also had multiple Top 5 draft picks to rebuild with as well.* In contrast, the Toronto Maple Leafs never fully committed to a rebuilding process, won at least 30 games every season, and also failed to make the playoffs in all seven seasons since the lockout.
*Boston received their 2nd Top 5 pick of the post-lockout era in 2010 via trade with Toronto.
Unless You Were Detroit or San Jose.
Over the course of seven seasons, only two teams managed to make the playoffs every single year. Detroit was certainly the more successful of the pair, with two Stanley Cup Final appearances and a Stanley Cup Championship. Meanwhile, San Jose has constantly been berated for their lack of playoff success since they haven't made it to the Stanley Cup Final. They must have done something right though to get to the playoffs every season after the lockout. By some random chance, the Sharks have been eliminated by seven different teams in their seven playoff appearances since the lockout.
2.  Coaches Were a Dime a Dozen…
In a period of 9 months, from April 2011 to January 2012, 13 out of 30 teams changed head coaches. One of those teams, the Los Angeles Kings, even managed to win the Stanley Cup after a mid-season head coaching change. They were not the first ones to pull off that feat though, as the Pittsburgh Penguins succeeded with the same move in 2009 after they fired Michel Therrien and hired Dan Bylsma just 4 months before winning the Stanley Cup. Teams quickly learned through the post-lockout era that plenty of quality coaching candidates are available at a moment's notice. In two out of the past four seasons, it has made the difference between a playoff bubble team and a Stanley Cup Champion.
Unless You Were Buffalo or Nashville.
Only two coaches have remained with their original team since the pre-lockout era: Lindy Ruff of Buffalo and Barry Trotz of Nashville. Both coaches were hired in 1997 and have now coached over 1000 games with their respective teams. Ruff has gone 565-422-83-72 (.562 Winning %) while Trotz has gone 503-424-60-79 (.537 Winning %). Interestingly enough, neither coach has won a Stanley Cup. Ruff made it to the Cup Final once in '99, but lost to Dallas.  Trotz has yet to advance past the Conference Semifinals.
3.  General Managers Had the Safest Jobs.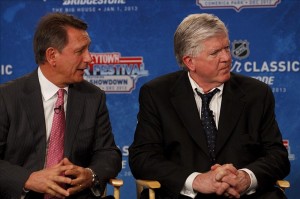 While coaching changes ran rampant, owners gave their general managers much more leeway in the salary cap era. Eight general managers remain in their positions from prior to the lockout: Darcy Regier (Buf, '96), Jim Rutherford (Car, '94), Lou Lamoriello (NJ, '87), Glen Sather (NYR, '00), George McPhee (Was, '97), Ken Holland (Det, '97), David Poile (Nas, '97), and Doug Wilson (SJ, '03). In terms of post-lockout performances, only two have won the Stanley Cup (Rutherford and Holland), with a third losing in the Stanley Cup Final (Lamoriello). Three have lost in the Conference Finals (Regier, Sather, and Wilson) and two have not made it past the Conference Semifinals (McPhee and Poile).
Meanwhile, in terms of turnover in contrast to the coaches, only two new GMs have been hired in the past 15 months (Kevin Cheveldayoff in Winnipeg and Marc Bergevin in Montreal).
4.  It Was Lonely at the Bottom of the Standings…
Seven years provided plenty of time for teams to strategize, rebuild, and reposition themselves as contenders. Not every team could do it though. Toronto was the only team in the NHL to not make the playoffs after the lockout. They were not the only team without a playoff win though, as Columbus was swept by Detroit in their only playoff appearance after the lockout (and in franchise history).
Toronto (Northeast) was joined by two other teams as the only teams in the Eastern Conference to not win their divisions.  The New York Islanders (Atlantic) and Tampa Bay Lightning (Southeast) also couldn't complete the feat. Meanwhile, five teams failed to win their divisions in the West: Edmonton, Columbus, Los Angeles, Colorado, and surprisingly enough, Nashville.
But it Was also Lonely at the Top…
In the Western Conference, three teams were the runaway winners of the post-lockout era (at least in the regular season). Detroit (Central), San Jose (Pacific), and Vancouver (Northwest) were the only teams in the West to win their divisions multiple times. The Red Wings and Canucks each won their divisions 5 times and the Sharks won theirs 4 times. Caught in the tough Central Division, Nashville finished 4th overall in the West post-lockout, made the playoffs 6 out of 7 seasons, but never managed to win the division.
Meanwhile, in the Eastern Conference, only 4 teams won their division multiple times: New Jersey (Atlantic), Buffalo (Northeast), Washington (Southeast), and Boston (Northeast). The Devils and Capitals each won their division 4 times, the Bruins had 3 division wins, and the Sabres had 2. Despite the division dominance, no team in the East made it to the playoffs in all 7 years.
Unless You Played in the Atlantic Division.
While no team in the East went 7 for 7 in playoff appearances, four teams went 6 for 7. As you may have guessed, all four are from the Atlantic: New Jersey, Pittsburgh, the New York Rangers, and Philadelphia. The teams have combined for 4 Stanley Cup Final appearances, though just one Stanley Cup win (Pittsburgh in '09). Based on regular season record since the lockout, New Jersey was the #1 team in the East, Pittsburgh was #3, New York was #4, and Philadelphia was #9. In just the past 5 seasons, each of the four teams has won a division title.
5.  Powerplays Started as a Hot, New Trend…
In the '05-'06 season, five teams had at least 100 powerplay goals. The group was led by Toronto, who scored 107 powerplay goals in 501 chances (19% successful). Four teams had powerplay success rates over 20%, led by Detroit at 22.1%. Meanwhile, only three teams had penalty kill rates over 85%, led by Minnesota at 87.4% (allowing 55 powerplay goals on 436 chances).
But They Have Slowly Disappeared.
Over the course of seven seasons, the special teams' landscape shifted significantly. Philadelphia led the '11-'12 season with only 66 powerplay goals in 355 chances (19.7% successful). They were the only team to score over 60 powerplay goals. This would have ranked them 26th in powerplay goals in the '05-'06 season, when only one team scored less than 60.  Success rates have not varied too much though; three teams finished with over 20% in '11-'12, led by Nashville at 21.6%. Meanwhile, eight teams had penalty kill rates over 85%, led by New Jersey at 89.6% (allowing only 27 powerplay goals on only 289 chances).
Once a new CBA is finalized by the NHL and NHLPA, a new set of adaptations, trends, and performances will develop. Do you have any predictions?  How long can the regimes of Regier and Ruff in Buffalo or Poile and Trotz in Nashville last?  No matter what, my money will certainly not be on Toronto to do anything right.