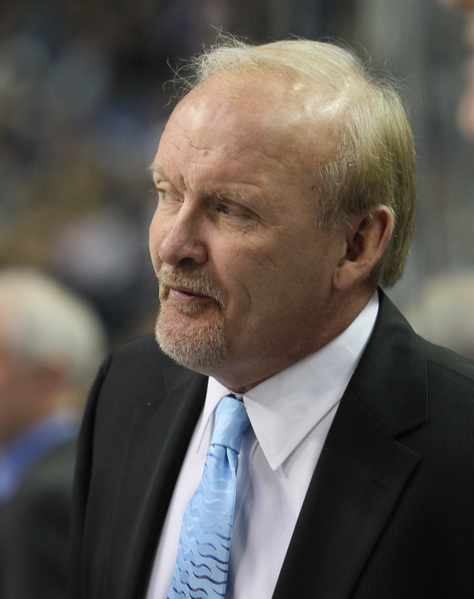 At the end of the Buffalo Sabres hockey season team president Ted Black, during an interview with the Associated Press, declared that GM Darcy Regier and Lindy Ruff will both be retained for another season. In doing so, he continued the purgatory of mediocrity Sabres fans have been stuck in since the franchise lost team captains Daniel Briere and Chris Drury to free agency back in 2007.
Black said he's standing by Regier and Ruff because the new ownership regime has yet to see where the pair will lead the franchise with more access to spending. If you ignore the fact Regier low-balled Daniel Briere only to overpay Jason Pominville a season later, that might make sense. But Regier and Ruff have consistently chosen the wrong players. When Drury, Briere, Jay McKee, and Mike Grier led the team to the conference finals they were able to waltz into free agency while Regier spent then-owner Tom Golisano's money on giveaway machine Maxim Afinogenov, and softies like Henrik Tallinder, Ales Kotalik, and Tim Connolly. Unfortunately, the list goes on.
For some reason, many Sabres fans think all of this is only on Regier and say he is the only one who should be shown the door. Really? Despite the fact that he has time and again stood by his coach, Regier would never value Ruff's opinion on what players to keep and what players to release? Thankfully the tide has begun to turn in Buffalo but there was a time when saying anything negative about Lindy would have been worse than criticizing Mighty Taco or Duff's chicken wings.
In the 15 years the pair has been running the Sabres, both Ruff and Regier have had their hits and misses but in the past year alone they've proved they just aren't the men to lead the team to the next step. With a much deeper wallet, Regier jumped right into free agency after years of declaring it a waste of time and money. He addressed the team's biggest needs, signing Christian Erhoff to a 10 year deal with an absolutely beautiful $4 million annual cap hit and trading spare parts for defensive anchor Robyn Regehr. Erhoff is worth the cap hit because he's a potential All-Star just entering his prime and his skating style is hypnotizing to watch. To the guy behind me in section 313, notice I said cap hit not money, because who cares how much he gets paid if it doesn't affect other spending areas? You're not paying his salary, shut up.  Regehr is the overdue replacement for shot blocking net presence they lost when Jay McKee left via free agency six years ago.
But in what looks more and more like a panic move every day, Regier also signed free agent Ville Leino. It only took about 2 months for the Leino signing to be ridiculed en masse and officially dubbed a mega-bust. Signed as a center to a team that desperately needed one, Leino balked and decided he'd "taking his talents" to left wing (too bad it's not South Beach, eh Sabres fans?). Good foresight on his part, Leino eventually scored 8 goals in 71 games. As if that wasn't bad enough, Ruff didn't even seem interested in straightening out Leino, at times burying him on the fourth line or juggling the lines so fast there's no way he could've found chemistry with other players. To all the critical Sabres fans out there you're right about Leino, he's played like a bum but with a 6 year deal worth $27,000,000 he's not going anywhere. He's more valuable to the team than a coach who looks more driven by ego every season.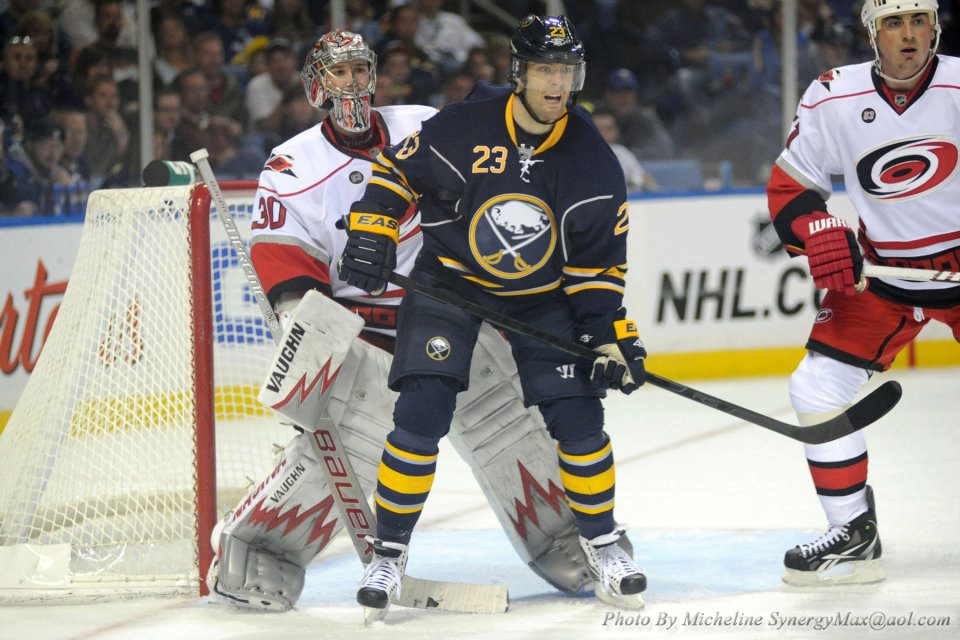 Maybe it's Ruff's quick wit with the media or the fact he once captained the Sabres that make him so endearing to fans. It certainly hasn't been his success. The team hasn't made it past the first round of the playoffs since they lost to the Ottawa Senators back in '07, and that's if they even made the playoffs. His "system" was the solution, Max Afinogenov Tim Connolly Derek Roy the problem. "What's Lindy supposed to do with these players?" people would ask. It doesn't work both ways. You can't ignore the fact he has a hand in the players on the team (one of the biggest voices in that respect) and decides who plays when, all while making excuses for the players. Derek Roy is a selfish hockey player, fine. Then why does Ruff constantly put him on the ice during the final minutes of tight games?
With the fourth highest salary in the NHL, Ruff and Regier's team finished ninth in the eastern conference, at one point losing twelve straight road games and later choking at the end of the season after putting the Washington Capitals in their rearview. Think about it this way, though, if you knew you had an endless amount of job security would you really be concerned with how well you did?
Hockey is like no other sport in that one of a coach's biggest responsibility's is his team's mindset. There's a system but they focus on whether the forecheck is a 2-1-2 rather than a book of set plays or elaborate baseball coaches giving signals. The playoff misses and weak first round exits over the past 5 years are proof Ruff has put the wrong ideology into the team. For many of the players, he's been their only NHL coach. Perennial underachievers Drew Stafford, Thomas Vanek, and Andrej Sekera know where they stand with the coach. From a business standpoint, why would a boss ever want employees who are complacent and paid well?
One of the best lines in hockey this year was Philadelphia's Claude Giroux between Scott Hartnell and Jaromir Jagr. It's not a fair comparison to the Sabres because of the sheer talent on that line but at least when they struggled coach Peter Laviolette didn't break them up after a period. Ruff doesn't show enough patience in his top lines to keep them together through slumps, even if that slump is only a game. When he keeps one together, it's newsworthy. Rookie Luke Adam looked to be a solid center between Vanek and Pominville before his play dropped off and he was bounced throughout the lineup. Adam was a rookie and it's understandable to take him off the top spot but putting him on the 4th line before a demotion to the minors was probably great for his confidence.
The way he treated Adam is just the latest example of Ruff mismanaging young players. With Adam in the minors for most of the 11/12 season and top 6 center Leino buried on the 3rd line wing (despite the fact he's signed through the 14/15 season), the team was lost at pivot. That was until Tyler Ennis was moved from wing to center out of necessity. It worked great, with Ennis now looking like the team's number one center going into next season. It's curious that it took so long as Ennis played center throughout his entire career until he started playing for Buffalo. They seem to have stumbled into something that should've been clear for years. Marcus Foligno, who carried the team on his back throughout the last ten or so games, was a rookie who was called up on an emergency basis. He not only made the veterans on the team look bad, his 13 points in 14 games exposed the fact that both Ruff and Regier were too slow to recognize his potential.
In 07/08 Drew Stafford scored 38 points in 64 games and the following year he had 45 in 79. You'd expect a strong skating winger with a scoring touch to further his development after 2 strong seasons but instead Stafford has stalled and 3 years later he scored 50 points in 80 games during the 11/12 season. Almost exactly the same player he was three years ago. Vanek has stronger numbers but his play has also underwhelmed fans that have expected him to be a dominant force after watching him during his first few seasons in the blue and gold. Tyler Myers, who many still expect to be a Norris Trophy winner, averaged .59 points per game en route to winning a Calder trophy but he followed it with a season where he averaged .46 PPG then .42 this past season. Regier has made mistakes but these three players were considered to have a huge upside when they began their careers as Sabres. Instead, under Ruff, they've gotten worse. There's no reason fans shouldn't expect the same from Ennis, Foligno, and Cody Hodgson.
The there's the injuries. Pominville, Vanek, Stafford, and Roy all played at least 78 games. That fact alone should nullify any injury argument immediately but the fact is, the Sabres aren't the same team without Tyler Myers who only played 55 games. Ryan Miller was also out for a time after the infamous Lucic hit, but with stats that are incredibly similar to back up Jonas Enroth, that angle has been overblown. If the Sabres want to be considered one of the top teams in the east, they have to be compared to them and when the Philadelphia Flyers lost captain and future hall-of-famer Chris Pronger they went to the playoffs instead of making excuses into a microphone.
What was supposed to be the first step in making Buffalo "hockey heaven" was nothing if not a lost season. When Sabres fans lost Briere and Drury after career years, they were asked to be patient. Unfortunately, five years have passed and the same people are asking fans to do the same thing.