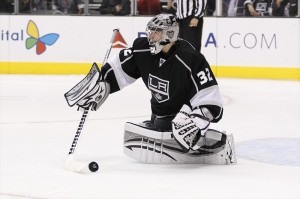 Another round has passed and the stage has been set. In one corner there is the New Jersey Devils. No, we have not gone back in time to the Scott Stevens era at the turn of the century. Since the lockout, the Devils' dynasty has turned into a team prone to late collapses and disappointing seasons. This year was much different. After beating the Florida Panthers off of Adam Henrique's game winner, Jersey flew past the Flyers and snuck out a hard-fought victory against the Rangers (with Henrique scoring another series winner). The 1994 demons were exorcised. With that momentum, the Devils are hoping to win it in what could be Marty's swan song.
At the other end of the rink, we have the Los Angeles Kings. Yet again, this is not a flashback. The Kings have been a dominant force in the playoffs and have only lost two games. They rolled by the Vancouver Canucks, made a mockery of the Blues, and sent the Phoenix Coyotes howling. Los Angeles has leaned heavily on goaltender Jonathan Quick all year. Luckily, he hasn't been the only player to show up. Dustin Brown, Anze Kopitar, Dustin Penner, and Drew Doughty have all stepped up their games and have their heads in check. The Kings might don the crown, but it's the hardware that they desire.
This series was not one anybody predicted, but it will be incredibly fun to watch. However, in order to make it to where they are now, they had to endure 2 weeks of bruising and competitive play. The weeks that just passed had their fair share of excitement. From in-game moments to affairs concerning other NHL teams, the weeks that were made headlines in every way:
Try and Fool me Twice…
It's no longer a surprise to the hockey world that Jonathan Quick is one of the best there is. The American goaltender has often been sheltered from the public because of his lack of east-coast centric reporting, but Quick has certainly come into his own during the playoffs. He was a significant reason why the Los Angeles Kings rolled over every team they faced en route to a Stanley Cup appearance (their first in 19 years). While his postseason has been remarkable, there have also been low points. The lowest point came in the first game against his series against the Phoenix Coyotes. With Quick playing to the best of his ability and looking seemingly unstoppable, one defenseman managed to crack the Quick code and capitalized.
Derek Morris wired home a slap shot from center ice to tie the game at one apiece. While this was one unbelievable shot, it was certainly stoppable (especially for a goaltender of Quick's ability). For most goalies, that would be a turning point in their game. They'd lose confidence and would negatively affect their teams. In a game one of the conference finals, that would be devastating for the Kings. Contrary to what was expected, Quick found his composure and led Los Angeles to a victory. With the star goaltender in net and a strong supporting cast, the Kings found themselves fighting for the Stanley Cup rather "Quick".
It is also worth nothing that Derek Morris fired another shot from center ice in game two. Quick saved it with ease. Not gonna happen again, Derek.
Nice Contribution, Stu
The New York Rangers are one of the most consistent defences in the National Hockey League. A large reason why the team rarely allows goals is because of superstar Swedish goaltender Henrik Lundqvist. Besides him, the solid core of blue liners sacrifice their bodies and minds to win games. The face of the defence is Dan Girardi who is a fearless shot-blocker and true leader. He is joined by Ryan McDonagh and Michael Del Zotto, two young defenders with bright futures on the squad. Assistant captain Marc Staal is a workhorse in front of Henrik, The final piece of the special core is Anton Stralman, who is a quiet but steady and versatile d-man. However, that's only five players. There's one more player that completes this amazing set of players and that's Stu Bickel.
Bickel is a fairly solid player, but has not fared well under the wrath of John Tortorella. In their triple overtime game in the second round, McDonagh and Staal saw their total ice time surpass 50 minutes. Bickel barely passed three. On Wednesday, May 16th, it was the same story. Stu was being dealt minimal ice time while the top players were seeing multiple minutes. In the third period, Bickel was sent out in a tie game and lined up alongside David Clarkson of the New Jersey Devils. After a few chirps flew between the two guys, Clarkson skated towards the front of the net uncontested and tipped home the eventual game-winning goal. At the end of the day, Bickel's statline didn't look all too good. Just over four minutes of ice time, a missed assignment and a -1 rating. Bickel is not terrible, but he's not a top dog on the squad unless we're considering that he's even deeper in Torts' doghouse.
You're Fired
At this time of year only one thing really matters in the NHL and that's the third round. Four teams battle it out for the chance to compete for hockey's holy grail. The IIHF World Championships are overlooked for the conference finals. The Edmonton Oil Kings and London Knights are being turned aside for the New Jersey Devils and New York Rangers. Russian prospects Nail Yakupov and Alex Galchenyuk are not nearly as discussed as Europeans Slava Voynov and Anze Kopitar. At the end of the year only one team gets their name engraved under the 2011-12 season and who that team will be is what we want to discover.
If there are four teams playing, it means that 26 other clubs are preparing themselves for the (hopefully not shortened) 2012-13 season. Scouts are watching every junior game and every junior player. General managers are re-signing potential free agents. The goal is to improve their roster and make their teams more competitive, so that way they can be playing hockey at this time of year in 2013. Teams are also making  changes in their squad, most notably by changing the main bench boss. While Los Angeles was beating Phoenix, a more important matter was occurring in Edmonton where serious changes were occurring.
It was announced that Tom Renney would not return as the Edmonton Oilers' head coach for the 2012-13 season. While this does not warrant much explanation (seeing his record) there is a reason for some doubt. Renney wasn't given a good team and to pin the blame on him is somewhat unfair. The fallout of this situation is even more interesting. With Renney out, it appears Brent Sutter will be a candidate for the Oilers and Craig MacTavish will be in contention for the Flames' head coaching job. If that happens, Renney's departure would make for an odd swap of coaches.
Familiar Face and Name
On Saturday, a rare playoff trade occurred. Zach Hamill was traded to the Washington Capitals for an AHL prospect. However, this prospect is hardly unknown in the hockey world. He is Chris Bourque, the son of world-class defenseman Ray Bourque. It's not certain if Chris can make the impact that his father did, but maybe he could bring a cup home to Boston- something Ray was never able to do in the city.