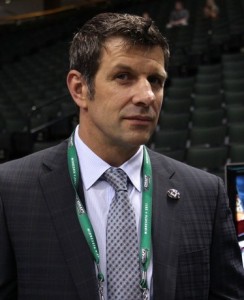 On Wednesday, the Montreal Canadiens announced that their new general manager was Marc Bergevin. He was chosen from a long list of candidates that included, among others, Julien Brisebois, Pat Brisson, Pierre McGuire, and Doug Risebrough.
Though he lacks the experience of many of the other possible choices, Bergevin is thought to be the best person fit for the job at the moment. As a former NHL defenseman who played parts of twenty seasons with the Chicago Blackhawks, New York Islanders, Hartford Whalers, Tampa Bay Lightning, Detroit Red Wings, St. Louis Blues, Pittsburgh Penguins, and the Vancouver Canucks, Bergevin was the clear number one candidate who could relate to his players the best.
"I took this job first of all because I know I'm ready. If I wasn't ready for this challenge I wouldn't be here today."
A native of Montreal, Bergevin knows he has a lot of work to do. The Canadiens had one of their worst seasons in recent memory in 2011-2012, and he hopes that fans will continue to support the team as they head in to what will likely be an offseason filled with numerous changes.
First up on most people's lists is finding an experienced head coach who is, first and foremost, experienced, but is also bilingual. When asked on Wednesday about the issue, Bergevin was quick to point out that the next head coach of the Montreal Canadiens will be expected to speak French. While the ideal candidate will not have to be perfectly bilingual, he will need to be prepared to face the Quebec media with it in mind. At this point, potential candidates include Bob Hartley, Craig MacTavish, and Marc Crawford. And no, Patrick Roy has not been ruled out yet. Regardless of who he chooses, Bergevin is respected league-wide, and is sure to make a good decision.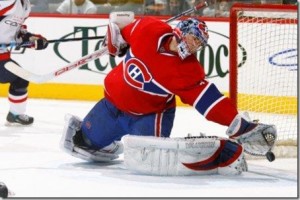 After the coaching issue has been figured out, the next item Habs fans would like to see addressed is locking up franchise goaltender Carey Price with a long-term contract. Price is thought to be the cornerstone of the Canadiens, but as one of the league's premier netminders, Price will no doubt be looking for a contract similar to those of Henrik Lundqvist of the New York Rangers and Pekka Rinne of the Nashville Predators. Reports have suggested that Price is seeking a deal worth about seven million dollars per season. Everyone is aware that it will likely be a steep price for Bergevin to pay, but Bergevin knows it will have to be done.
"I'm going to enjoy it, I'm going to have fun doing it and I'm going to make people in Montreal proud of it. I'm just a piece of the puzzle, we're all going to do this together."
Next up on Bergevin's long list of summer duties will be to re-sign energetic defenseman, P.K. Subban. Ever since Subban joined the Habs' lineup in the 2009-2010 NHL playoffs, Subban has brought a huge spark to the team, and instantly became a fan-favourite. While he won't be given nearly the same money as Price, Subban is likely to reel in a solid contract.
Another issue Bergevin will quickly be faced with is the upcoming 2012 NHL Entry Draft. The Canadiens' currently hold the third overall selection, and are expected to pick a player who will star for their team in the many years to come. At this point, top prospects who could hear their name called by Montreal management on June 22 include Mathew Dumba, Filip Forsberg, Alex Galchenyuk, Mikhail Grigorenko, and Ryan Murray. There will be a lot of pressure placed on this selection, but Bergevin is expected to make a terrific choice.
"It's the first day, I'll evaluate, but there are priority players. Carey Price is 25. I think he's one of the best young goalies in the NHL. If you have a goalie like Carey Price, you're ahead of the game."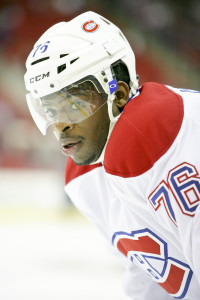 The next few months will be crucial for the Montreal Canadiens. Finding a new bench boss, securing star players, and pleasing the fans with their offseason acquisitions will all be extremely important. Lost in all the recent discussion has been the importance of signing unrestricted free agents to help Montreal get back in the playoffs. At the moment though, there are other priorities.
It is also expected that forward Scott Gomez will be bought out of his current contract, and possibly be sent to the Hamilton Bulldogs of the American Hockey League. Gomez has performed far below expectations since signing a very expensive long-term deal a few years back.
Bergevin, who has been an assistant coach, assistant general manager, director of player personnel, and a pro a scout with the Chicago Blackhawks, will be faced with many challenges.
However, the new general manager and executive vice-president of the Montreal Canadiens is more than willing to move ahead with confidence, and that is surely something Habs fans should be looking forward to.
David O'Connor is a managing editor with the Sunbelt Hockey Journal. His writing has been on the Los Angeles Times' website, among other places. O'Connor also does some scouting work for the local Junior B hockey club. Please feel free to contact him at davidoconnorhockey@gmail.com.