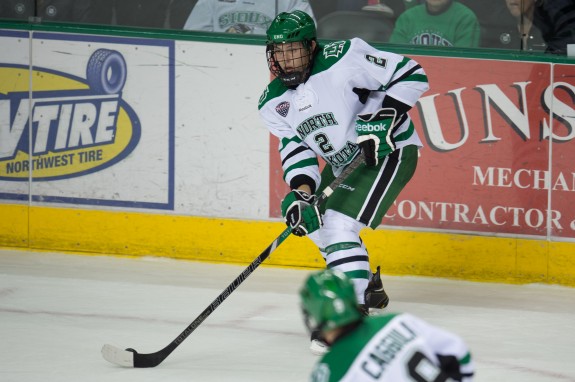 So far this season, we've heard how the University of North Dakota hockey team is a young hockey team. Looking at their roster, that's not entirely untrue. It depends how you look at it. Facts are facts. Or are they?
Being a high profile program like UND, they're going to have younger teams from time-to-time, due to player turn over.  Moreover, all high profiles teams in college hockey go through this. Players come and go, some quicker than others, depending on the team that drafted them. First round draft choices hardly ever make it four years in college. When they depart, they're replaced by younger inexperienced players.
UND hockey team not using age as an excuse
If UND hockey is a young team, the UND coaching staff and players aren't using this as an excuse for their slow start to the 2013-14 season. In the UND locker room, excuses have an effective range of zero meters. Members of the UND hockey team, coaching staff and players will stop the media dead in their tracks and correct them, when young team is uttered at a press conference.  That fact that UND has dressed a single senior in some games. Don't go there.
"We've never once talked to or about this team in terms of being a youthful team and we're not going to start now," head hockey coach Dave Hakstol said.
To a man, the UND players are on message. They will not use age as an excuse, nor should they.
"People like to label us as a young team, but that's not an excuse now, we've been here two months,"  said North Dakota defenseman Troy Stecher after being swept at home by the Saint Cloud State Huskies.
There's too much talent on UND's roster to use the age factor as an excuse for poor play. UND's roster includes 15 NHL draft choices. So, the talent is there. It's up to the coaching staff and the players to figure it out.
Breaking down the defense corps
Here are some facts about the UND defensive corps, age wise. The UND defensive corps has eight members and they have an average age of 20.11 years old. UND defenseman Andrew Panzarella is 23-years old, and his age actually brings the average age up a "little" bit.  But not much.
For the most part, UND has four freshmen defenders fighting for three spots in the UND lineup. Their average age is 19-years old. So, you do have a younger group of players in a crucial area playing key minutes. Granted, these are very highly regarded defensemen.
UND goalie Zane Gothberg was asked if he has to change his game with the younger defensemen in the lineup.
"I don't think so at all," Gothberg said. "If anything, the game will change trying to help them feel more comfortable, feel more relaxed back there. Just try to help out, whether it's in practice, or games. Big thing is… what kind of goes underrated, is communication, on the ice too. It's one thing that we have being to establish in the backend, whether it's playing the puck to our defensemen or breaking out, we try to communicate as much as we can. So, I think that will be the only thing that would change when it comes to our game."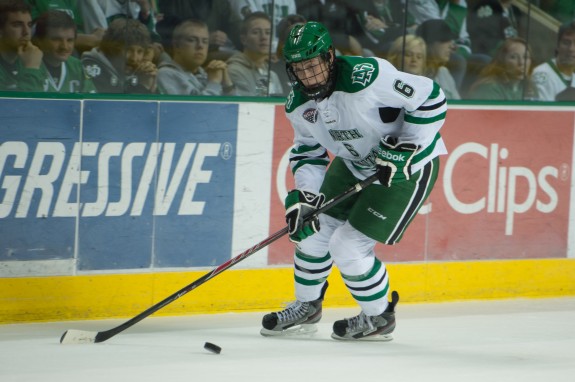 I thought that I would explore this age factor further. Here's the average age of each team in the National Collegiate Hockey Conference. The average age of a hockey player in the NCHC is 21.4 years old. Looking at the numbers, UND is right there, age wise with the rest of the teams in the NCHC.
Colorado College, average age 21.1
Denver, average age 21.1
Miami, average age 21.1
North Dakota, average age, 21.2
Minnesota Duluth, average age 21.3
Western Michigan, average age 21.6
Nebraska-Omaha, average age 21.9
Saint Cloud State University, average age 21.9
So there you have it. UND is about the middle of the pack when it comes to age. So, those that say that UND is a young hockey team can probably cease with that argument, every team in the NCHC  is young. So don't go there.
Eric is a 1996, 1999 graduate of the University of North Dakota. Eric covers the University of North Dakota Hockey and Division I college hockey. Eric is the Contributing Editor for Inside Hockey.