Coming into the 2015-16 season, the University of North Dakota Fighting Hawks were picked to finish third in the National Collegiate Hockey Conference Preseason Poll. So far, the Fighting Hawks have exceeded those expectations. After 10 league games, the Fighting Hawks are sitting in first place of the NCHC standings.
Going into the Christmas break, first-year head coach Brad Berry's team has gone 16-2-2 and is poised to make another run at an NCHC title and an NCAA tournament bid. Here are some of the things that have stood out for me so far this season.
Cam Johnson Takes the Net
For the last six games, the Fighting Hawks sophomore goalie, Cam Johnson (7-0-1, 1.20 GAA, .955 save percentage) has been on a torrid streak.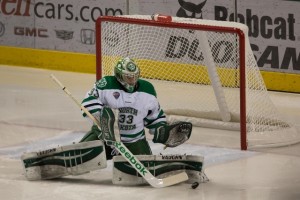 For his efforts, Johnson has been named the NCHC goalie of the week for three consecutive weeks. This past weekend, Johnson and the Fighting Hawks swept the Minnesota-Duluth Bulldogs (3-0 W, 3-0 W). Johnson played a big role in that series sweep, the junior goalie from Troy, Michigan, stopped all 78 shots he faced.
For those keeping track at home, the Fighting Hawks have now won back-to-back-to-back shutouts. With Johnson in goal, UND has once again become the number one defensive team in the National Colligate Hockey Conference. The Fighting Hawks are also ranked 4th in the nation defensively.
Johnson was injured on October 16, 2015, and missed 10 games with a lower-body injury. Johnson returned to action on November 21, 2015, against St. Cloud State Huskies, relieving starting goalie Matt Hrynkiw.
During Johnson's absence, Hrynkiw performed admirably and went (9-2-1, 2.11 GAA, .911 save percentage). Since relieving Hrynkiw,  Johnson's game has taken off. He's played out of his mind.
Since his return, Johnson has been statistically one of the better goalies in the country (6-0-0, 0.93 GAA, .969 save percentage). Breaking it down further, over the last six games, Johnson, and the Fighting Hawks have given up just three goals in six games. For Johnson, that translates to (6-0-0, 0.50 GAA, .983 save percentage).
According to Brad Schlossman of the Grand Forks Herald, Johnson's scoreless streak of 218 minutes, 38 seconds is the longest by a UND goalie in 62 years and is the second-longest all-time. That's impressive by anyone's standards.
CBS Line Dialed In
The University of North Dakota Fighting Hawks top forward line of Drake Caggiula, Brock Boeser, and Nick Schmaltz is known as the CBS Line.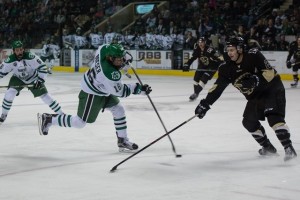 Since being paired up on October 17, 2015, this top forward line has been on a torrid pace. Over the last 12 games, UND is 10-2-0.
Here's how the scoring breaks down.
Last weekend, Boeser scored his 13th goal of the season to extending his point streak to 10 games. During the 10-game point streak, Boeser has scored (8g-3a—11pts). Boeser has goals in six straight games (6g-0a—6pts). Boeser is tied for 7th nationally in points per game by a rookie. Boeser also leads the nation in rookie goals with 13.
Last weekend, Caggiula picked up assists on Boeser's two goals. With two assists, Caggiula has a six-game point streak. During that six-game point streak, Caggiula has scored (6g-5a—11pts).
Finally, last weekend, Schmaltz extended point streak to 11 games. During those 11 games, Schmaltz has scored (3g-17a—20pts). After 20 games, Schmaltz has scored (3g-23a—26pts). Schmaltz is tied for first in the nation in assists and fourth in the nation is scoring. (Link to stats)
CBS Line Totals
For the season, Caggiula (13g-14a—27pts), Boeser (13g-8a—21pts) and Schmaltz (3g-23a—26pts) lead the Fighting Hawks in points. The CBS line has scored 41.4 percent of the Fighting Hawks goals this season. Together, as a forward line, the CBS line has scored (29g-45a—74pts).
A Look at the Numbers
#2 North Dakota Fighting Hawks (16-2-2, 9-1-0 NCHC)
UND Offense: 9th, 3.50 GPG
UND Defense: 4th, 1.70 G/GM
UND Scoring Margin: 7th, 1.80
UND Power Play: 28th, (14/77, 18.2%)
UND Penalty Kill: 22nd, (68/81, 84.0%)
UND Penalty Minutes: 13th, (13.2 PIM/G)
UND SOS: 17th
UND USCHO Ranking: 2
UND Pairwise Ranking: 5th
UND Record during December: 4-0-0
UND Home Record: 6-1-0 (.857)
UND Away Record: 10-1-2 (.818)
UND Last 10 Games: 9-1-0 (.800)