Ryan Strome's NHL career is but a season and a half old and already feels like it's come full circle.
For Strome's future with the Islanders – and, for that matter, in the NHL – feels as hazy today as it did they the day they drafted him fifth overall in the 2011 entry draft. And that's not for lack of exposure.
In 2013-14, Strome was the rookie call-up who justified the hype, tallying 18 points in 37 games for an Islanders team limping to the finish line. In 2014-15, he was the sophomore who took that second-year leap, finishing third on the team with 50 points in 81 games. And now, in 2015-16, he feels a lot like the star that never came to be, enduring a lackluster start to the season and a November demotion to the AHL.
That's an NHL lifecycle in a nutshell. The question for Strome is can he regenerate.
The Missing Ingredient
No one doubts the young forward's skill level. He is a strong skater with slick hands who possesses the moxie to make difficult plays in tight situations. No matter the situation, Strome is the kind of player who wants the puck on his stick – so he can quickly dish it off when he spies an open teammate.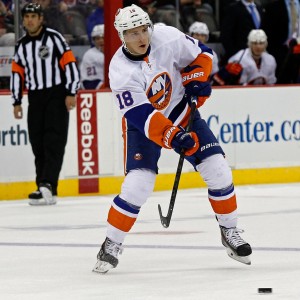 When the 2015-16 season began, coach Jack Capuano paired Strome with John Tavares and Anders Lee on the Islanders' first line. There's a reason he was there, and it begins with his talent; Strome has the uncanny ability to make plays that no one else sees. (Just like Tavares.)
When that unit struggled to produce offense, Strome was moved to a line with fellow youngsters Lee and Brock Nelson. The "Kid Line," as it was called, was similarly ineffective and by November 6, just 12 games into the Isles' season, Strome had been sent down to Bridgeport.
What the Isles wanted to see out of him in the AHL, more than anything else, was a reinvigorated work ethic. Strome himself has been one to admit he needs the occasional "kick in the pants" to get going, so when he sleepwalked through October, the Isles kicked him all the way to Bridgeport.
The question mark that remains in Strome's game – at least from the Islanders' point of view, it seems – is his willingness to gnash his teeth and consistently compete at a high level. He's done it before, but he needs to expend himself shift in, shift out, game in, game out, for an entire season.
Heck, Strome did exactly that last season and emerged as one of the best forwards on the best Islanders team in over a decade. Not only were his surface stats good – 17 goals, 33 assists, .62 points per game – but his peripheral stats were even better – 53.4% Corsi For, 57.24% High-Danger Scoring Chances For. By any measure, Strome had a terrific 2014-15 season that seemed to augur well for this year.
Ryan Strome: Blossoming Star or Draft-Day Bust?
But through 21 games of the 2015-16 campaign, Strome has just three goals, seven assists and ten points. As one would expect, his analytic numbers have similarly fallen off, his Corsi For down to 48.2% (although his High-Danger Scoring Chances For remains a healthy 53.3%.)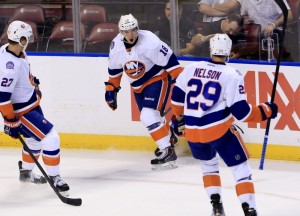 Some of that statistical damage can be attributed to Strome's poor start, but even after being recalled from the AHL on November 27, he's tallied just two goals and three assists in nine games. He's played mostly with Nicolay Kulemin and Mikhail Grabovski in that span, although Capuano moved him to a line with Lee and Frans Nielsen in Tuesdas's game against the Panthers.
The change brought more of the same for Strome: no points and a minus-two rating. He showed flashes of his ability throughout the game, but nothing consistent enough to suggest he's starting to turn the corner on this 2015-16 season.
It's hard to say where Strome goes from here. He'll stick around the Isles for a while because a) this team needs him and b) there just aren't any better options, but Strome seems to be working on borrowed time right now. His high-draft selection and terrific sophomore season have granted him the benefit of the doubt, but he can only survive on reputation for so long.
If Strome can rediscover his mojo from a season ago, he'll be thrust back in the spotlight on a surging Islanders team. But if his career arc has stalled – if, yikes, it has already run its course – he won't be long for Brooklyn.
He'll barely have had time to say "Hello."