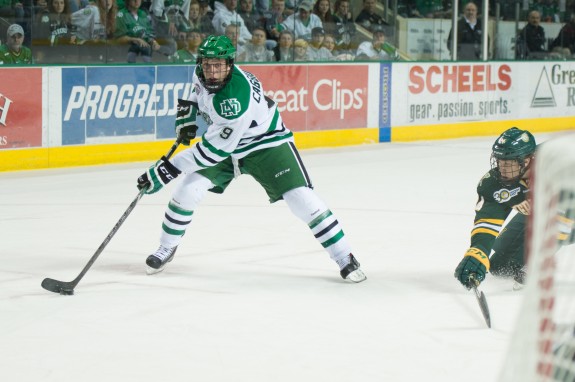 Last Saturday night, UND would beat the US National U-18 Team 4-1 in an exhibition game, but the win would come with a cost. Sophomore forward Drake Caggiula would suffer an apparent injury in the early minutes of the second period. Caggiula tried to jump over a U-18 player, fell and landed on his head.
At first look, it appeared to be a very serious injury. A hush fell over the arena. The fans and players looked on with concern as Caggiula was taken off of the ice on a stretcher and transported to Altru Hospital by ambulance.
Having been around sports all of my life, injuries put a damper on the game in question. No one wants to see an athlete get hurt. Thank God he wasn't hurt that bad.
Hockey secondary after injury
It was also very hard to focus on the game for the UND players after Caggiula was taken off of the ice, on a stretcher. After the game, sophomore forward Rocco Grimaldi said Hockey was secondary.
"It was like hockey doesn't matter," Grimaldi said. "There were things more important than that game. That's all I was thinking about. But we had to play the rest of the game for him and I thought we did a good job."
Fortunately, this time, it appears that this was not the case. Luckily, Caggiula has escaped major injury and for that we're thankful.  At the time, it appeared that Caggiula was seriously injured.
After the game, the players and coaching staff waited for news on their injured teammate. News began to emerge and later that evening a sore Drake Caggiula walked out of the Altru Hospital in Grand Forks, ND under his own power.
#siouxfamily
Happy to say I walked out of the hospital under my own power. Thanks for all the support from family, friends and fans. — Drake Caggiula (@drakecaggiula) October 27, 2013
During the Wednesday press conference, assistant Captain Stephane Pattyn was asked how the leaders on the team keep the players calm on the bench after one of their fellow teammate is hurt on the ice.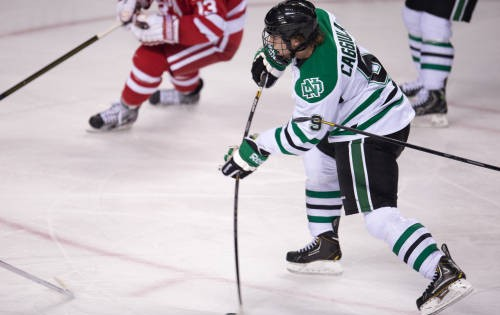 "I am a very vocal person on the bench," Pattyn said.  "I like to talk, and I like to get the guys going as much as I can. So, after that happened … I just stood up and said Drake would want to be here and if he was here, he would be going every shift. So, let's do that for him. Let's just battle up every shift. We'll find out what wrong, the good or the bad after the game. There's nothing we can control right now. So, we'll find out the results after."
After the injury UND would score four goals and it appeared to give the UND hockey team a temporary lift.
"We buckled down and got that win for him," Pattyn said.
Fast forward to this week, Caggiula has made a remarkable recovery. The sophomore forward has practiced and there's a very good chance that he could play this week against the Saint Cloud State Huskies. I guess we will find out this weekend when the Huskies and North Dakota take the ice.
Eric is a 1996, 1999 graduate of the University of North Dakota. Eric covers the University of North Dakota Hockey and Division I college hockey. Eric is the Contributing Editor for Inside Hockey.