The Western Hockey League season is starting to pick up steam and we are starting to see teams settle into what they will end up being. There were some big movers this week as some teams got hot and others started to slide. Don't look now but the defending champs are scorching hot and look to be back in true form.
Who were our risers? Droppers? Who is in your top ten?
Here are our weekly WHL power rankings
1. Kelowna Rockets (9-2-0-2) Last Week's Rankings: 1
The Rockets maintain the top spot along with regaining the top spot in the B.C. Division. They bested the Victoria Royals twice last week, in Victoria, to make an early season statement. Jordan Cooke was named CHL Goalie of the Week for his play in those games which included stopping two penalty shots. They continue to get scoring depth as only three points separate their top six scorers.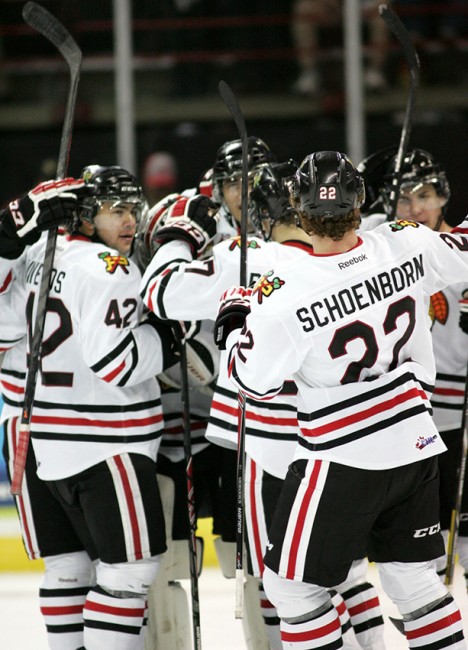 2. Portland Winterhawks (12-3-0-1) Last Week's Rankings: 5
The Winterhawks have torn through the league over the last few weeks and are sitting on a nice fat nine game win streak. That has put them on top in the tough U.S. Division and Western Conference for now. What a year Oliver Bjorkstrand is having as he is tied for the team lead in scoring with 14 goals an 32 points which is also second in the league.
3. Seattle Thunderbirds (11-3-0-2) Last Week's Rankings: 4
Seattle has won three straight and has not lost in regulation in their last five. Only Portland has scored more goals and the T-Birds have added depth via trade and can match up with anyone. Goaltending was a question coming in but so far the tandem of Justin Myles and Danny Mumaugh have held their own. With games against Portland and Everett this weekend Seattle could make an early statement. Even former players are starting to notice:
Gotta love how the @SeattleTbirds are going for it this year!!! And @jhick9 as cheds!!!! #thefansdeserveit #overdue #winning

— Calvin Pickard (@cpickard1) October 25, 2013
4. Calgary Hitmen (10-3-1-2) Last Week's Rankings: 3
The Hitmen have been playing well of late and are leading the Eastern Conference. For now they've been able to hold off the Medicine Hat Tigers for the top spot in the ever tightening Central Division. They host Edmonton this weekend in a game that always is a big one.
5. Medicine Hat Tigers (10-3-2-0) Last Week's Rankings: 6
Despite losing Hunter Shinkaruk to an injury the Tigers keep winning. They have a three game winning streak and are hot on Calgary's heels. One of the top offensive teams in the WHL they are getting scoring across their lineup, including Curtis Valk, who picked up four goals in his last three games. When Shinkaruk gets back they will be even more deadly.
6. Everett Silvertips (10-2-2-0) Last Week's Rankings: 7
Everett has won four straight and continues to be nearly impossible to score against. They host a big game with Seattle this weekend but will have to survive a while without standout goalie Austin Lotz who is out three weeks with a high ankle sprain.
7. Spokane Chiefs (11-5-0-0) Last Week's Rankings: 2
The Chiefs have dropped two games in a row, including a head scratcher against the struggling Kamloops Blazers. Is this just a small bump in the road or a sign of a scorching team coming back down to earth? Perhaps we'll find out Saturday as Spokane will host Portland.
8. Victoria Royals (9-7-0-1) Last Week's Rankings: 8
The Royals missed a great chance to send an early season message to Kelowna this past week, losing twice at home. They're still a solid team and will be heard from in the B.C. Division before it's all over. They can get back on the winning track this weekend with the reeling Red Deer Rebels coming to the Island for two games.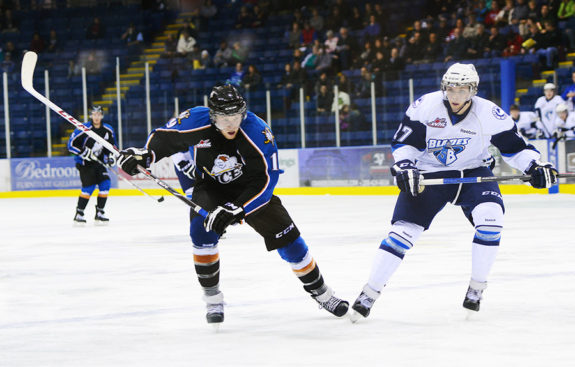 9. Kootenay Ice (8-6-2-0) Last Week's Rankings: 13
The Ice won a couple games this past week and are slowly climbing back up the standings, and our rankings. Everyone is aware of Sam Reinhart but Jaedon Deschenau scored four goals in the last two games and newly acquired Tim Bozon has three points in his three games with the Ice.
10. Prince Albert Raiders (9-6-1-0) Last Week's Rankings: 9
The Raiders continue to hold onto the top spot in a pretty soft Eastern Division. They are probably the best team in the division and will need to step it up if they wish to make a playoff run — something they were hopeful about when the season started.
11. Edmonton Oil Kings (8-7-0-1) Last Week's Rankings: 10
The Oil Kings continue to be a mystery. They have several NHL drafted players on their roster, good goaltending, some high end scoring and yet can't seem to break free of the .500 mark. This is still a dangerous team and it feels like only a matter of time before they catch fire.
12. Tri City Americans (8-8-0-1) Last Week's Rankings: 18
The Americans record may be a bit misleading. They have won three in a row and have played a pretty tough schedule in the U.S. Division. They still will need to find more consistent scoring to support Eric Comrie in net.
13. Swift Current Broncos (8-8-0-1) Last Week's Rankings: 17
The Broncos returned back to the Eastern Conference after getting thrown around in the U.S. the prior week. They promptly won two games in a row to get that winning taste back again. Julius Honka has cooled off a bit, going scoreless in his last there and is a minus – 6.
14. Regina Pats (8-8-0-0) Last Week's Rankings: 14
The Pats have gone 7-3 in their last ten games and continue to play solid hockey. How good of a pick up was Boston Leier? Since coming over from Medicine Hat he has 13 points in 11 games.
15. Saskatoon Blades (7-8-0-2) Last Week's Rankings: 16
The Blades lost twice last week but are 6-3-0-1 in their last ten and continue to hang around. They continue to be led by Russian import Nikita Sherbak who leads the club with 11 goals and 25 points.
16. Prince George Cougars (7-8-1-2) Last Week's Rankings: 12
The Cougars continue to play up and down hockey which is not too surprising for a young team. Goalie Ty Edmonds continues his fine play but it is too bad he can't play in every game as back up Brett Zarowny has struggled to start the year.
17. Vancouver Giants (6-9-1-1) Last Week's Rankings: 20
The Giants have been playing well, winning three straight and pushing Everett and Seattle down to the wire before that. Can they push for the eighth spot in the West? Its possible, they will need more consistent goaltending if they want to do that.
18. Moose Jaw Warriors (6-9-1-2) Last Week's Rankings: 19
The Warriors had some turmoil this week as Todd Fiddler left the team and had been struggling. Will it affect the Warriors? With or without him the club has only managed two wins in their last ten. Losing an over-ager probably isn't going to help.
19. Brandon Wheat Kings (7-9-0-0) Last Week's Rankings: 11
The Wheat Kings are the latest Eastern Conference team to venture into the U.S. Division and get crushed. They've lost four in a row and have to play Everett on Friday which if form holds will be their fifth straight loss.
20. Red Deer Rebels (6-8-0-1) Last Week's Rankings: 15
The Rebels continue to struggle, winning only two games in their last ten. What is going on here? Weren't they supposed to be better?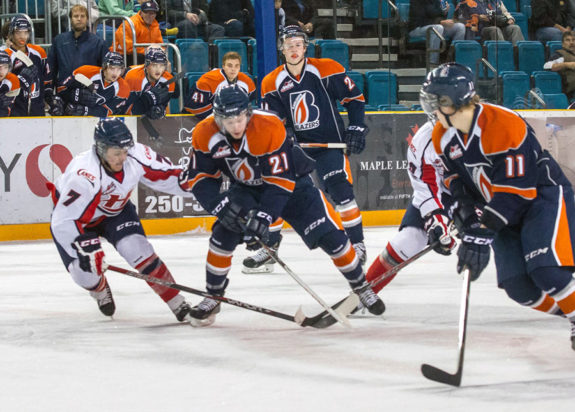 21. Kamloops Blazers (5-10-1-0) Last Week's Rankings: 21
The good news for the rebuilding Blazers? They're not the lowest ranked team in the WHL. They continue to be one of the lowest scoring teams in the WHL and are in for a long year, especially in a tough conference.
22. Lethbridge Hurricanes (2-11-1-2) Last Week's Rankings: 22
The biggest news out of Lethbridge this week was alumni Kris Versteeg wanting to buy the club. He's being told it is not for sale – either way the Hurricanes needs something new.
Andrew writes about the WHL and NHL Draft Prospects. He also covers the Seattle Thunderbirds for 710 ESPN Seattle and spent two years with Sportsnet. Follow him on Twitter @andyeide.