Over the last three years, the North Dakota and Nebraska-Omaha series has become an exciting rivalry. The action on the ice has been non-stop.
We've had a head coaches thrown out of a game. We've also had players drop the gloves at center ice.
This series has become one that you mark down on your calendar at home. The games are intense, hard-fought and always exciting. Most of the games have been settled by a goal.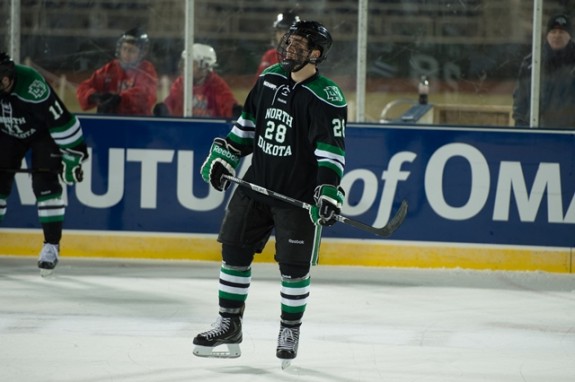 During the last three years, the two teams have played in some instant classics. Coming into this weekend's series against the Mavericks, UND has won five of the last seven games.  This weekend's series is pivotal as far as the standings go.
UND forward Stephane Pattyn was asked why Nebraska-Omaha is becoming such a ferocious rival.
"Maybe the outdoor game had something to do with it," Pattyn said. "Last year was kind of a big thing for everyone. We had them in the WCHA; they're one of our foes in the NCHC now. I think it just carries over from the past."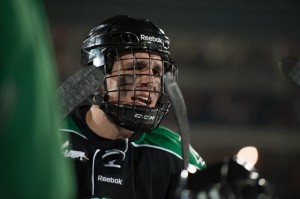 Every game these two teams have played against each other – time and space have been a luxury. Every inch of the ice has been highly contested. This series has been a war – smash mouth hockey – where there's been little room to roam.  On the ice, players keep their heads on a swivel.
Historically a hard-fought tight series
Historically, the games between the two teams have been very tight. UND has played 10 games against the Mavericks and 6 of the 10 games have been decided by one goal, including four of the last six. Yeah, that's tough sledding.
"They play a similar game to us," Pattyn said. "They work hard and they come at you real hard. They don't give us much room to play. We're just going to have to turn it on them and do it to them harder and worse."
"There has always been something there," freshman defenseman Paul LaDue said. "Obviously, last year with the outdoor game and a couple of good series… It's a must win for both teams. So, it's going to be intense."
Ladue continued, "They're a good team and they work hard. They're a fast team, strong team and I think they play a lot like us. We'll to have to be ready for that. They get a lot of scoring chances in front of the net and were going to have to do a good job of keeping away from there and helping our goalie out."
UNO's high-octane offense is scoring goals in bunches
This season, UNO is known for its prolific, high octane offense.  Last weekend on Saturday night, the Mavericks hung eight goals on the SCSU Huskies. The Mavericks have given opposition goalies fits.
UNO is ranked 14th in the NCAA for scoring and have scored 77 goals so far this season. That's 10 more goals than UND has scored this season. Up front, the Mavericks have four players with 20 or more points Josh Archibald (18g-10a—28pts), Ryan Walters (5g-18a-23-pts), Brock Montpetit (10g-11—21pts), Dominic Zombo (12g-8a—20pts). On the other side of the ice, UND has one player with 21 points, Rocco Grimaldi (9g-12a—21pts).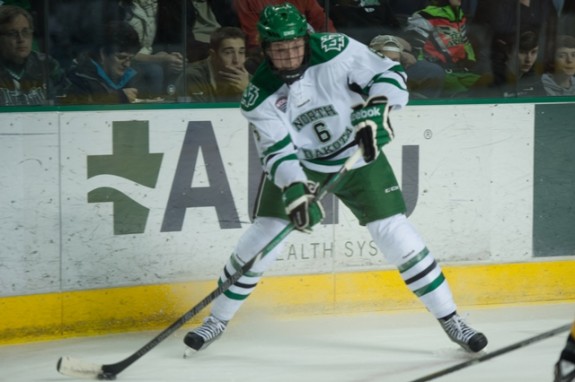 LaDue was asked what his team needed to do to shut down the Maverick's highly talented top-six forwards.
"You have to be physical with them," LaDue said. "Always know when they're on the ice. You can't play them any differently than any other forward. But you've got to be aware (of them) and shut them down."
UND head coach Dave Hakstol had this to say about playing the Mavericks this weekend.
"They're a pretty good hockey team," Hakstol said. "I don't like to talk about our opponents much at this time of year. We play real good opponents. This is going to be a hell of a battle this weekend. You take a look at the league standings, where everybody is sitting, league-wide, nationally, there's a lot on the line. Every team we play is going to play with an extreme level of intensity.  That's what you can expect down the stretch. Certainly, that's what you can expect from Nebraska-Omaha."
One thing is certain, the head coach and the UND hockey team is already in playoff mode and ready for a battle this weekend against the Mavericks.