Sunday night, the University of Hockey Dakota hockey team kicked off the 2014-15 season with an exhibition game against the Manitoba Bisons.
Sunday's game marked the much anticipated debut of freshman forward Nick Schmaltz, who joins his older brother Jordan on the UND roster. The duo didn't disappoint. The Verona, Wisconsin natives were impressive in the season debut. Both players combined had five points, Jordan (1g-2a—3pts) and Nick (0g-2a—2pts).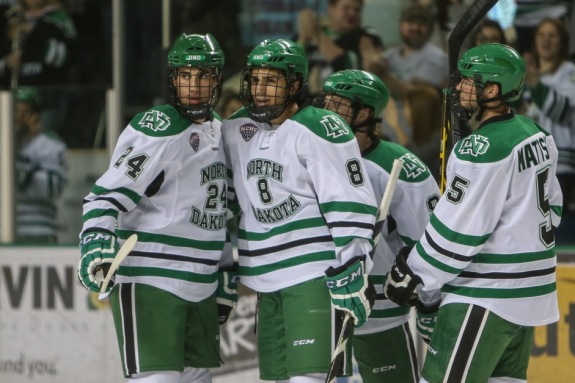 At times, the older Schmaltz looked like a man among boys. It was almost like Jordan found another gear during the offseason. After the game, head coach Dave Hakstol was asked if Jordan had taken his game to another level.
"I think he had that the last month of last season," Hakstol said. "We saw him take that step. It's physical development, but it's also just confidence. He took that step towards the end of last year. He was able to control the flow of games at times. Again, we didn't see it for a full 60 minutes tonight, but we saw more than flashes tonight. We saw a pretty good performance from him for a preseason game."
The younger Schmaltz played briefly with his brother at Green Bay of the USHL back in 2011 and was asked what it was like to play on the same ice with his older brother again.
"It was fun to get on the same ice as him," Nick Schmaltz said. "I like getting out on the power-play with him so we can make plays. It's really fun playing with him."
At first glance, one might think they were seeing double when the Schmaltz brothers were speaking to the media. They both said similar things about the other.
The older Schmaltz was just as complimentary when asked about his younger brother's play.
"The more the puck is on his stick the better chance we have to score," Jordan Schmaltz said. "You can tell he was making a lot of plays out there, especially with (Drake) Cagguila. He missed a few there.  The pass to Murph (Wade Murphy) was a good pass as well.  So, I think Nick is a special player if the puck is on his stick, he'll make a play."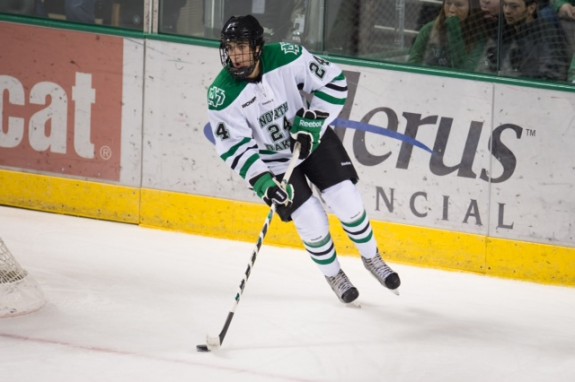 Not because they're brothers
At the suggestion of UND assistant coach Brad Berry, the Schmaltz brothers played together on the man advantage.  With the Nick and Jordan on the ice together, UND went 3-for-6 on the power-play. Coach Hakstol seemed to like the move.
"That's something Brad brought to the table right away," Hakstol said. "It's not because they're brothers. It's a combination of skill sets that they have that work pretty well together."
The Schmaltz brothers made quite the impression during Sunday's exhibition game. If the two brothers can continue to play at high level during the regular season, that will bode well for the UND hockey team.