Saturday night, the University of North Dakota hockey team defeated the Air Force Academy Falcons 3-2 in overtime.
With the way the game ended, Saturday's game could end up being an instant classic. UND entered the third period down 2-0, but had nothing to show for. After two periods, it looked like Air Force was on the way to getting their first win against UND.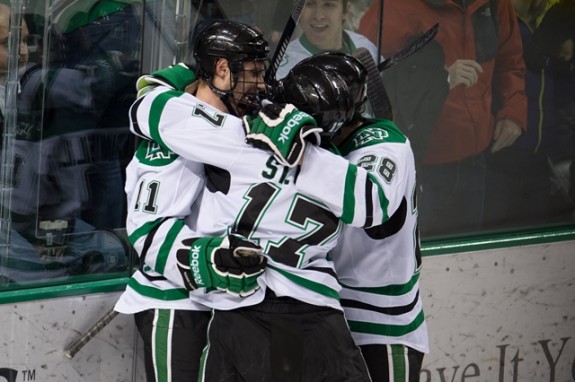 Throughout the second period, UND was pushing the pace but Air Force goalie Chris Truehl stood tall and kept UND off of the score sheet.
Finally, UND was able to get a puck past Truehl at the 6:53 mark of the third period with a goal from freshman defenseman Tucker Poolman. Junior forward Drake Caggiula would get the game-tying goal with .29 seconds remaining in regulation.
The game would head to overtime with the score tied at 2-2. Then the unexpected happened at 2.17 of overtime, senior forward Brendan O'Donnell would take an ill-advised and undisciplined five-minute major penalty for checking from behind.
UND would go on to win the game with a shorthanded goal with 6.4 seconds left in overtime.
While UND was behind through two periods of play, I don't think they played badly.  After Air Force scored their second goal, the momentum shifted in UND's favor.  UND would outshoot the Falcons 22-8 in the second and third periods combined. During the second period, I felt it was just a matter of time before UND would tie up the game.
Players unsatisfied with play despite win
After Saturday's dramatic win, the UND players appeared unsatisfied with their play despite getting the win. The players were quick to point out that they didn't play a full 60-minute game.
"I don't know what to say," Michael Parks said. "We didn't play a complete game, but I guess we're mature enough to find a way to win that game."
Although he scored the game-winning goal, junior forward Bryn Chyzyk thought he'd played a bad game.
"I thought I had a horrible game," Chyzyk said.
Chyzyk continued: "With a nice pass by Mike (Parks) at the end there. I saw Mike with a heck of a back check. Turned the puck up ice – we had numbers. It was my job was to get to the net with my stick on the ice. He made a fantastic pass. Somehow it got to the back of the net."
Drake Caggiula agreed. "We came out really poor and we left ourselves 20 minutes to earn a 'W' and I thought our team did that," Caggiula said. "It was really big for our team and our locker room. The third period was excellent, but I think we've got to work on our starts after that one."
In conclusion, if we saw anything, this year's UND hockey team isn't going to be happy with just getting the win. The UND players weren't satisfied with their play on Saturday night and were quick to take ownership.
Eric is a 1996, 1999 graduate of the University of North Dakota. Eric covers the University of North Dakota Hockey and Division I college hockey. Eric is the Contributing Editor for Inside Hockey.