New Jersey Devils captain Bryce Salvador knows a thing or two about the game of hockey. It's true. He likely knows more about hockey than you do; well most of you, unless you are an ex-player reading this…Brendan Witt? The 38-year-old, 14-season veteran has seen and experienced just about every situation over his career with the Devils and St. Louis Blues. He has never been confused with being the best player on any team, nor the most skilled, nor the biggest name. What really defines him is that he is always and always has been a team-first guy. Willing to do whatever it takes to help his team win. One night it may be blocking shots. Another it may be standing up for a teammate by fighting a player on the opposing team. The next game he may have to take a seat because the Devils are trailing in a game and need to generate more offense. The following game it may be leading the team in ice-time due to inexperience, penalties and or injury on the blue line. Another night it could be killing off seven power plays against because his teammates are taking penalties.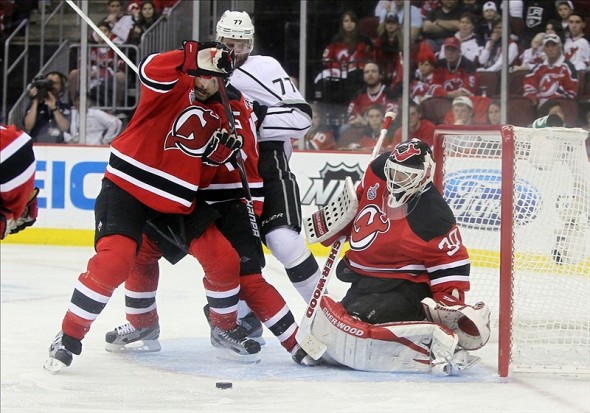 Sounds like a pretty valuable player to us. He wasn't named captain in New Jersey in 2013 because he was the star of the team; it was because he is a true professional in every sense and definition of the word. It's his work ethic, his dedication to the sport, his ability to focus on his job and not let outside distractions in. He's not a 'rah-rah' speech guy, but when something needs to be said or discussed amongst the team his voice is heard. When the team loses 8-3, he's the guy that will stand in the locker room and answer every question posed to him no matter how long it takes. He's a guy that sat out an entire season recovering from a serious head injury and returned to play 82 games the following season — and then played 24 more games in the postseason (4g-14a).
Recently 'fans' of the team have been giving him brutally unfair, singling him out every time something goes wrong on twitter & social media circles and even booing their own player when his name is announced, taking a page out of the books of certain Philadelphia and New York fans. The Hockey Writers caught up with Salvador to talk about being a leader with or without a C or A on a jersey, why this year's edition of the Devils is different from last season's, and how he is helping to mentor four defensemen on the roster that are under 23-years-old among other topics.
The Hockey Writers: You're not a big point producer, but was it nice to get your first assist of the season tonight (on the GWG)?
Bryce Salvador: Oh yeah, but it's just good that we won the game. We found a way to get two points; being able to chip in some offense is always a plus. Most importantly we are finding ways to win right now.
THW: Last season this team missed the playoffs. Why will this season be better?
BS: Well, I like our team; I like our veteran presence and what I like right now is we are finding ways to win. Last year, these types of games (3-2 win over Columbus) we would lose. I like that we are finding ways to win and our game isn't as sharp as it should be. It's just good that we are finding ways to win and pick up points.
THW: After getting thumped in Pittsburgh you come from behind to win these last two games, is that kind of what you are talking about?
BS: Yeah exactly. We put that game behind us and we're realizing that we are not out of any game. Like I said the last two games we found a way to tie them up and eventually pick up four points.
THW: There are four young defensemen on this roster — as an older player, as a veteran, are there some things you specifically do to help them out?
BS: They're doing a really good job. They're playing composed and they just take everything in and listen to everything; they ask questions on and off the ice. It's a testament to them and the way that they have been playing (how well we started this season).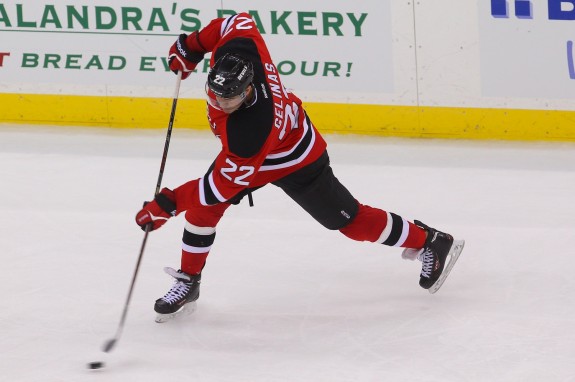 THW: As the captain of the Devils we assume you have an idea of who some leaders are on this team that maybe don't have a letter stitched on their jersey; can you talk about that?
BS: We have a veteran team, a lot of leaders in here; a lot of guys chip in on the vocal standpoint and on the ice as well. That's what happens when you have a veteran team like we do. Ryane Clowe is definitely one guy who is a leader in here (and doesn't need a letter to be one); he says things at the right time, he sticks up for his teammates and stuff like that. He's definitely a good leader.
THW: Last year the team added Michael Ryder, this year Mike Cammalleri and Martin Havlat. Is it nice to be teammates with those guys now and not having to play against them?
BS: (laughs) yeah they're great players and when they are going they can put the puck in the net. It's always nice to have those guys (on your side).
How quickly fans forget the contributions from Bryce Salvador:
THW: The run this team had in the 2012 playoffs, was that some of the best hockey you played in your career?
BS: It was just a good year that year; I think for the team in general. I think everyone here had success that year — when the team has success, everyone has success, and individuals have success. I think any personal success anyone or I had that year was a result of the team having success.
THW: You and I know that there are a lot of funny guys on this team right now; can you clue in the readers on who some of them are?
BS: (smiles) Zubie, Jags, myself, Clowe, Greener. A lot of guys in here are pretty funny.
THW: Glad you mentioned yourself, some of your teammates have told us that you are one of the funnier guys in here.
BS: I try to be (laughs)!
Dan Rice can be reached via Twitter: @DRdiabloTHW or via Email: drdiablo321@yahoo.com
Dan Rice is in his 9th year of reporting for THW & has covered NJ Devils home games for 15+ years at various websites. He began his journey working for legendary broadcaster/writer Stan Fischler from 2002-04 & completed an internship at the ECHL; he also has been writing features for the NWHL (nwhl.zone) website since 2016.