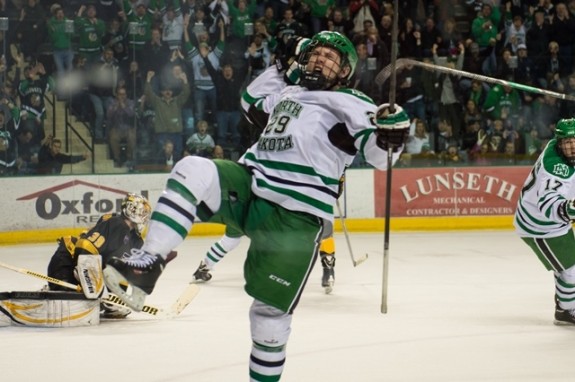 The University of North Dakota Hockey team enters the National Collegiate Hockey Conference tournament on 18-5-1 run (second best to Union). Even though UND owns a 22-12-3 (.635) record, they're sitting on the bubble for an at-large NCAA Tournament bid. They control their own destiny, and might need to win the NCHC Frozen Faceoff to advance to the NCAA tourney.
Sounds simple right? Really it is.
UND head coach Dave Hakstol was asked if his team is aware of the Pairwise Ranking scenarios.
"Everybody knows the Pairwise scenarios," Hakstol said. "Win and move on. That's the scenario, win and move on."
"Right now every team is kind of looking at the Pairwise and trying to make their (own) predictions and that kind of thing," UND forward Drake Caggiula said. "The only thing we can control is what we do and it all starts with Friday. We have to win on Friday night no matter what to get into the tournament. It's all that we're focused on right now is Miami on Friday night. We're just focused on that and not worrying about the Pairwise, and do what we can control."
UND owns a 7-3-0 record against the teams in this weekend's NCHC tourney. But records mean nothing this time of year. Everyone's fighting for their playoff survival and UND's going to have to be on top of their game if they want to advance to the NCAA tourney for a 12th consecutive season in a row. Currently, that's the longest streak in NCAA division I hockey.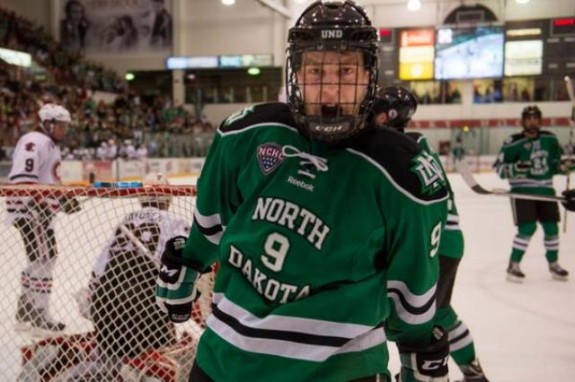 UND hockey team not feeling pressure
I asked senior captain Dillon Simpson if he felt that there was any pressure on the UND hockey team.
"I don't think pressure is the right word," Simpson said. "For us, we're just excited to get the opportunity to at least try to control our own destiny, throughout this weekend.  All our focus is on Friday, against a really good Miami team. But at the end of the day – more than pressure – we have to be excited with the opportunity to keep our season going."
It's Simple, win and they're in
In listening to the UND hockey players and their coach, I didn't sense a team that is overly nervous. If anything they're very focused on the task at hand. They know what they have to do to make the NCAA tournament. It's very simple actually, win the Frozen Faceoff and they're in
In the playoffs, a team's season ends with a loss. That can add pressure on the teams in the tournament. That's the finality surrounding college hockey playoffs. That's what makes college hockey so exciting. Win and you move on. Lose and you go home. This year's team seems to embrace that.