Tears For Fears were killing it. Home Alone made its big screen debut. Cheers was the most popular television show in America. Milli Vanilli returned their Grammy. The "I've fallen and I can't get up" old lady was sprawled out on the floor. The Ultimate Warrior shocked the wrestling world by defeating Hulk Hogan at WrestleMania VI.  And, my Teenage Mutant Ninja Turtles action figure collection was in its infancy.
The year all of that happened was 1990. It was also the last time the Red Wings failed to qualify for the Stanley Cup Playoffs.
We've been spoiled in Detroit with 22 straight years of playoff hockey so we were probably about due for a losing season. Let's take a look back at the last time the Wings went off the rails… I give you the 1989-1990 Detroit Red Wings:
The Roster
Head Coach:  Jacques Demers
Goaltenders: Tim Cheveldae and Glen Hanlon
Forwards: Bob Probert, Sheldon Kennedy, Gerard Gallant (A), Shawn Burr, Bernie Federko, Steve Yzerman (C), John Chabot, Joey Kocur, Jimmy Carson, Dave Barr, Mark Habscheid, Daniel Shank, Petr Klima, Greg Adams, Kevin McClelland, Randy Mckay, Torie Robertson, Brent Fedyk, Adam Graves, Jim Nill, and Tony McKegney.
Defensemen: Steve Chiasson, Rick Zombo, Lee Norwood, Borje Salming, Yves Racine, Doug Houda, and Mike O' Connell (A).
Thoughts: Apparently Jim Nill was playing right wing for the Red Wings in 1990. Did he still have the stache?
The Stats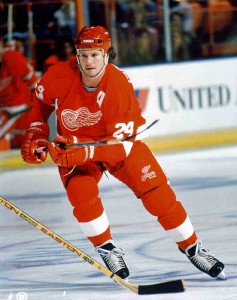 Points Leader: 127 (Yzerman)
Goals Leader: 62 (Yzerman)
Assists Leader: 65 (Yzerman)
Defense Points Leader: 42 (Chiasson)
Defense Goals Leader: 14 (Chiasson)
G.A.A: 3.79 (Cheveldae)
Save Percentage: .882 (Cheveldae)
PIM: 268 minutes (Kocur)
Thoughts: Kocur would have had his hands full in the penalty minutes race if Bob Probert wasn't serving time in federal prison.
The Schedule
The Wings played an 80 game regular season that saw them play a home and home with every NHL club. And, they only travelled to California twice a year to play just two games vs. the Los Angeles Kings.
November wasn't kind to the Detroit Red Wings. They probably didn't realize at the time that their 5-5 tie with Philadelphia on November 1st would be one of their best efforts of the month. They dropped 10 of their next 12 games finishing with a 2-10-1 record.
Surprisingly the Wings played their Norris Division rival Chicago Blackhawks pretty tough that year. The Wings and Hawks matched up 8 times in the regular season and Detroit went 3-3-2 against the Windy City crew.
The Standings
Detroit was the only team in the division to not qualify for the playoffs. They finished 18 points back of the Norris Division champions, and second last in the conference.
The '89-90 Blackhawks eventually made it to the Conference Finals before falling to the eventual Stanley Cup Champion Edmonton Oilers. The North Stars, Blues, and Maple Leafs were all ousted in rounds one and two.
The Trades
| | | |
| --- | --- | --- |
| Quebec Nordiques acquire | Date | Detroit Red Wings acquire |
| | December 4, 1989 | |
| | | |
| --- | --- | --- |
| Edmonton Oilers acquire | Date | Detroit Red Wings acquire |
| | November 2, 1989 | |
| | | |
| --- | --- | --- |
| Detroit Red Wings acquire | Date | New York Rangers acquire |
| | September 7, 1989 | |
| | | |
| --- | --- | --- |
| St. Louis Blues acquire | Date | Detroit Red Wings acquire |
| | June 15, 1989 | |
Detroit would have taken a mulligan on the Adam Oates for Bernie Federko deal.  Oates went on to become one of the best set up men in NHL history and Federko retired a year later.
The Adam Graves/Jimmy Carson deal wasn't much better. Graves had a very successful career and Carson never reached the sort of heights the Wings  were hoping for when pulling the trigger on this deal. Not to mention that Joe Murphy had a number of quality seasons after leaving Detroit as well.
The Salaries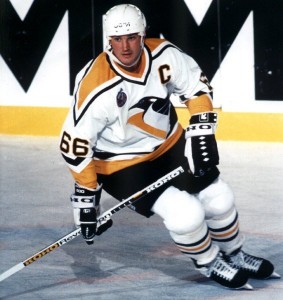 Player

Salary

Steve Yzerman

$700,000

Gerard Gallant

$325,000

Bernie Federko

$335,000

Shawn Burr

$180,000

John Chabot

$165,000

Steve Chiasson

$185,000

Jimmy Carson

$400,000

Joey Kocur

$140,000

Marc Habscheid

$210,000

Rick Zombo

$150,000

 
Lee Norwood

$190,000

Borje Salming

$435,000

Mike O'Connell

$135,000

Sheldon Kennedy

$115,000

 
Joe Murphy

$225,000

Glen Hanlon

$235,000

 
Jim Nill

$125,000
Steve Yzerman made $700, 000 in 1989-1990 and was the highest paid player on the team.  Even more incredible is the fact that Yzerman was the fourth highest paid player in the entire NHL. The top 5 player salaries that year were as follows:
1. Mario Lemieux ($2 million)
2. Wayne Gretzky ($1.72 million)
3. Mark Messier ($860,000)
4. Steve Yzerman ($700,000)
5. Bryan Trottier ($575,000)
In 2014 that would make Yzerman the 19th highest paid player on the Red Wings. Of the regulars on the team only Luke Glendening ($575,000) and Tomas Tatar ($630,000) would make less dollar bills than Yzerman this season.
The Future
Despite a disappointing end to the 1990 season the Red Wings turned things around in 1991 and returned to the playoffs.  The team added a young Russian named Sergei Fedorov to the lineup and the consecutive playoff streak that we know today began.
If Detroit is to miss the playoffs this season the good news is that they have another stockpile of young talent waiting to take flight in 2015. Unfortunately, at the moment it looks like the 2014 Wings have fallen and can't get up.
Growing up in London Ontario I only had 2 choices: Wings or Leafs. Fortunately, with a little strong arming from my Dad I made the right choice and have been a Wing Nut ever since. My loyalty has never wavered through the good times and bad… even after enduring plenty of ridicule at school because of Borschevsky's goal in '93. My favorite time of year is early spring when playoff hockey begins, playoff beards are sprouted, and the dream of Detroit hoisting Lord Stanley's Cup presents itself one more time.