On Wednesday, the University of North Dakota announced that sophomore All-American forward Brock Boeser had minor surgery on his right wrist. Boeser had missed the last five games with upper body injury and was listed as day-to-day.
With the surgery, Boeser will not be able to participate in the 2017 World Junior Hockey Championship. At this point it's not about going to the WJHC, it's about getting UND's best forward healthy for the Fighting Hawks' stretch run. Boeser is set to return sometime in January.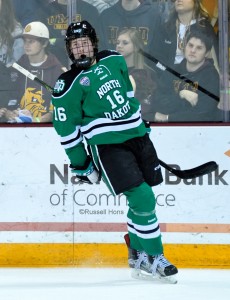 As was expected, UND head hockey coach Brad Berry was asked about Boeser's health right out of the gate at Wednesday's hockey press conference.
"The biggest thing is making sure Brock is 100 percent healthy for the second half of the season," coach Berry said. "The whole first half he was battling it. He tried to play through his wrist injury and was getting to a point where needing some rest, we thought (rest) would be the best thing for him. It wasn't progressing to where we wanted it to be or where he wanted it to be."
Coach Berry continued, "Knowing we had a break right now where we could rectify that, a minor surgery is in order for him to do that. It's unfortunate that Boeser doesn't get to play in the World Juniors because of that. But I think there's a more important focus here for him to get totally healthy for the second half, where we need to make a push."
University of North Dakota sophomore forward Brock Boeser will undergo minor surgery on his right wrist today in Minneapolis and is expected to return to the North Dakota lineup in January.

Boeser attempted to play through the injury for UND's first 13 games before sitting out the past five games in an effort to fully heal the injury. Today's surgery will prevent Boeser from competing in the upcoming IIHF World Junior Championship in Montreal and Toronto. Boeser, who won a bronze medal at last year's tournament, was one of 27 players named to the preliminary roster for the United States National Junior Team earlier this month.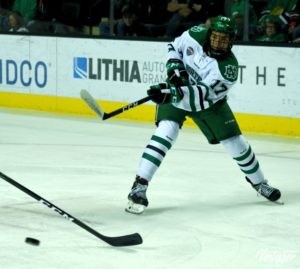 Tyson Jost to Miss One Game
Not all of the news from the Wednesday hockey press conference was negative. In fact, UND fans also received some really good news. Coach Berry confirmed that when the World Junior Hockey Championship is over, Team Canada's Tyson Jost will rejoin his Fighting Hawks teammates for the series in Omaha, Nebraska. It appears that UND has caught a break. In the end, Jost will only miss one game, the non-conference matchup against the Union College on Dec. 31, 2016. Minus two players, UND will have to find a way to win without their best players Boeser and Jost.
While nothing is ever a given, Team Canada is one of the favorites and is expected to compete for a medal. The bronze medal and gold medal games are on Jan. 5, 2017. That means when Jost's WJHC is over, he will little time to get ready for UND's series against Nebraska-Omaha.
With UND's present conference standings, this means that Jost will have to get his rest later. Make no mistake about it, coach Berry and Jost already discussed the subject before he left for the WJHC. Berry was asked if Jost would fly to Omaha to join his Fighting Hawks teammates after the WJHC was over.
"Absolutely, absolutely," Berry said without pause.
Bottom line, Jost will only miss UND's non-conference matchup against the Union Dutchmen. That's good news for a team that struggling to find some consistency.