This Friday, third-ranked North Dakota plays the 11th ranked Quinnipiac Bobcats in the NCAA West Region Semifinal. The winner will advance to the regional finals.
Series history
All-time, UND leads Quinnipiac 2-0-0 (1.000). In Grand Forks: UND leads 2-0-0 (1.000), In Hamden, N/A. At neutral sites, this is the first meeting. Under Hakstol: UND leads the series 2-0-0 (1.000).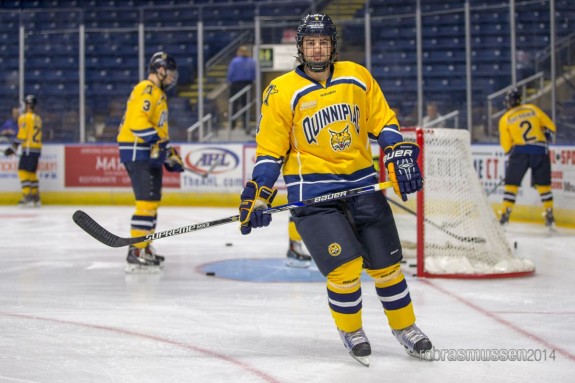 Tale of the tape
#3 North Dakota (27-9-3) vs. #11 Quinnipiac (23-11-4)
NCAA West Region: March, 27, 2015
Game Time: Friday 7:08 pm CT
Location: Scheels Arena  Fargo, N.D.
Last time out: QU Lost (2-5 L)
Last time out: UND lost (1-5 L)
QU Offense: 26th Nationally
QU Defense: 11th Nationally
QU Last 10 games: 5-3-2 (.600)
QU PWR 14
UND Offense: 10th Nationally
UND Defense: 10th Nationally
UND PWR: 2nd
UND Last 10 games: 7-3-0 (.700)
TV: Friday: ESPNU, DirecTV 208, DISH Network 141
Live Streaming: ESPN3, WatchESPN
Senior Brendan O'Donnell swaps high-fives and chats with two of his fans after practice. pic.twitter.com/J2aujFmwIG

— North Dakota MHockey (@UNDmhockey) March 26, 2015
Key Players to watch
North Dakota: – Forwards: Drake Caggiula (16g-17a—33pts), Michael Parks (124g-20a—32pts), Nick Schmaltz (5g-21a—26pts), Luke Johnson (8g-13a—21pts), Brendan O'Donnell (13g-7a—20pts), Connor Gaarder (9g-10a—19pts). Defense: Jordan Schmaltz (4g-23a—27pts), Paul LaDue (5g-16a—21pts), Nick Mattson (4g-16a—20pts), Tucker Poolman (7g-8a—15pts), Troy Stecher (2g-9a—11pts), Keaton Thompson (3g-8a—11pts). Goalies: Zane McIntyre (27-9-3, 2.05 GAA, .929 SV%), Cam Johnson (0-0-0, 5.54 GAA, .765SV%).
UND Injuries: Mark MacMillan (16g-9a—25pts) out for the season lower-body injury.
Quinnipiac University: – Forwards: Sam Anas (23g-16a—39pts), Matthew Peca (7g-29a—36 pts), Travis St. Denis (15g-18a—33pts), Landon Smith (15g-16a—31pts). Defense: Justin Aqosta (3g-19a—22pts), Devon Toews (4g-16a—20pts), Derek Smith (0g-13a—13pts), Alex Barron (3g-7a—10pts). Goaltenders: Michael Garteig (22-9-2, 2.00 GAA, .918 SV%), Sean Lawrence (1-2-1, 2.50 GAA, .881).
QU Injuries: Sam Anas  (23g-16a—39pts) questionable.
Special teams
Quinnipiac – The Bobcats penalty kill is ranked 6th in the nation (124/141, 87.9%). The Bobcats power play is ranked 5th in the nation (29/148 19.6%).
North Dakota – UND's penalty kill is ranked 24th in the nation (131/155, 84.5%). UND's power play is ranked 19th in the nation (31/158, 19.6%).
Head coach Dave Hakstol on UND's weekly preparation
"There was a lot made of how we were feeling after last weekend, and I'll be honest, we were pissed off," head coach Dave Hakstol said. "But that page turns right away, and that's one of the best traits of this group. That's why I love this group because whether it was something good or something bad, they've got a short memory. This is a very realistic group in terms of what we are, and how we have to go out and play. To me, that short memory really comes into play.
"I think there was a little extra edge this week that we maybe have been missing from our practices the last three or four weeks as we went through a real tough run at the end of our regular season. I thought there were a few times there when I felt l like we would just kind of breathe out, and I felt like this week that edge was back. We practiced on Monday for the first time in a couple of months, and that edge was there and held through the week. It goes without saying that we are going to need to have that edge tomorrow.
"I think we are playing a great hockey team tomorrow night that has pace and edge and a competitiveness to their game, so I think it'll make for a great matchup, and I'm happy with our week of preparation."
Head Coach Rand Pecknold On playing North Dakota
"I would say the two things that stick out to me: first is talent," Head Coach Rand Pecknold said. "They have tons of talent, maybe as good as anyone in the country. The second thing is the compete level. They are honest, they battle, they don't take shortcuts, they play hard, and when you add talent with that it shows why they are one of the best teams in the country.
"There are certainly a lot of talented teams out there who at times will play a dishonest game and take shortcuts, but I haven't seen that from North Dakota. I don't know how many games of North Dakota I have watched on tape, but they are really good and they are really honest and they battle and they finish hits. They are an impressive team."
Eric is a 1996, 1999 graduate of the University of North Dakota. Eric covers the University of North Dakota Hockey and Division I college hockey. Eric is the Contributing Editor for Inside Hockey.