Last Wednesday, the University of North Dakota held their annual hockey media day. First impression, the UND hockey team is chomping at the bit and ready to take the ice for the 2015-16 season.
UND's first preseason game is on October 3, 2015, against the University of Manitoba Bisons. While the first game against the Bisons is an exhibition game, it will give UND a chance to see their new players in action.
The Green and White kick off the 2015-16 season with a few question marks.
Goaltending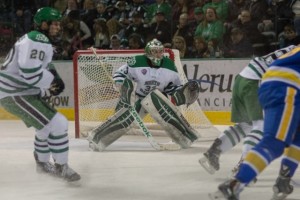 One area for concern is, who is going to be UND's starting goalie? All-American goalie Zane McIntyre (29-10-3, 2.05 GAA, .929 SV%) signed an entry-level deal with the Boston Bruins.
Last season, McIntyre played all but 43 minutes. McIntyre's departure leaves UND with two inexperienced goalies that have played a grand total of one collegiate hockey game.
Coach Berry is counting on his three inexperienced goaltenders to fill McIntyre's shoes. That's no easy task.
"First of all, I don't' think you can (fill McIntyre's shoes) right away," Berry said. "Second, you have to have two or three good goaltenders in your arsenal that can step up and play.
"They didn't get a lot of opportunities last year behind Zane – rightfully so – he took the net. So now, there's going to be an opportunity. And I think competition is good. When you talk about our d-corps and competing every night for spots. That's the same with our goaltending group. I think initially, if you create competition the best will come out and I think that will happen"
One goalie that will be battling for the starting position is Matej Tomek (Bratislava, Slovakia). Matej was drafted by the Philadelphia Flyers in the third round (90th overall) of the 2015 NHL Entry Draft.
"Coming after Zano (Zane McIntyre), there will be big shoes to fill." Matej said. "We are three guys that haven't played a full college game yet. It should be a good competition. We're inexperienced, but three of us will be competing hard for the job – competing for the open spots."
Who's Going to Score for UND?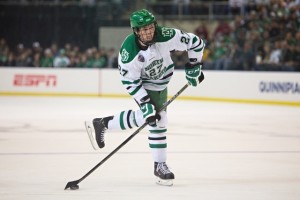 Last season, UND had one of the better offenses in the nation. UND finished sixth in the nation for goals for and eighth in the nation for goals for/games played.
Counting graduation and early departures, UND lost 45% of their scoring from last season's team that went 29-10-3. If UND is going to make a return to the Frozen Four, someone on UND's roster is going to have to step up and fill the void. Who's going to score for UND?
Coach Berry had an answer to that question. Like previous years, the offense starts with the d-core.
"Last season, we relied on a lot of guys," Berry said. "Guys like Michael Parks and Mark MacMillan come to mind. The guys that really got it done were Connor Gaarder and the Steph Pattyn. How do we replicate that? We have young guys coming in right away, put into roles that are set up to flourish."
Berry continued, "The other thing, is our d-corps. Over the last two years, our d-corps was one of the top, if not the top d-corps in the nation, offensively. We have to continue to do that. We have to expect and push those guys in being part of our offense five on five."
I don't believe that you're going to see  a lot of changes from last year. Any changes that do take place will be subtle ones.
"There's some differentiation, but there will be a lot of similarities," Berry said. "Whoever comes or goes through this program, the culture remains the same."