Historically, good hockey teams are backstopped by an outstanding goaltender or two. At any level of hockey, in any league, you can't win hockey games without a reliable, solid goaltender.
The University of North Dakota and Bemidji State University woman's teams are no different. Both teams have outstanding, elite goaltenders.
Coming into  last weekend's series between UND and BSU, both teams knew that scoring was going to be at a premium. When the game was over on Friday, both goaltenders had recorded shutouts. The only goal of the game came during the shootout. UND senior forward Becca Kohler scored the shootout winning goal.
BSU Goalie Brittni Mowat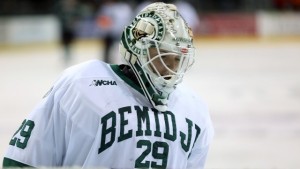 BSU's junior goalie Brittni Mowat entered Friday's game against UND with an impressive record (5-0-0, 0.60 GAA and a .976 SV%). In the first five games, Mowat's performance was phenomenal stopping 97 of the last 98 shots she faced.
On Friday, Mowat didn't disappoint. The Glenboro, Manitoba native stopped 32-of-32 shots. In the waning moments of the game, UND was pressing hard to get a goal. Mowat stood her ground making many big saves.
After the game, Mowat seemed pleased with her team's performance.
"We got some shots, but I think their goalie played pretty well," Mowat said. Typical North Dakota game, they played rough and tough. I think we battled hard and it could have gone either way."
The Beavers are a great team defensively and with Mowat between the pipes the Beavers haven't allowed an even-strength goal in the last six games.
"Britt (Mowat) deserves a lot of the credit, she's just playing extremely well," BSU head coach Jim Scanlan said. "It's all six players on the ice working hard and working together and not trying to do too much."
When the opposition's goalie has a great game, you have to give credit where credit is due. "She's one of the best goalies in the country for a reason," UND head coach Brian Idalksi said.
"She was super solid today. I know her d-core and team in front of her does a nice job defending, but she was real solid. She was seeing the puck and tracking them real well. I don't know if we did a great job deflecting. She was at the top of her crease playing well."
On Saturday, Mowat was on top of her game again, stopping 24-of-25 shots leading her team to a 2-1 victory. Mowat was unbeatable in the third period when UND was pressing hard for a goal. Nothing got past her.
When the weekend was over, Mowat sat on top the rankings for Women's division I goalies with a (6-0-1,  .056 GAA and a .975 SV%).  Mowat was rewarded for last weekend's performance by being named the WCHA's Defensive Player of the Week.
UND Goalie Shelby Amsle-Benzie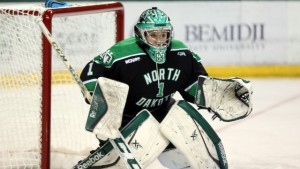 UND senior goalie Shelby Amsle-Benzie was one of the major reasons UND made a late season run last year. Amsle-Benzie finished the 2014-15 season (18-7-3, 1.21 GAA and a .952 SV%).
Amsle-Benzie entered Friday's game with a (9-1-0, 1.67 GAA and .922 SV%) lifetime record against the Beavers.  On Friday, Amsle-Benzie added to those career numbers stopping 23-of-23 shots.
With another shutout on Friday, Amsle-Benzie now has 15 for her career.  In case you're wondering, Amsle-Benzie is UND's all-time leader in shutouts.
In the offseason, Amsle-Benzie had surgery for an undisclosed lower-body injury. The senior goalie still isn't playing back to back games yet and was the back goalie during the second game of the series. From her play on the ice, Amsle-Benzie "appears" to have recovered and is back on track.
Whether Amsle-Benzie  is all the way back or not, UND head coach Brian Idalski was impressed with his starting goaltender's play.
"She's getting close," Idalski said. "I think that's a question for her, and where she feels she's at. But obviously, that was a nice game for her and more like she was playing at the end of last year. That was super encouraging for us."
When asked if she's back to full strength, a tight-lipped Amsle-Benzie said, "I am coming back."
With Amsle-Benzie between the pipes, UND can keep things simple. Play good defense and the forwards help your goalie when needed.
"I just kind of go out there and I do my job and know that girls are going to do theirs," Amsle-Benzie said. "I just take it a shift at a time. For me, I like to break it up into five-minute increments and just kind of go from there.
"I thought I left a couple of weak rebounds. I was just happy that we had some good back checkers there for me. The team really came back and got them for me."
Idalski added: "I thought we did pretty good. I don't think we gave up a lot of good looks. If we did, Shelby was solid for us. I thought we defended well."
Eric is a 1996, 1999 graduate of the University of North Dakota. Eric covers the University of North Dakota Hockey and Division I college hockey. Eric is the Contributing Editor for Inside Hockey.