After splitting at home with the University of Minnesota Duluth last weekend, the University of North Dakota women's hockey team is set to battle the high flying top-ranked Minnesota Golden Gophers in Minneapolis, MN.
UND enters the weekend with a 4-2-0 record, and the UND women need to get a couple of wins to keep pace with the Gophers and the Wisconsin Badgers.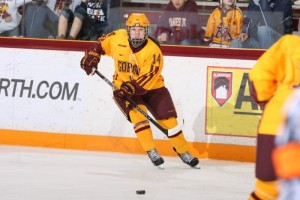 While UND has played only six games, this weekend's two-game WCHA series could go a long way in determining UND's NCAA playoffs fate. A couple of quality wins against the top-ranked Gophers could help UND's Pairwise Rankings.
UND knows that there's a lot riding on this series, but it's only one series in a long season as UND Women's coach Brian Idalski explained.
"I think we're on a pretty even keel," Idalski said. "We understand where we're at. We understand that yes they're big games, but it's not going to make or break (us), quite yet. We need to play with some desperation for 60 minutes, for two games this weekend.  It's not going to define us or our season."
Tough road ahead for the UND women
The University of North Dakota Women's hockey team is in the midst of a tough conference schedule, but that's the hand they've been dealt. The team is ready for the challenge.
"I guess it wouldn't be so bad if it wasn't right after Duluth and with Wisconsin right around the corner," Idalski said. "Obviously, those are three important weekends – not only for our league – but for the national picture. We have to do well the next couple of weekends. Like I said, I am looking forward to competing and seeing what happens."
The UND players know what is at stake this weekend. They also know that they need to leave Ridder Arena with some points. Senior defenseman Tori Williams offered her perspective on this weekend's matchup.
"We don't want to look to far ahead, but the Pairwise (rankings) are very important," Williams said.  "We take every game as if it's a playoff game and we won't change for the Gophers either. We're going to play them as if it's a playoff game."
Beating the Gophers is no easy task. All-time, UND has a 6-43-0 record against the Gophers. In the last 15 games against the Gophers, UND has a (2-13-0, .133) record. Last season, UND had a 1-4-0 record against the Gophers, so they have their work cut out for them.
Gopher Women an NCAA powerhouse
The Gopher women are a NCAA powerhouse and have won four NCAA division I championships (2004, 2005, 2012, 2013).
Finally, the Gophers are very hard to beat at home. Since the 2009 season, Minnesota has lost just five times in 89 games at Ridder Arena. Incidentally, UND has four of those five wins. This weekend, UND hopes to add wins six and seven.
Eric is a 1996, 1999 graduate of the University of North Dakota. Eric covers the University of North Dakota Hockey and Division I college hockey. Eric is the Contributing Editor for Inside Hockey.