With the trade deadline just over a week away, several prominent names are still on the block, including Patrick Kane, Jakob Chychrun and Timo Meier, while plenty of others who are on a slightly lower tier have been mentioned as well.
At this point, we all have a pretty good idea of the big names who will be on the move over the next week; however, there are plenty of other useful pieces on expiring contracts that could be great rentals for a team hoping to chase down a Stanley Cup this season. Here are 10 under-the-radar players who could prove to be impactful acquisitions.
---
---
Andreas Athanasiou, Chicago Blackhawks
Cap Hit: $3 Million
Since coming into the NHL with the Detroit Red Wings back in 2015-16, it was apparent very quickly just how special of a player Andreas Athanasiou had the potential of becoming. His lightning speed, paired with his great offensive instincts, had many believing he could be a star. Though that hasn't happened, his skill is still on display on most nights, despite that he only has 12 goals and 20 points on the season.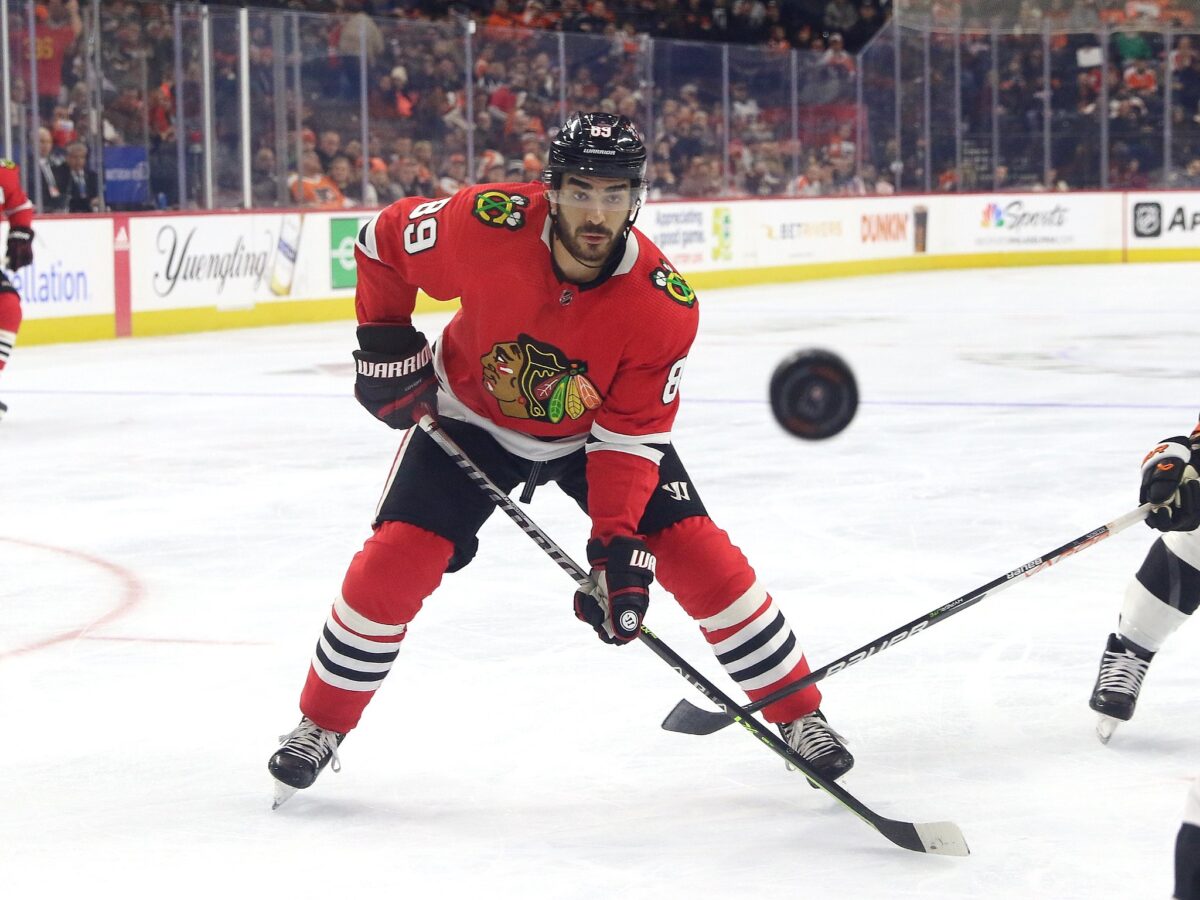 While his lack of production in 2022-23 has been disappointing, he is creating plenty of chances for himself. It seems more like bad puck luck than anything else. He has proven he can produce offense at an impressive level and could do the same for a team that wants to solidify their forward group ahead of the deadline. He can be had for cheap, though general managers must know they won't get much from him in terms of defense. That said, his speed could prove to be crucial for any team that scoops him up for the postseason.
Gustav Nyquist, Columbus Blue Jackets
Cap Hit: $5.5 Million
Gustav Nyquist is in an interesting situation right now, as he hasn't played in nearly a month and is expected to miss the remainder of the 2022-23 regular season due to a shoulder injury. That said, the veteran forward is expected to be ready to go by the time the playoffs begin, which could make him both an intriguing and inexpensive addition for a team in need of a forward with skill.
Related: 3 Potential Landing Spots for Pittsburgh Penguins' Jeff Petry
---
Latest News & Highlights
---
Though he carries a $5.5 million cap hit, any team that acquires Nyquist would be able to place him on long-term injured reserve for the rest of the regular season. Once healthy, he could be activated for the playoffs and has the skill to make an impact. Before his injury, he had 10 goals and 22 points through 48 games, and he had 53 points in 2021-22.
Tanner Jeannot, Nashville Predators
Cap Hit: $800,000
As the Nashville Predators fall further and further from a playoff spot, it appears they will be sellers come the deadline. One player who was recently rumored to be a potential trade candidate is Tanner Jeannot, who is set to become a restricted free agent (RFA) at season's end. The bruising forward has struggled this season, with just 14 points through 55 games, but he could provide a boost for a team looking to add size.
During his rookie season in 2021-22, the 6-foot-2, 208-pound Jeannot scored 24 goals and 41 points while accumulating 130 penalty minutes. When at his best, he can throw huge hits, isn't afraid to drop the gloves, and can also put the puck in the net. He is seemingly built for the postseason, and as a pending RFA, the team that trades for him would have the option of bringing him back in 2023-24.
Nick Bjugstad, Arizona Coyotes
Cap Hit: $900,000
Despite a recent surge in play, the Arizona Coyotes are sellers and may wish to move some impactful players sooner than later to push for a chance to draft Connor Bedard. One of those players is pending free agent Nick Bjugstad, who finds himself with 13 goals and 23 points through 58 games.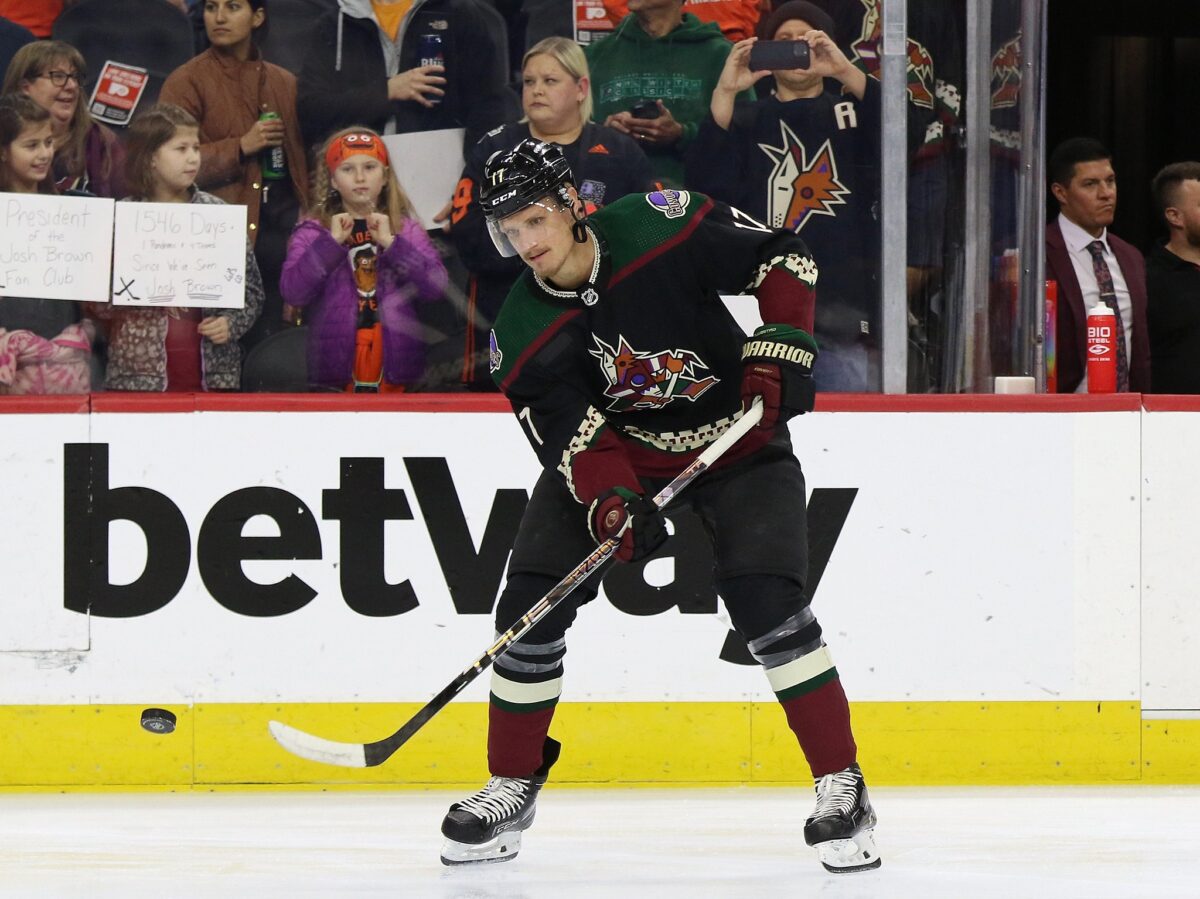 Throughout his 598-game career, Bjugstad has proven to be a solid secondary scorer while also playing solid defense. His 2:12 average ice time per game on the penalty kill leads all Coyotes forwards and could come in handy for any team looking for help in that department down the stretch and into playoffs.
Troy Stecher, Arizona Coyotes
Cap Hit: $1.25 Million
Chychrun and Shayne Gostisbehere are the most talked about Coyotes reportedly on the move. While they are certainly more intriguing adds, not every team has the cap space or need to add players of their caliber. If a team is simply looking to shore up some depth on the back end, Troy Stecher could be of use.
After seven seasons in the NHL, Stecher is a valuable third-pairing defenseman and could be of benefit to several teams in the playoff hunt as their sixth or seventh option on the back end. He is also a right-hand shot, which is highly valuable in today's game.
Justin Braun, Philadelphia Flyers
Cap Hit: $1 Million
While he is by no means a game-breaker, it is somewhat of a surprise that Justin Braun hasn't been talked about more as we near the deadline. The Philadelphia Flyers are all but guaranteed to be sellers over the next week, and the 36-year-old blueliner feels like a no-brainer to be dealt.
Long gone are the days when Braun could be counted on for any sort of offense, proven by the fact he has just a lone assist in 37 games this season. That said, he brings plenty of veteran leadership with over 800 regular-season and 100 playoff games while also being a solid penalty killer. He would be a very cheap player to acquire and could rotate in and out of the press box whenever needed.
Austin Watson, Ottawa Senators
Cap Hit: $1.5 Million
After opening up about past alcohol and mental health issues, Austin Watson became one of the true feel-good stories in the NHL and is well respected both by his Ottawa Senators teammates and fans. With that said, general manager Pierre Dorion has his work cut out for him this summer to create enough cap space to sign Alex DeBrincat, which pretty much ensures he won't have any money left to re-sign a player like Watson.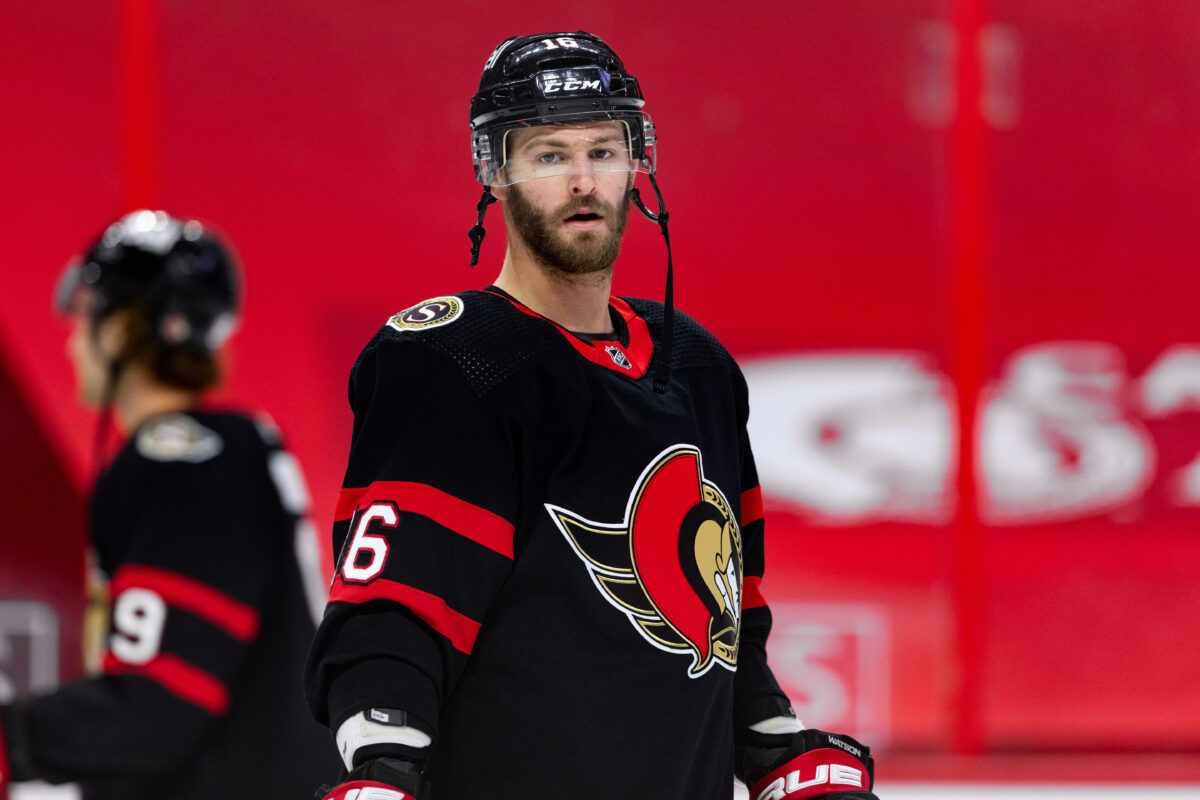 Assuming the 31-year-old is on the move, several teams could show interest. Not only is he a physical, in-your-face type player, but he has also had success producing in the playoffs throughout his career, with 10 goals and 19 points in 45 outings. Like others on this list, he has also played a big role on the Senators' penalty kill this season and is capable of doing the same for any team that might make a move for him.
Travis Hamonic, Ottawa Senators
Cap Hit: $3 Million
Gone are the days when Travis Hamonic was a legit top-four NHL defenseman. The 32-year-old is no longer the player he was during his prime with the New York Islanders, though he still has value, averaging over 19 minutes per game this season while leading his Sens teammates with 3:12 per game on the penalty kill.
What makes Hamonic so important to the penalty kill is his fearlessness when it comes to blocking shots. His 107 blocks on the season are tied with Jonas Brodin for 27th in the league and are just five shy of Erik Gudbranson for 20th. He has been a mentor to youngster Jake Sanderson, his defensive partner for most of the season, and would be a solid addition on a third pairing for many playoff-bound teams.
Nick Bonino, San Jose Sharks
Cap Hit: $2.05 Million
At the age of 34, Nick Bonino isn't the offensive contributor he used to be. That said, put in the right situation, he is still capable of finding the back of the net, with 16 goals a season ago. What continues to make him so valuable, however, is his hockey IQ, which has allowed him to remain very defensively sound over the past two seasons with the San Jose Sharks.
Bonino would also provide any locker room with winning experience, having won the Stanley Cup with the Pittsburgh Penguins in back-to-back seasons in 2016 and 2017. Throughout his lengthy career, he has also proven to be very good on draws, which in itself could prove valuable to the team that takes a flier on him before the deadline.
Derek Grant, Anaheim Ducks
Cap Hit: $1.5 Million
Given their spot in the standings, we know the Anaheim Ducks will be sellers over the coming week. Names like John Klingberg, Kevin Shattenkirk and Dmitry Kulikov will almost certainly be dealt, though another is Derek Grant, whose name hasn't surfaced much.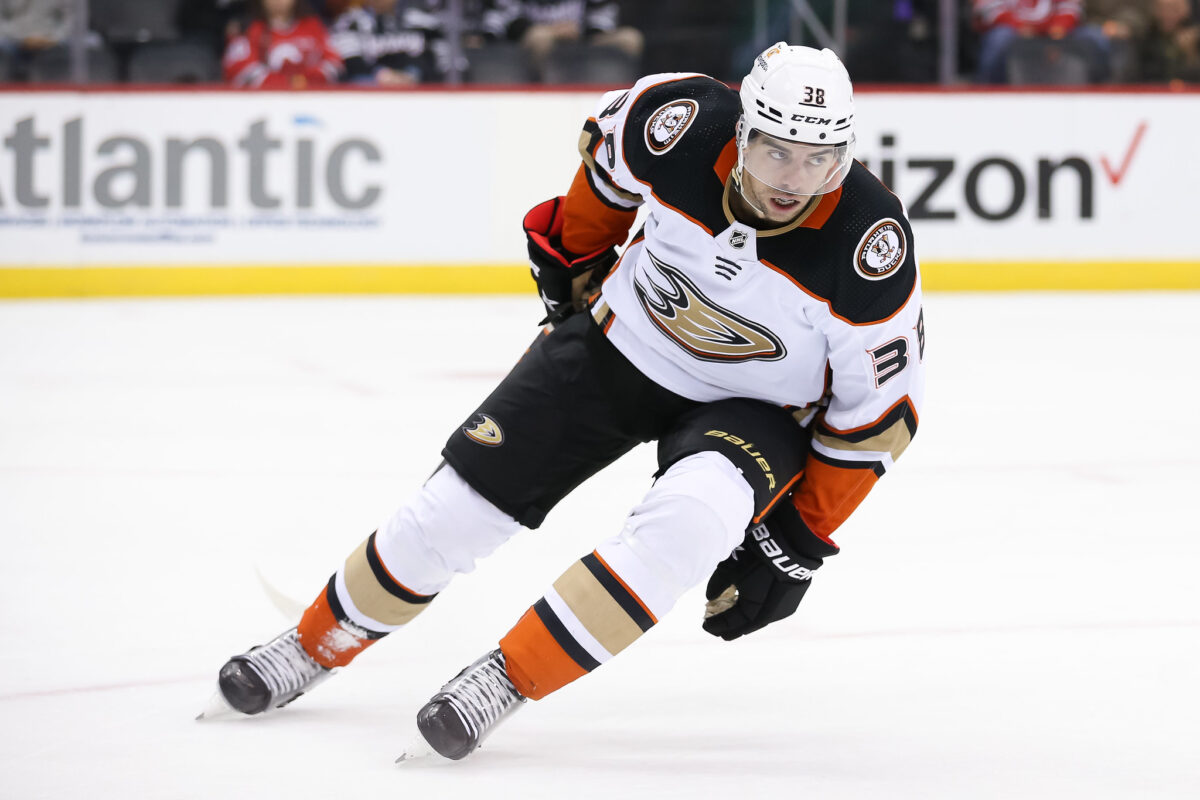 The 32-year-old Grant has been limited to just 22 games this season due to a lower-body injury that knocked him out of the lineup for roughly two months, but he is now healthy and ready to go. Despite being a relatively unknown player, he has proven he can produce offense at a decent pace when given the opportunity. Just a season ago, he scored 15 goals in 71 games with the Ducks, and he could be a valuable asset for a team in need of secondary scoring.
Exciting NHL Deadline
The NHL trade deadline is one of the most exciting times of the season as we look forward to what moves will be made as teams try to give themselves a better shot at the Stanley Cup. Meanwhile, for sellers, it is fun to see what kinds of moves they make to help themselves improve for the future, whether it be acquiring draft picks or prospects. Regardless of the situation, deadline day is a ton of fun to sit back and watch unravel. This season's, in particular, should be a great one, given all the players who are believed to be available.