Winning is contagious. The more you experience success, the more you want to replicate it. Last season, the University of North Dakota hockey won their eighth national title. This season, as with any season, the goal remains the same — repeat as NCAA champs and hang a ninth banner.
If UND continues its current pace, they should push that streak to 15 consecutive trips to the NCAA playoffs. All-time, Michigan owns the record for the longest consecutive trips to the NCAA playoffs with 22.
It's Not Easy to Play at UND
Playing hockey at UND isn't easy, there're a lot of expectations that come with wearing the Green and White. Losing isn't tolerated by the fan base and winning is expected. Anything less than a run through the NCAA playoffs is unacceptable. UND doesn't rebuild, they reload.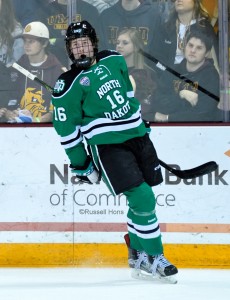 Former UND coach Dave Hakstol once said. "This (North Dakota) isn't an easy place to play or be successful, nor should it be."
Recently, junior All-American goalie Cam Johnson told me it was easier to play on the road than it is at home. Ironically, UND is on a three-game win streak. All of those games were on the road. Breaking it down further, UND has won four of the last five games. UND's only loss during those five games came at home.
"It's way easier to play on the road, especially, this year," Johnson said. "Obviously, with our struggles, I think maybe some guys get a little intimidated with the Ralph. We have amazing fans, we have some really, great fans. There are obviously just those few (fans) that like to single out players and maybe it can get in some guy's heads. When you play on the road, you're just kind of care-free. You just go in there and want to win games."
The energy around the Fighting Hawks is amping up as the push to the playoffs is officially on. UND's top forwards are ready for the stretch run. With their return to the lineup last weekend, Both Boeser (3g-2—5pts) and Jost (3g-1a—4pts) had big weekends and are ready for the stretch run.
Boeser Ready to Help Team Make a Run
Wednesday, at the hockey press conference, sophomore All-American forward Brock Boeser explained his decision to have minor surgery on his right wrist during the Christmas break. Because of the wrist injury, Boeser missed a chance to play for Team USA during the World Junior Hockey Championship. Obviously, it wasn't an easy decision, but Boeser was thinking bigger picture.
"It was definitely tough (to miss the World Juniors)," Boeser said. "But it (the wrist) was nagging me in the first half. I wanted to get healthy and take a run, with all the guys here, at another national championship. It's a sacrifice I had to make."
Jost Ready for the Second Half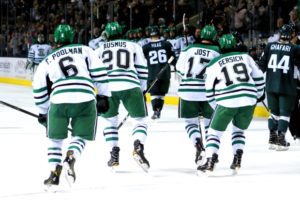 Fresh off his experience with the Canadian World Junior team, freshman forward Tyson Jost was disappointed with his team's loss in the finals of the WJHC. No player wants to lose a hockey championship in a shootout. Jost is ready to move forward and help his team during the second half of the season. Results aside, Jost was impressed with the reception that Team Canada received from the hometown fans.
"I can't really explain it," Jost said. "That final game, it's something I will never experience again, just because of the fans that were in that building. I don't know what the total amount was, but it had to be around 20,000. I think that's how many seats there were because there wasn't an empty seat in the building. Just the support that we get around Hockey Canada – down there – it was something that was pretty awesome. You couldn't even hear yourself think sometimes because the crowd was so loud on the bench."
Jost continued, "Yeah, It was an awesome experience. Obviously, it didn't go the way we wanted, losing in the shootout. I think that's something that pretty miserable to look back on.  It's something that I am trying to forget. Even though it so hard to do because it was a goal of mine a dream of mine since I was so young.
"To say the least, it was an awesome experience and I definitely learned a lot from the hockey side of things. It also gave me the confidence to come back here and help this team win."