The Vancouver Canucks hold the 24th pick in this months NHL Entry Draft and while they most likely won't get an instant contributor that low, they still have a chance to stockpile some talent. This is the second installment of our speculation series on who they might select.
The Canucks struggled to score goals consistently last year and had some serious depth issues arise in their top-six forward group. We already profiled one possible selection, Valentin Zykov, who would help that group. Another would be Vernon, B.C. native Curtis Lazar of the Edmonton Oil Kings.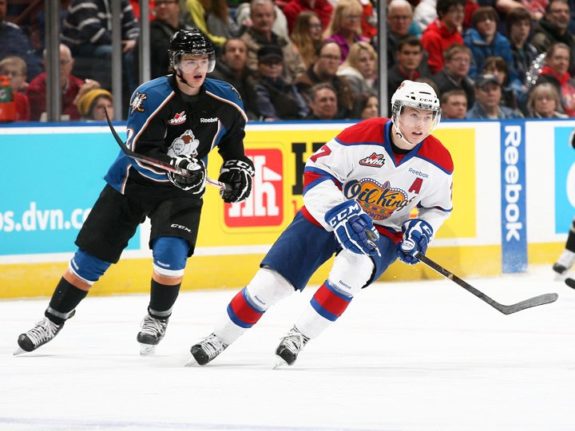 Lazar played on a stacked Edmonton club last year and ended up centering their third line. Despite that he was still able to put up big offensive totals for the defending WHL champions.
Why is Lazar a fit?
Lazar is the epitome of a two-way player. While he scored 38 goals in his second full season in the WHL he was also one of Edmonton's top defensive forwards. He plays hard and looks to defend first while being able to generate goals and offense.  Mike Gillis' track record is to bring in players that are versatile and can be deployed in several different areas during a game. Lazar has the skill set to play on both special teams as well as take on the opponents top lines. 
Many pundits also feel that Vancouver needs more grit and while Lazar is not a bruiser by any stretch of the imagination, he is not afraid to play physical and is generally considered a tough player to play against. He has a great attitude and is willing to do the dirty things to help his team win, including blocking shots.
Why they won't take him?
The biggest knock on Lazar is that he is not the best play maker out there and is prone to the occasional turnover. Vancouver has been a strong puck possession team the past few years and the key to that is puck management; if they feel Lazar is a liability there they make look elsewhere. 
The Canucks have used their last two picks on forwards, including last year's top selection Brendan Gaunce who is also a center with similar skill set as Lazar. They also got a look at 2009 first round pick Jordan Schroeder this past year and he is still in the mix moving forward. The Canucks may feel like drafting another two-way physical center to be redundant – despite the depth it would create. 
There is also no guarantee that Lazar will be available when the Canucks select at 24, although most draft rankings have him in that 20-30 range of the first round which means he might still be on the board when Vancouver selects.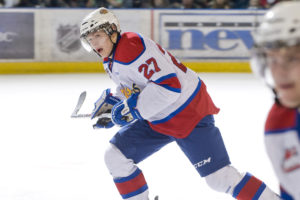 After a season where Vancouver saw their depth down the middle racked with injuries to the point that Alexandre Burrows played games at center, drafting a player like Lazar may help avoid a repeat season down the road. Lazar would fit in with Gillis' philosophy and would give the Canucks another physical player that they can utilize in a variety of ways.
Andrew writes about the WHL and NHL Draft Prospects. He also covers the Seattle Thunderbirds for 710 ESPN Seattle and spent two years with Sportsnet. Follow him on Twitter @andyeide.