It's not as if the Vancouver Canucks have played poorly – at least not recently. Actually, the team has strung together a few good games in a row; however, they have scant success to show for it. They deserved better.
Tonight the Canucks take on the Calgary Flames in the third of four games in a row between the teams. Can the Canucks play with the same vigor they showed on Saturday when they absolutely overwhelmed the Flames and their battle-weary ex-teammate goalie Jacob Markstrom?
Related: Vancouver Canucks News & Rumors: Holtby, Boeser, Pettersson & More
Honestly, it's hard to know where the Flames would be this season without Markstrom. Although the Flames won two early-season matches, during the current two games of the Canucks' and the Flames' four-game series thus far, the Canucks have outshot the Flames by a huge margin.
In this edition of Canucks News & Rumors, I'll look at some of the news emerging from the game and comment about what that news might mean for the team going forward.
Item One: Vancouver Canucks' owner Francesco Aquilini Supports His Coach and GM
Prior to Saturday's game, Canucks' owner Francesco Aquilini announced his support for both his general manager Jim Benning and his head coach Travis Green. That announcement came after a team losing streak that had seen its record drop to 6-11-0 heading into Saturday's game.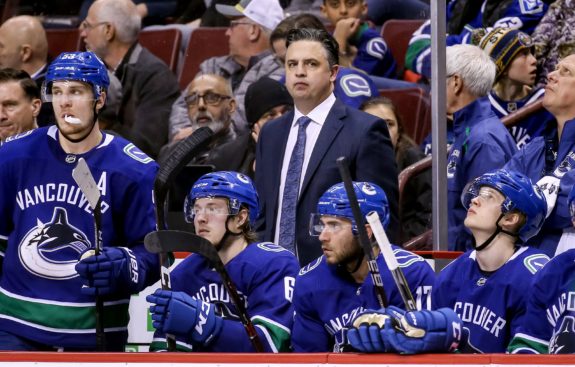 Aquilini tweeted, "When the media starts pouring gas on the fire, dealing in rumors and misinformation as if it's fact, it's time for me to speak up."
He added, "Contrary to what you may have read or heard, we're sticking to the path we're on. I have full confidence in Jim, Travis and this group. I have no plans to make changes."
Item Two: Thatcher Demko Looks Good in Victory
Entering Saturday's game, Thatcher Demko was far from the same goalie Canucks' fans had seen during last season's playoffs. He certainly hadn't had the best start to the season, and the starting job almost everyone believed he'd inherited after his great postseason play seemed to be vanishing.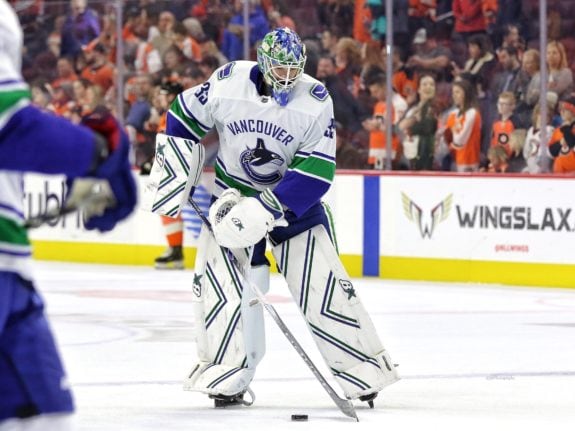 In his last three games prior to beating the Flames 3-1, he had let in 14 goals. He came into Saturday's game with a record of 3-6-0, a goals-against-average of 3.74, and save percentage of .896 in nine games. On Thursday night – the first of the two teams' four-game series – Demko had allowed three goals in a 3-1 loss. It was the third game in a row he'd surrendered three or more goals and ended the game with a save percentage below .900.
Things changed on Saturday. In the team's 3-1 win over the Flames, Demko wasn't tested hard but he did make 18 saves on 19 shots, finishing the game with a save percentage of .947. One difference was that the team in front of Demko simply took over the game, pressured the Flames at every opportunity, and heavily dominated offensive play. Demko was strong when he needed to be, and the partnership between goalie and team ended in a much-needed victory. We know from the playoffs that Demko can handle pressure, although that hasn't been his strength so far during the 2020-21 regular season.
In fact, Saturday's game was the only game this season where Demko faced 20 shots or fewer. It was also just the third game he's played where the opponents had registered fewer than 30 shots on net. The two times when the Canucks  held opponents to 25 shots or less, Demko's won.
It was announced this afternoon that Demko would go against the Flames again tonight.
Item Three: Quinn Hughes Makes Great Offensive Move for a Goal
Quinn Hughes seems to be growing stronger as a defenseman (and an all-around hockey player) with every game. It wasn't that he simply scored a goal in Saturday's win over the Flames, it was when and how he scored it.
Hughes saw an opportunity on the ice, took advantage of it, stole the puck from a Flames' player, and fired a puck past Markstrom – who he'd frozen with his faked pass to Elias Pettersson who was on his left. Hughes' goal was also the first goal of the game and allowed his team to let out their breath after dominating – but not capitalizing – on the ice.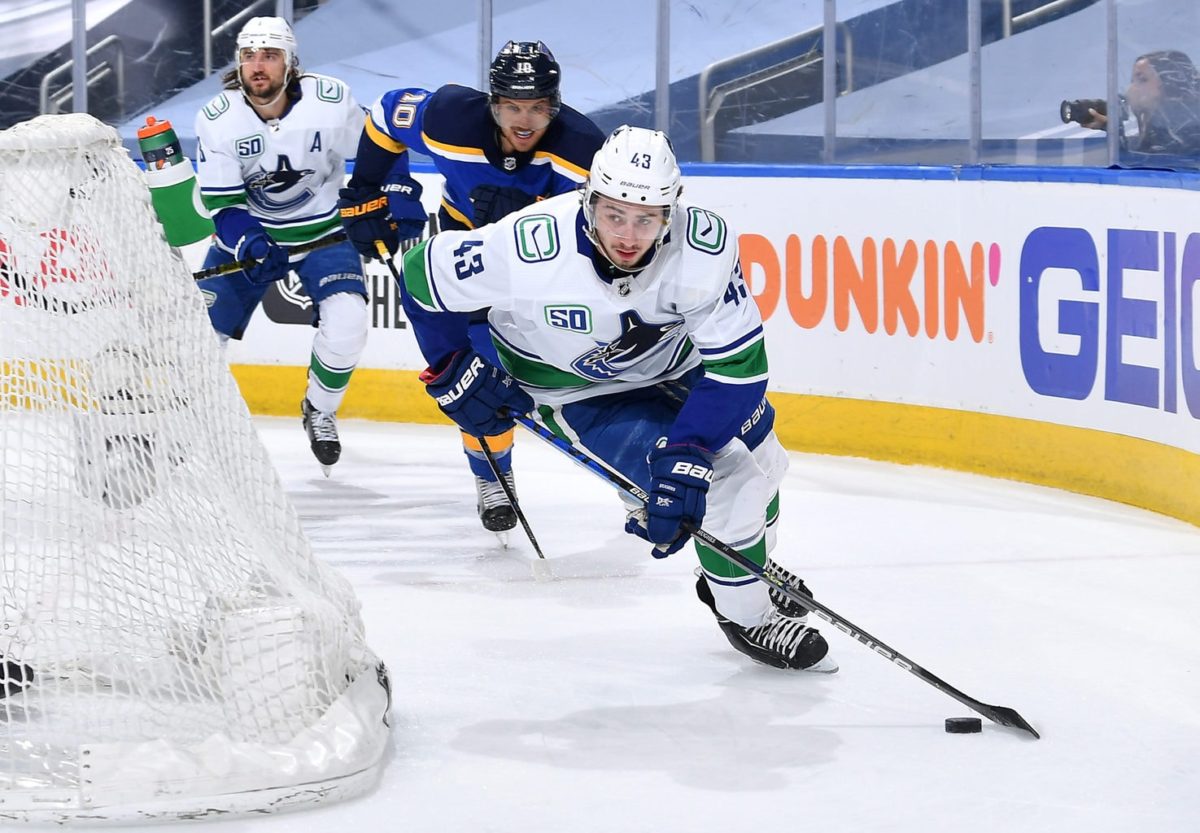 Hughes' unassisted goal was his second of the season and gives him 18 points in as many games. He's now the NHL's leader for defensemen in both assists and points.
Item Three: Tyler Myers Scores Game-Winning Goal
Tyler Myers scored the game-winner against the Flames on a strong move in the offensive zone that opened the ice and allowed him to toss a floater past Markstrom. The goal gave his team a 2-1 lead and stood as the game-winner.
It was Myers' second goal of the season and his first point in February. The 31-year-old defenseman now has scored seven points in 18 games. Because he's such a streaky player, it will be interesting to see if his goal can open up the offensive side to his game a bit more.
I found his interview after the game interesting. He spoke about his game-winning goal and the team's casual dress code ruling that "helped" break the losing streak. Then Myers was asked about his take on the vote of confidence the Canucks' owner Aquilini had announced prior to the game.
Myers noted that he wasn't aware it had happened, but in a level-headed way suggested it would be good for the organization and would allow this team to stay together. He seems like a smart player, and I think his interview is worth listening to in the video below.
What's Next for the Canucks?
As a way to break the losing streak, the Canucks' players decided to change tradition. Instead of arriving at the rink wearing suits, the players "instituted" a new "casual" dress code. In a tip of the hat to working people, they wore "work clothes" to the rink to remind each other what they needed to do to end their losing streak.
Related: Canucks News & Rumors: Edler, Hughes, Miller, Benn & Hoglander
Defenseman Hughes noted, "It was pretty cool to just put on a jacket and come to the rink. We're just trying to have fun as a group again and I think it's been helping. We were making plays. We've been making plays the last couple of games. You can see it. We're playing in the (offensive) zone a lot more, and defensively, we're paying more attention to that."
We'll see if that new tradition can pull out another win for the team.
---
---
The Old Prof (Jim Parsons, Sr.) taught for more than 40 years in the Faculty of Education at the University of Alberta. He's a Canadian boy, who has two degrees from the University of Kentucky and a doctorate from the University of Texas. He is now retired on Vancouver Island, where he lives with his family. His hobbies include playing with his hockey cards and simply being a sports fan – hockey, the Toronto Raptors, and CFL football (thinks Ricky Ray personifies how a professional athlete should act).
If you wonder why he doesn't use his real name, it's because his son – who's also Jim Parsons – wrote for The Hockey Writers first and asked Jim Sr. to use another name so readers wouldn't confuse their work.
Because Jim Sr. had worked in China, he adopted the Mandarin word for teacher (老師). The first character lǎo (老) means "old," and the second character shī (師) means "teacher." The literal translation of lǎoshī is "old teacher." That became his pen name. Today, other than writing for The Hockey Writers, he teaches graduate students research design at several Canadian universities.
He looks forward to sharing his insights about the Toronto Maple Leafs and about how sports engages life more fully. His Twitter address is https://twitter.com/TheOldProf