Given the way the Vancouver Canucks have played recently, few hockey fans would have bet the team would be able to come out with a win over the Toronto Maple Leafs. But then who knew that the same Thatcher Demko that showed up against the Vegas Golden Knights in the postseason bubble would also emerge from the closet? And, even more baffling, who knew that rumored trade-target Jake Virtanen would decide to have his best game of the season?
Related: Vancouver Canucks News & Rumors: Pettersson, Boeser, Miller & Hughes
Hockey – a surprising game, isn't it. But both those things happened and on this Thursday night in early March these were enough to stop the freight train that is the Maple Leafs this season.
The two key specifics of the game were that Virtanen scored twice and Demko was unbeatable. Together they led the Canucks to a 3-1 win over the Maple Leafs as the two teams opened a two-game set that will play its final game on Hockey Night in Canada on Saturday.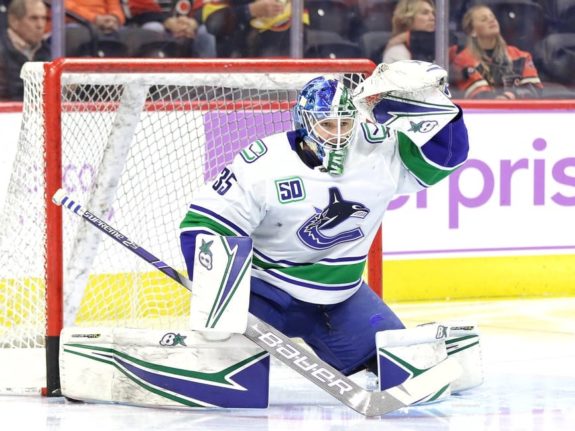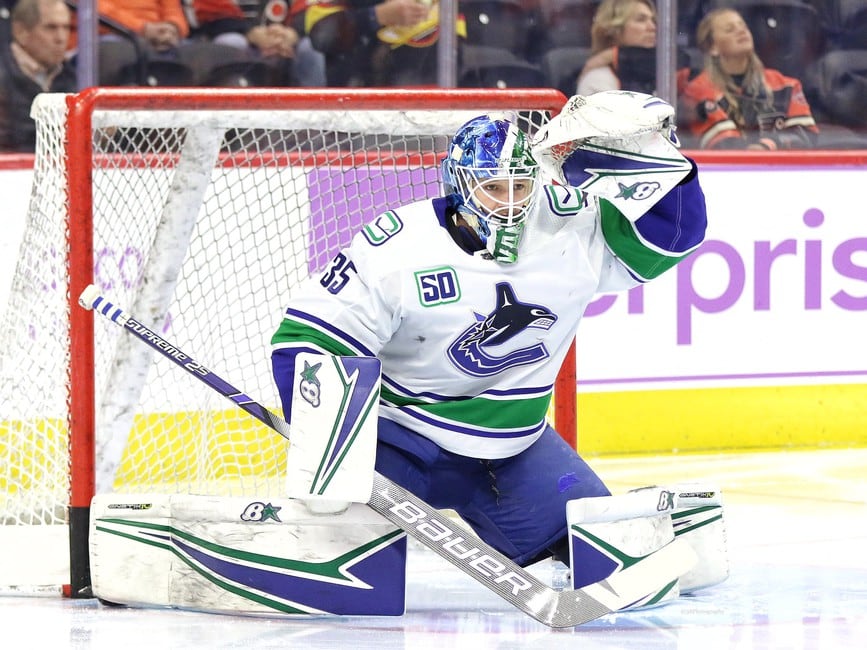 As Virtanen noted, "It (scoring two goals) felt good in a win. If you lose, it probably wouldn't have felt as great." 
Virtanen added that "It always feels a lot better when you win. When you win games, we have fun. When you lose, you're not having fun and you're kind of miserable. So it was a big win for us tonight."
In this edition of Canucks News & Rumors, I'll take a look at what occurred during the surprising victory over the Maple Leafs and comment about what it might mean going forward.   
Item One: This Is the Thatcher Demko Fans Were Waiting For
Demko now has made two good starts in a row. Just before Thursday's game, he had tossed a 27-save shutout at the Winnipeg Jets on Monday. Demko was unbeatable against the Jets, stopping all 27 shots the Jets threw at him. It was his fifth win and his first shutout of the season. 
He was almost as good against the Maple Leafs, who came into town sporting a 9-1-1 road record on the season. On Thursday, Demko made 31 saves in the team's 3-1 win. It was another great performance and he finished the game with a .969 save percentage. 
Related: Esposito: The Trade That Shaped the Boston Bruins
This victory moved Demko's record to 6-9-1 with a goals-against-average of 2.92 and a save percentage of .911 in 16 games this year. Given the way Demko has played in his two last games, I'm not looking to see Braden Holtby that regularly between the pipes. He's only played in 11 games, and head coach Travis Green is probably believing that his best chance to make the playoffs this season – and it's likely a long shot – is to play Demko more often and hope the ghost of playoffs past returns.
Item Two: Jake Virtanen Scores Twice Against the Maple Leafs
Jake Virtanen emerged from a season-long mega-slump by scoring two goals in his team's win over the Maple Leafs. I say "mega-slump" because this was only the second time all season he's been on the score sheet. Coming into the game, he had only a single goal in 21 previous games.
To say that the Canucks' organization expected more from him is an understatement. Last season, Virtanen scored 18 goals and 18 assists, which were both career highs. This season, the organization no doubt expected the 24-year-old formerly-high draft pick would finally live up to what they considered to be his potential. He was, after all, the sixth overall draft choice of the 2014 NHL Entry Draft.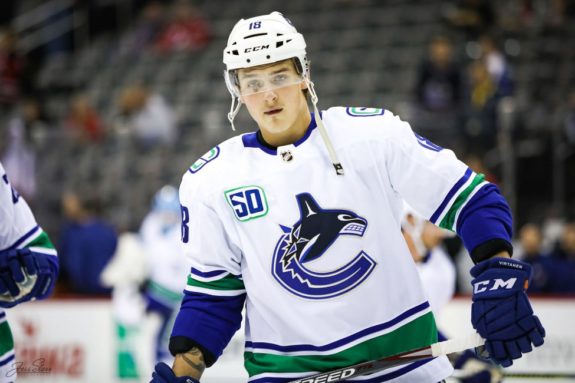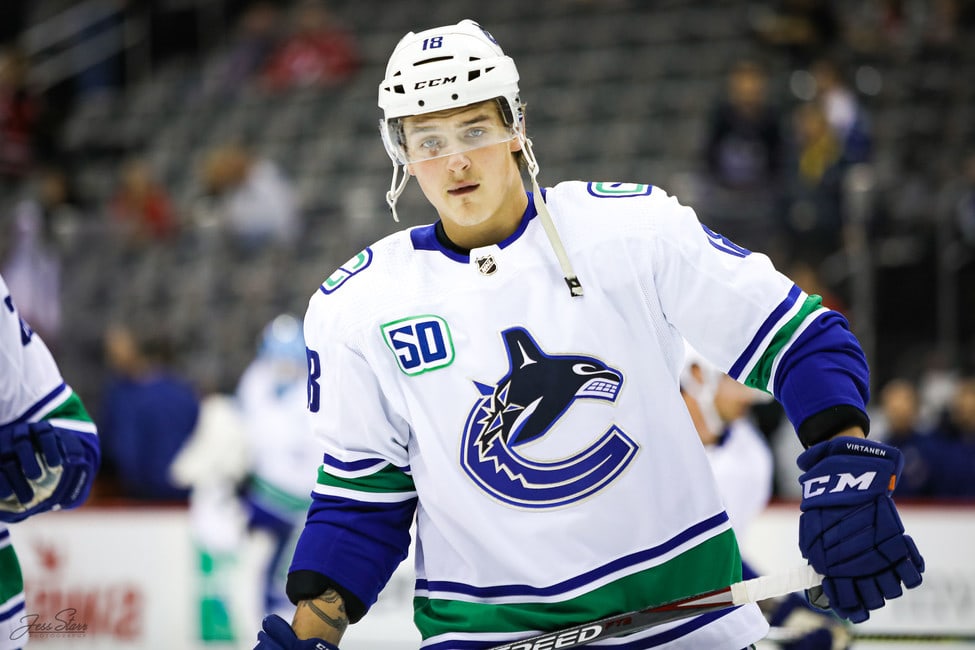 Instead, the 2020-21 season has turned into a complete downer in terms of Virtanen's offensive production. He's currently averaging less than 12 minutes a game; and, three points simply isn't enough. There's talk of the team buying out his contract or trading him.
With Elias Pettersson out with what was described as an upper body injury, J.T. Miller moved to center. That gave Virtanen a rare chance to play with the top line. If he has any chance of staying relevant with the team, the 24-year-old Virtanen has to seize this opportunity. When Pettersson returns to the lineup and with the energy and hustle rookie winger Nils Hoglander shows each game, that might be a hard slog for the once highly-touted young power forward.
Item Three: Alexander Edler Finally Hits the Score Sheet
From a scoring point of view, Alexander Edler has been having a frustrating season. Although he's been playing well – hitting all over the ice and blocking shots – he hadn't scored either a goal or an assist in the last 14 games. For him, that's odd because the 34-year-old Swede has had three straight seasons of 30 or more points.
Related: Quebec Nordiques – A History of Beer, Brawls, and Van Halen
Although it wasn't a huge scoring game, Edler did register an assist when he set up Bo Horvat's third-period insurance goal.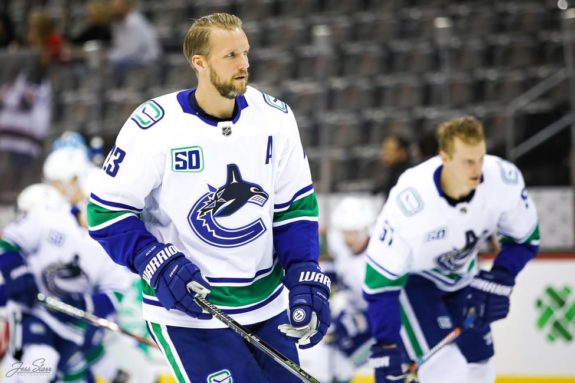 Edler has been quiet on the score sheet for about a month now and has totaled only five assists in 26 games. There's no doubt that his poor scoring and the Canucks' winning record have some correlation. He isn't the only player who's having a tough season – as noted earlier with Virtanen. 
Item Four: Bo Horvat Now Has Scored 10 Goals on the Season
Bo Horvat's insurance goal in the third period gave the Canucks a two-period cushion. It was his 10th goal of the season. He also has scored seven assists and now totals 17 points in 27 games in 2020-21. 
What's Next for the Canucks?
The Maple Leafs and the Canucks meet again on Saturday. If the Canucks play as well as they did on Thursday – that is, if Demko can be the Demko of last season's playoffs – it should be a good game. 
Related: 6 Vancouver Canucks Forward Prospects Moving Up the System
The Maple Leafs have cemented themselves as the North Division's best team and were on an impressive four-game winning streak that included two shutouts when they came to town. 
Can the Canucks win two in a row? Can Virtanen leverage his solid performance into something that moves the needle on his season? Can Demko hold his team in the game?
Those are the questions that remain unanswered – until Saturday night.
---
---
The Old Prof (Jim Parsons, Sr.) taught for more than 40 years in the Faculty of Education at the University of Alberta. He's a Canadian boy, who has two degrees from the University of Kentucky and a doctorate from the University of Texas. He is now retired on Vancouver Island, where he lives with his family. His hobbies include playing with his hockey cards and simply being a sports fan – hockey, the Toronto Raptors, and CFL football (thinks Ricky Ray personifies how a professional athlete should act).
If you wonder why he doesn't use his real name, it's because his son – who's also Jim Parsons – wrote for The Hockey Writers first and asked Jim Sr. to use another name so readers wouldn't confuse their work.
Because Jim Sr. had worked in China, he adopted the Mandarin word for teacher (老師). The first character lǎo (老) means "old," and the second character shī (師) means "teacher." The literal translation of lǎoshī is "old teacher." That became his pen name. Today, other than writing for The Hockey Writers, he teaches graduate students research design at several Canadian universities.
He looks forward to sharing his insights about the Toronto Maple Leafs and about how sports engages life more fully. His Twitter address is https://twitter.com/TheOldProf