In this edition of Vancouver Canucks News & Rumors, there's good news for NHL fans that the province of British Columbia has ruled the Canucks can play at home during this upcoming regular season. British Columbia was thought to be the province that posed the biggest hurdle for NHL play; but, instead, it became the second province to allow NHL hockey to be played the season.
Related: Canucks News & Rumors: Bailey, Baertschi, Podkolzin, Hamonic & More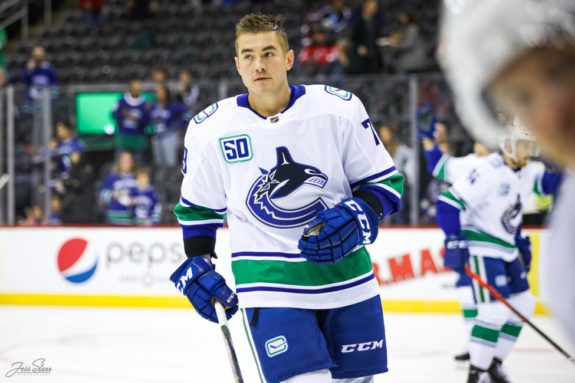 Item One: The Province of British Columbia Gives Green Light for Playing in Vancouver
On Jan. 3, the Canucks were given the green light to play games in British Columbia this upcoming season. For the team, this is a crucial decision. B.C. Premier John Horgan used Twitter on Sunday to announce that he believes the enhanced health measures that were part of the NHL's return-to-play plans will allow NHL games to be played safely.
On Dec. 25, the Province of Alberta already officially approved a plan that would see the Edmonton Oilers and the Calgary Flames play at home. Thus, British Columbia becomes the second province to officially approve NHL games.
Related: Hockey Royalty: The NHL's Greatest Families
Of the three remaining provinces, rumor suggests that the province of Manitoba might also be close to an agreement. A health official in Manitoba told The Canadian Press last week that the province was working toward approving games. So far, there's been no definitive news from either Ontario or Quebec about where the Ottawa Senators and the Toronto Maple Leafs (Ontario) and the Montreal Canadiens (Quebec) will play their games.
Item Two: Travis Hamonic Signs a Professional Tryout Contract (PTO) with the Cancucks
Rumors that Travis Hamonic would be signing with the Canucks began with an Elliotte Friedman tweet. All Friedman noted was that, according to "rumblings" he had heard, it seemed Hamonic might be attending training camp with the Canucks. 
The free-agent blueliner had been linked to both the Canucks and the Flames for some time. Hamonic scored only three goals and nine assists (for 12 points) with the Flames last season. He's a defensive defenseman, and offense is not really his game. He's better known for his shot-blocking (110 blocked shots in 50 games last season with the Flames).
Another interesting backstory about Hamonic's relationships with the Flames occurred during July when Hamonic informed Calgary general manager Brad Treliving that he wouldn't participate in the NHL Return to Play Program. Hamonic noted that "family considerations" encouraged him not to participate in the postseason play.
I'm not suggesting any link between Hamonic's not playing with Calgary during the postseason and his signing with another team; however, I did wonder at the time if it might be difficult for the defenseman to return to his old team after not joining them for the playoffs.
As it turns out, Hamonic signed a PTO with the Canucks on Sunday. There's no reason to believe this PTO won't lead to a contract. If Hamonic does sign, he'll be a solid blue-line addition. He's one of the better defensive defensemen is in the NHL.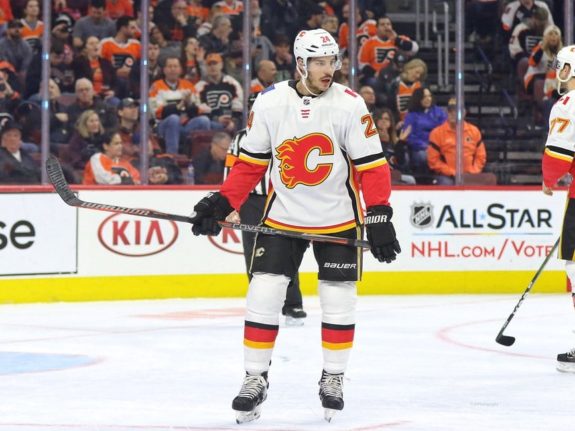 Because he did not participate in the NHL's Return to Play last season, it's been close to a year since he last played for real (his last game was on Feb. 8). Because he's required to quarantine for seven days when he gets to Vancouver, he'll miss most of the Canucks' training camp and will likely become part of the roster shortly after the Canucks' regular season begins.
Hamonic will be welcomed by the team. Like most teams, the Canucks' defensive corps has more left-side defensemen than right-side defensemen, so Hamonic fills a space the team needed to fill. He'll begin as a third-pairing right-side defenseman behind youngster Quinn Hughes and newcomer Nate Schmidt on the team's depth chart.
Item Three: Micheal Ferland Won't Be Ready to Begin Canucks' Camp
Michael Ferland will not be in Vancouver for the start of training camp. His agent Jason Davidson said that Ferland remains home trying to work things through. He was limited to just 14 games during the 2019-20 season because of concussion issues.
The fact that Ferland's status for this coming season continues to be uncertain and the report that both Ferland and the team have decided to do what they believe is best for his health suggests that Ferland is still dealing with the effects of a concussion he suffered more than a year ago.
Related: Metropolitan Riveters New Year's Resolutions
Because he seems no closer to getting back on the ice, at this point a safe guess is that the 28-year-old winger will soon be joining the team's long-term injured reserve. He would need a drastic improvement in his recovery prior to NHL's Opening Night against the Oilers on Jan. 13.
What's Next for the Canucks?
Today, Canucks' prospect Vasili Podkolzin and Team Russia team take on Team Canada in the semi-finals of the World Junior Tournament (WJC) in Edmonton. Podkolzin has been with his national team for three years. During those three years, he's broadened his game from just being a goal scorer to a skater who can really push the play and set up other teammates.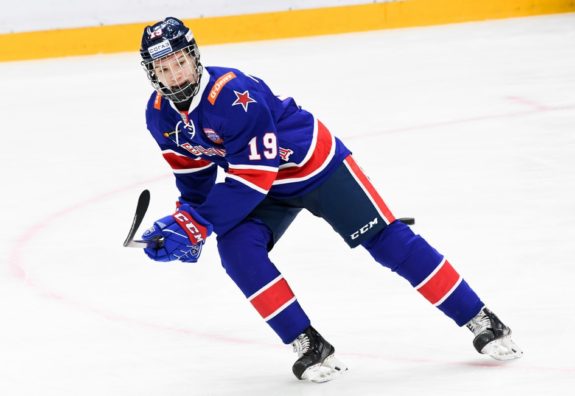 Podkolzin has been like a lifer with his Team Russia squad. He helped Team Russia win bronze in 2019 and the silver in 2020. During this iteration of the WJC, going into the game with Team Canada he's scored two goals and two assists in five games. He had three assists in seven games in 2019 and five points (one goal, four assists) in seven outings in 2020.
Related: Canucks News & Rumors: Podkolzin, Ferland, Hoglander, Demko & More
There's no doubt the Canucks are watching him and are anxious for him to join them at their training camp as soon as he's able.
---
---
Description: