Happy "Start of Training Camp Day" Chicago Blackhawks fans. The team is ready to take the ice for their first official practice of the 2020-21 season. In a season that is already full of uncertainties, general manager Stan Bowman finally got Dylan Strom under contract on Sunday. He has been added to the official training camp roster that was released this morning. Finally, the NHL Network is releasing their list of the top 50 players in the league and there are far fewer Blackhawks on it than in past seasons.
Strome Finally Gets a New Contract
Blackhawks writers and fans have been wondering what has been going on with the team Strome. The two sides had been on a standoff about a new deal since their playoff run in Edmonton ended last August.
Even though Strome was a restricted free agent and had no real leverage, fans were beginning to worry that no deal had been reached on the day players started to officially report to camp. Those worries and concerns were put to rest on Sunday afternoon when announced a new two-year contract for the 23-year-old center worth a total of $6 million.
This was the contract most pundits and fans felt he was going to get. Many felt he would get something around $2.5-3 million so the predictions were pretty spot on. The length of the deal gives the Blackhawks more control as he will still be a restricted free agent when it expires following the 2021-22 season. It gives the front office two seasons to decide if they want to commit to him in the form of a long-term contract.
"We believe Dylan is ready to take the next step in his career and build off the strides he has made in his first two years in Chicago," Bowman said in an official statement. "He has great offensive instincts and brings creativity and skill to our team. We are thrilled he is now signed and able to join us tomorrow for the start of training camp."
Since being acquired from the Arizona Coyotes, on Nov. 25, 2018, for Nick Schmaltz, Strome has 29 goals and 89 points in 116 games with the Blackhawks. He 17 goals and 51 points in 58 games during the 2018-19 season but only 12 goals and 38 points in the same number of games last season.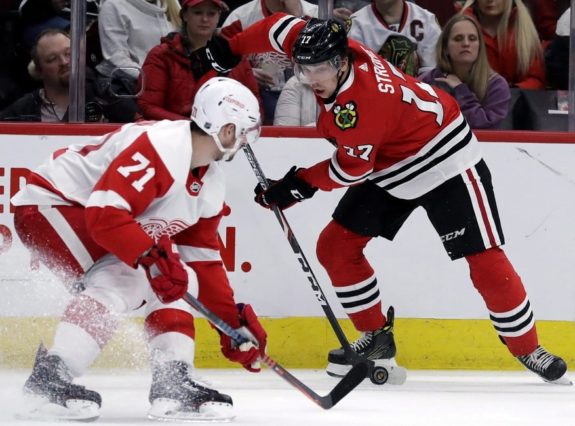 The 2020-21 season presents a great opportunity for Strome to take the next step in his career. With Kirby Dach essentially out for the season and Jonathan Toews on the sidelines for the foreseeable future, he is the team's top center. He will have the chance to start the season centering two of the best wingers on the roster, be it Patrick Kane, Alex DeBrincat and/or Dominik Kubalik. Ready or not, it is his turn to be the go-to guy as far as Blackhawks' centers go.
Training Camp Roster Released
After days of hitting the refresh button on social media, Blackhawks fans finally got to see who is officially taking part in training camp. The team finally made the list public shortly before the group took to the rink for their first practice.
Here is the list of players who will be battling it out for a spot on the opening night roster:
Forwards (22)
Andrei Altybarmakian, Ryan Carpenter, Matej Chalupa, DeBrincat, Mackenzie Entwistle, Brandon Hagel, Matthew Highmore, Mattias Janmark, Reese Johnson, David Kampf, Kane, Kubalik, Philipp Kurashev, Cam Morrison, Brandon Pirri, John Quenneville, Andrew Shaw, Tim Soderlund, Strime, Pius Suter, Michal Teply, Lucas Wallmark
Defenseman (14)
Nicolas Beaudin, Adam Boqvist, Lucas Carlsson, Calvin de Haan, Wyatt Kalynuk, Duncan Keith, Michael Krutil, Chad Krys, Anton Lindholm, Ian Mitchell, Connor Murphy, Alec Regula, Nick Seeler, Nikita Zadorov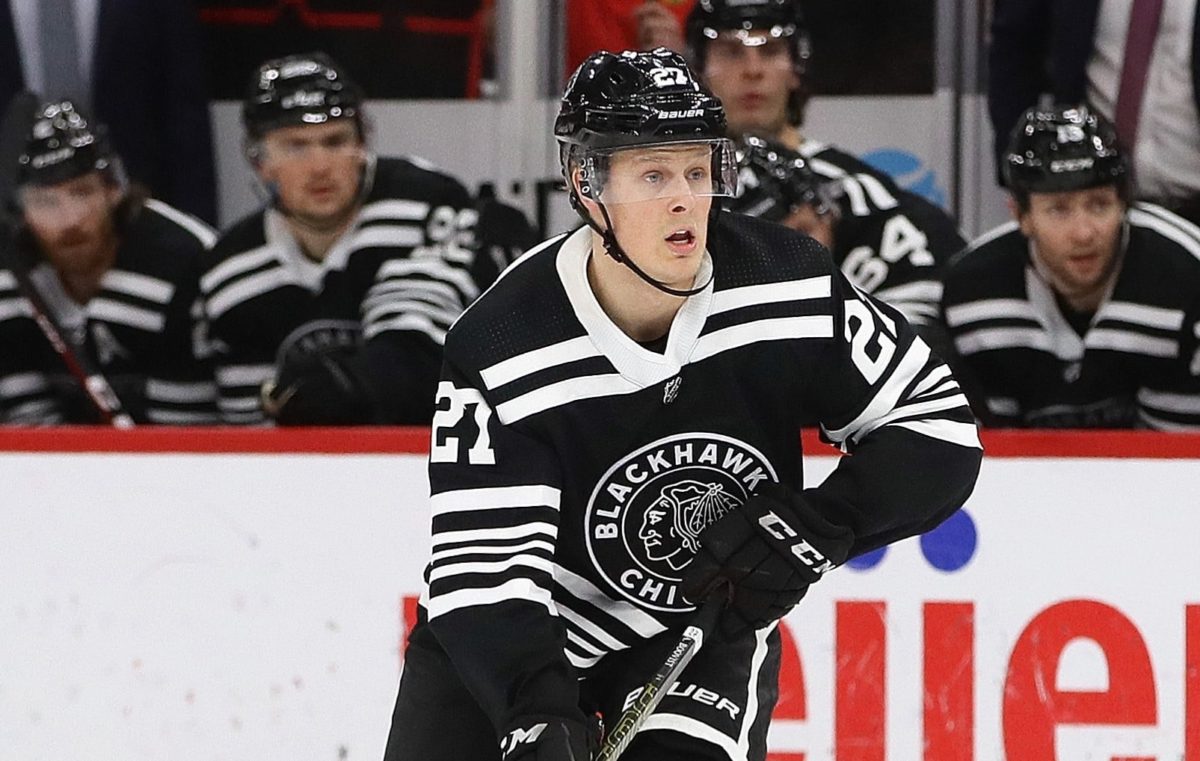 Goaltenders (5)
Collin Delia, Kevin Lankinen, Cale Morris, Malcolm Subban, Matthew Tomkins
Evan Barratt (unfit to participate), Brent Seabrook (unfit to participate), Kirby Dach (right wrist), Alex Nylander (left knee) and Jonathan Toews (medical issue) are all not taking part in training camp. Barratt and Seabrook are surprises and hopefully, we will get an update later today on whether or not they plan on taking the ice.
Carl Soderberg will join the team once he gets an immigration issue handled. Also, Zack Smith, who had back surgery in March, was not listed on the roster at all. He is under contract for this season, so having no mention of his name is curious, to say the least.
Kane Makes Top 50
The NHL Network is in the midst of releasing their list of the Top 50 players in the league. On Sunday, they revealed numbers 11-20 which included Kane in the 11th spot. He is the only Blackhawks player on the list as it is unlikely that any others will be in the top 10.
Few players have been more dynamic or consistent during the past decade than Kane, who finished eighth in the NHL last season with 84 points (33 goals, 51 assists). He has scored at least 21 goals in each of his 13 NHL seasons and is third in points since entering the League in 2007 (1,022; 389 goals, 633 assists). The right wing had a 15-game point streak (11 goals, 13 assists) from Nov. 2-30, 2019, the second-longest in the NHL last season behind Eichel, and helped the Blackhawks advance to the playoffs.
Blackhawks fans were used to seeing plenty of their favorite players on this list in years past. Just five years ago, in 2016, Kane was named as the No. 1 player in the league. He was joined on this list by Toews at No. 9, Corey Crawford at No. 31, Keith at No. 14, Artemi Panarin at No. 39 and Seabrook at No. 43. What a difference just five years makes. It is rather depressing.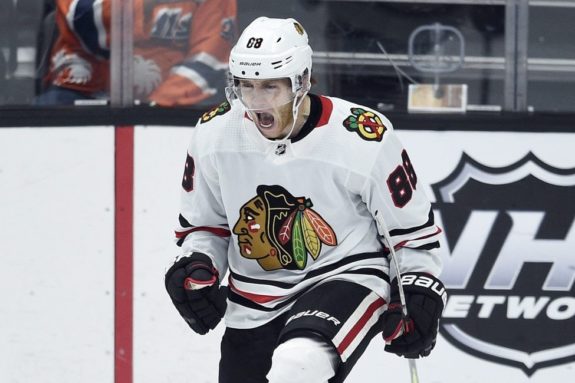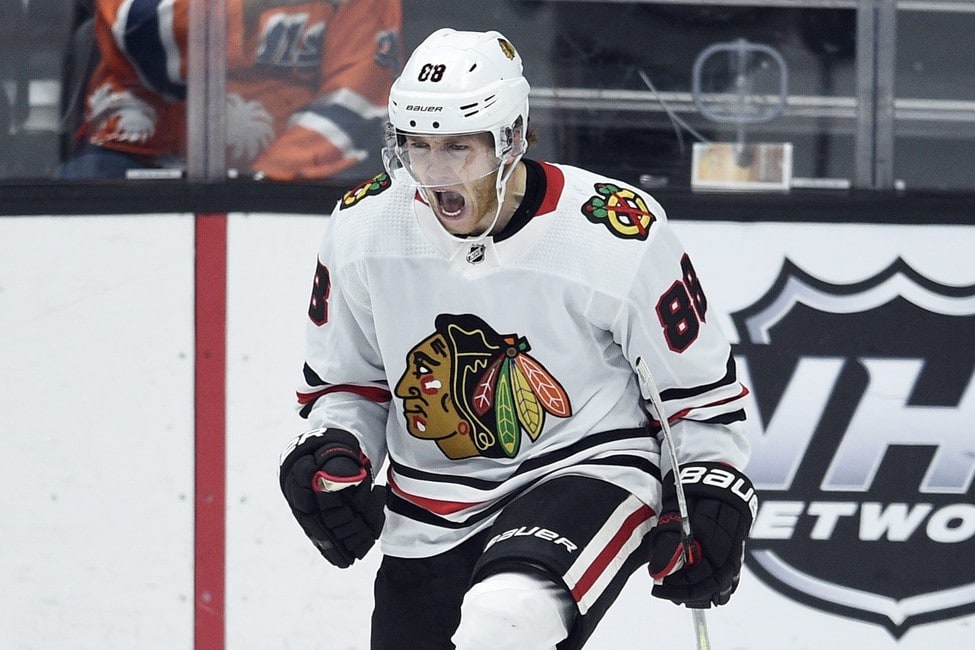 Some of the players that the Blackhawks will have to deal with in the new Central Division this season who are on the list include Roman Josi (13), Andrei Vasilevskiy (17), Brayden Point (19), Aleksander Barkov (23), Sebastian Aho (29), Seth Jones (32), Dougie Hamilton (37), Steven Stamkos (39), and Zach Werenski (49).
Join Us for Blackhawks Banter
Tune in to our YouTube Channel for Blackhawks Banter tonight and every Monday at 8:00 P.M. ET/7:00 P.M. CT. This weekly show, brought to you by The Hockey Writers Live, can also be found on our Facebook Page. Get caught up with Episode 8:
---