How well do you know your Ottawa Senators? How closely do you follow the World Junior Championships (WJC) each year? Some of these questions are easy, and some are geared toward die-hard fans. Regardless, from Yashin and Daigle to Stuetzle and Sanderson, there is a rich history of strong performances by players who went on to play for the Sens.
Here's a two-part question.
Only three Ottawa Senators have played in three WJC tournaments. Can you name them?
The first Senator to play in three WJCs was Jason Spezza who suited up for Canada from 2000-02. In 2000, Spezza and Jay Bouwmeester became the third and fourth 16-year-olds to play for Canada in the tournament after Wayne Gretzky and Eric Lindros had done it before them. Sidney Crosby and Connor McDavid also played for Canada at 16.
Defenceman Brian Lee was the second Senator to play in three tournaments. He played for Team USA from 2005-07. Lee was drafted ninth overall by Ottawa in 2005.
The other Senator to play in three WJC tournaments is Magus Pajaarvi. In 2008, he became the first 16-year-old to ever play for Sweden at the event.
Two of those three players have won three WJC medals. Who were they?
Spezza and Pajaarvi are the two former Senators who won three medals.
Spezza won bronze at the 2000 WJC in Sweden and the 2001 WJC in Russia. He won a silver medal with Canada at the 2002 tournament in the Czech Republic.
Pajaarvi won silver medals with Sweden at the 2008 WJC in the Czech Republic and at the 2009 WJC in Ottawa. His third medal was a bronze, won at the 2010 WJC in Saskatoon.
Lee settled for two fourth-place finishes in 2005 and 2006 and a bronze medal at the 2007 WJC.
Golden Goal For Sweden
Sweden won the gold medal at the 2012 WJC by beating Russia 1-0 in overtime. What Ottawa Senator scored the winning goal?
Drafted sixth overall by the Senators in 2011, Mika Zibanejad began the season in Ottawa before he was returned to his team in Sweden. He played in the 2012 WJC and scored four goals and an assist. His game-winning goal gave Sweden its second-ever WJC gold medal.
The 1996 WJC featured two defencemen who were selected first overall by the Senators in the NHL Draft. Who were they?
Bryan Berard and Chris Phillips were selected first overall by Ottawa at the 1995 and 1996 NHL Drafts.
Berard played in the 1995 WJC and was then drafted first overall by the Senators. He was unhappy when the organization sent him back to his OHL junior team in Detroit, and he demanded a trade. He played again in the 1996 WJC before he was traded to the New York Islanders for the second-overall pick in the same draft, Wade Redden. Berard won the Calder Trophy the following season.
Chris Phillips won gold for Canada in 1996 and was then selected first overall by Ottawa. He returned to the 1997 WJC and was a tournament All-Star.
Who is the only former Senators goalie to win two WJC medals?
At the 1983 and 1985 WJCs, goalie Dominik Hasek led Czechoslovakia to a silver medal. He was selected by the Chicago Blackhawks at the 1983 NHL Draft but was not aware that he had been drafted for several months.
The 1992 WJC marked the first time a future Senator won the gold medal. Who were the two players who won gold that year?
In the 1992 tournament, the former Soviet Union nations played as the Commonwealth of Independent States as the Soviet Union officially collapsed on Boxing Day, 1991. They wore red jerseys with no logo.
Alexei Kovalev and Alexei Yashin were both part of the CIS team that won the gold medal at the 1992 WJC.
Kovalev led the team in scoring with 10 points, and Yashin became the second-overall pick by Ottawa at the 1992 NHL Draft.
Future Sens Star in Ottawa
At the 2009 WJC in Ottawa, five different players who averaged a point per game or more went on to play for the Senators. Who were they?
Two players from Sweden, two from Canada and one from Russia averaged a point per game or better in 2009 and went on to play for the Senators.
On Sweden's silver medal team, defenceman Erik Karlsson was named a tournament All-Star with two goals and seven assists in six games. Winger Magnus Pajaarvi had two goals and five assists in six games.
On Canada's gold medal-winning team, Tyler Ennis had three goals and four assists in six games and Chris DiDomenico had two goals and five assists in six games.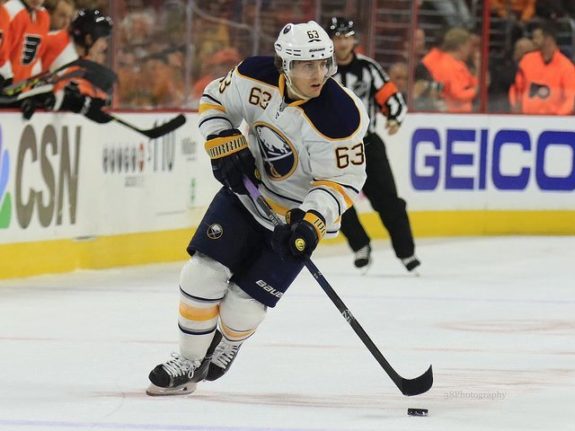 Russia's Evgenii Dadonov had seven points in seven games (two goals and five assists).
Two other future Senators also played in the 2009 WJC: Jim O'Brien played for Team USA and David Rundblad played for Team Sweden.
Back-to-Back Gold
Three future Senators have won back-to-back WJC gold medals. Who were they?
Wade Redden and Chris Phillips won back-to-back gold medals for Canada in the 1990s. Redden was a gold medal winner at the 1995 WJC before he became teammates with Phillips on the 1996 WJC gold medal team. Phillips won his second gold medal with Canada at the 1997 WJC.
The third back-to-back gold medal winner is Tom Pyatt. He won gold with Canada at the 2006 and 2007 WJC tournaments.
What Senator has won two WJC gold medals for Canada, but not in consecutive years?
That distinction belongs to Alexandre Daigle. He won gold with Team Canada at the 1993 WJC and was then selected first overall by Ottawa at the 1993 NHL Draft.
Daigle spent the 1993-94 season in Ottawa, but the Senators sent him back to Victoriaville of the QMJHL during the following season's work stoppage. He played for Canada at the 1995 WJC and had 10 points in seven games when Canada won gold.
All-Time Sens WJC Scoring Leader
Who has the most WJC career points among former and future Ottawa Senators?
The Senators' all-time WJC scoring leader is Magnus Pajaarvi of Sweden. The three-time medallist had 19 points. Pajaarvi is also the all-time WJC assists leader among Senators players with 13.
Who has scored the most WJC goals among former and future Senators?
Vaclav Varada scored 11 goals in 13 WJC games over two years. He scored six goals in seven games in 1995 and five goals in six games in 1996. At the 1995 WJC, he and fellow Czech Vaclav Prospal, another future Senator, both had 10 points. It was the only time that two WJC teammates who went on to play for the Senators reached the 10-point mark.
Only one goaltender who signed with the Senators won a WJC gold medal as the starting goalie. Who is he?
Jeff Glass was a third-round selection by the Senators at the 2004 NHL Draft. By all indications, Glass was expected to be Ottawa's goalie of the future. He won the starting goaltending job at the 2005 WJC and led Canada to its first gold medal in eight years, going 5-0 with a 1.40 goals-against average.
Glass finished the season with the Kootenay Ice by being named the WHL and CHL Goaltender of the Year. However, he never made it out of the pre-season with the Senators and spent four seasons in Binghamton before he went to Russia to play in the KHL.
He eventually cracked the NHL, playing 15 games with the Blackhawks in the 2017-18 season.
Thomas Chabot was named MVP and Best Defenceman at the 2017 WJC. He was the fourth Senator to be named the tournament's top defenceman. Who were the three before him?
Erik Karlsson was named Best Defenceman at the 2009 tournament in Ottawa, with nine points in six games for the silver medallists from Sweden.
Dion Phaneuf was named the top defenceman of the 2005 WJC with six points in six games. He was a punishing defender for Team Canada, who was virtually unchallenged for their first gold medal in eight years.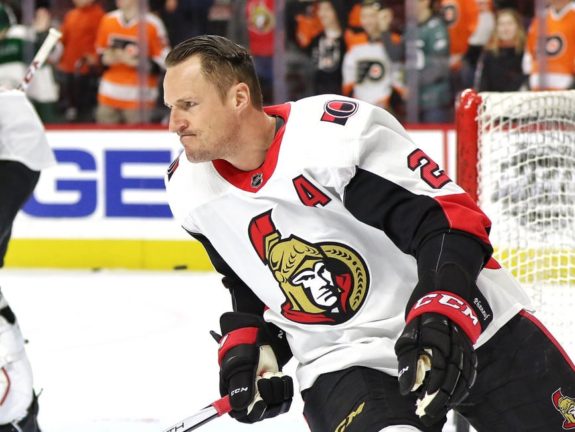 At the 1997 WJC, the top defenceman became an overtime hero for the Senators. Joe Corvo and Team USA had to settle for the silver medal, but Corvo's performance in the tournament earned him top defenceman honours.
Who holds the record for most penalty minutes in one WJC among former and current Senators?
In the 1993 WJC, projected future superstar Alexandre Daigle racked up 27 minutes in penalties, which is the highest total ever for a Senator in one WJC tournament. In Canada's second game, Daigle was penalized for cross-checking and was ejected from the game.
Daigle had an edge to his game in junior, with 85 penalty minutes in 53 games in 1992-93 with Victoriaville. In the NHL, he had a career-high 40 penalty minutes in 84 games as a rookie. He only had more than 25 minutes in penalties one more time in his NHL career.
Silver Seven
What two players share the Senators' WJC record of seven goals in one tournament?
Mark Stone had seven goals in six games for Team Canada at the 2012 WJC. He is the only Senator to ever have more goals than games played at the tournament.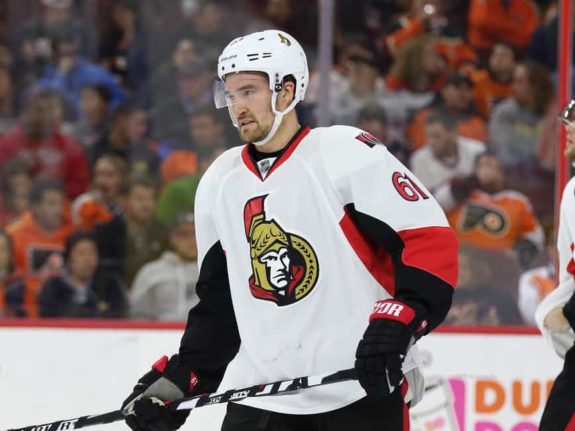 At the 2017 WJC, Colin White scored seven goals in seven games as Team USA won the gold medal by beating Sweden in a shootout in the final.
At the 2021 WJC, Tim Stuetzle averaged two points per game with 10 points in five games. Who is the only other Senator to average two points per game in a WJC tournament?
Team USA captain Derek Stepan had 14 points in seven games to lead the tournament in scoring as the Americans won gold at the 2010 WJC. Stepan, who was playing college hockey for the Wisconsin Badgers, had four goals and 10 assists.
Only two players to be named the top goalie at the WJC have gone on to play for the Senators. Who are they?
In 1983, Czechoslovakia's Dominik Hasek was named the top goalie after leading his team to a silver medal. Although he was unbeaten in the 1985 tournament, Hasek lost the award to Canada's Craig Billington.
The other goalie is Sweden's Filip Gustavsson, who was the top goalie in the 2018 WJC. Gustavsson was a Pittsburgh Penguins draft pick at the time, but less than two months after that tournament, he was traded to the Senators as part of a package for Derrick Brassard. Gustavsson finished the season with Lulea HF in Sweden, and then travelled to Canada to finish the AHL season with the Belleville Senators.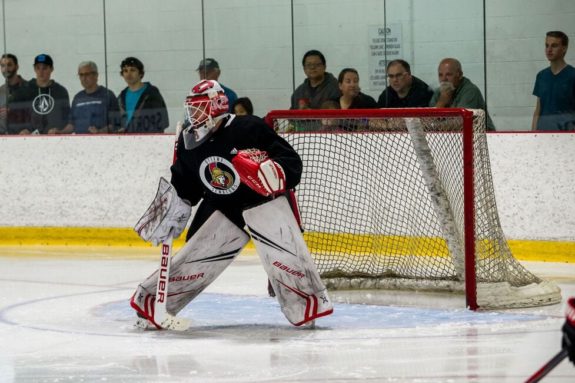 We hope you enjoyed our look back at the World Juniors from years past with an Ottawa Senators slant. It seems ironic that Brian Lee and Alexandre Daigle had illustrious WJC careers while Daniel Alfredsson and Craig Anderson were never invited to play in the tournament. But that's what makes trivia so much fun!
All the 2021 World Junior Championship Team Information:
Austria — Team Preview — Roster
Canada — Team Preview — Roster
Czech Republic — Team Preview — Roster
Finland — Team Preview — Roster
Germany — Team Preview — Roster
Russia — Team Preview — Roster
Slovakia — Team Preview — Roster
Sweden — Team Preview — Roster
Switzerland — Team Preview — Roster
USA — Team Preview — Roster
Selection Camp Invites by NHL Team
Draft Eligible Players to Watch
One Player to Watch for Each World Junior Team
7 Predictions for the 2021 World Junior Championship
---
---
Jeff Morris has been a hockey writer for more than 30 years. He began his career working for small town newspapers in Eastern Ontario before becoming the editor of Canadian Sports Collector magazine in St. Catharines, ON. While there, he also freelanced as a Buffalo Sabres beat writer. Morris would move on to Dallas to become the NHL brand manager at Pinnacle Brands, Inc. From there, he worked in the sports trading card and collectibles division at Shop At Home TV in Nashville and Denver, and then moved to Seattle to be the VP of Marketing at Pacific Trading Cards, Inc. in Seattle. He had continued to cover the NHL as a freelance writer, and while in Seattle, he became a weekly hockey columnist for ESPN.com. During the 2005 NHL lockout, he returned to Ottawa and became a newspaper and magazine publisher and editor, and was also an NHL contributor for Fox Sports Radio. He also began covering the NHL for Hockeyology.com, and also covered the Ottawa Senators for his own publications. He went to Carleton University to study journalism, and graduated as the school's all-time scoring leader in football and was a conference all-star three times. He had several pro tryouts and played semi-pro football for 10 years while pursuing his career as an NHL writer. He remains involved in football as a coach and referee, and is a Canadian Football League off-field official.