Sometimes this Canucks season feels like watching an episode of Sons of Anarchy. At times you can't help but binge watch the show, drawn in by the intriguing characters and action-packed scenes. At other times bad writing makes you shake your head while the drama just becomes so unrealistic that you wonder why you ever started watching in the first place.
The Canucks have had their fair share of intriguing players make the roster this season. They've also been involved in lots of action, since 12 of their 17 games have been decided by one goal. Watching their special teams might want to make you rip your hair out right now, but they can look at the standings to see that they are tied for second in their division with the surprising Arizona Coyotes.
There are definitely two ways to look at this Canucks season so far. We're starting to get a good idea of what this team looks like since were almost a quarter of the way through the season.
The Canucks Season Through Rose-Coloured Glasses
Say what you want about the Canucks season, but so far they have defied all of the treacherous early season predictions. You would be hard-pressed to find a media outlet who believed the Canucks would finish any higher than sixth in their division. Yet, as of Friday they were tied for second in the division with the Coyotes and sit only one point behind the Los Angeles Kings. While there is still plenty of hockey left to be played, the Canucks do have a somewhat comfortable five point lead over the San Jose Sharks, who sit fourth overall in the Pacific.
At 35 years of age the Sedins are showing that age is just a number, as they continue to produce like the first line players that they are. It should come as a surprise to no one that Daniel and Henrik lead the team in points respectively. They've done this with a revolving door of linemates, showing that they can still get the best out of any player. Just ask Radim Vrbata or Jannik Hansen, who have enjoyed the bulk of their success playing with the Sedins this season.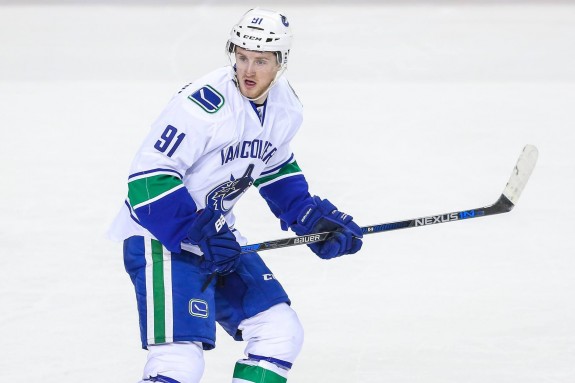 The emergence of youth is one of the best stories in Vancouver this season. Jared McCann, Jake Virtanen and Ben Hutton have all impressed during stretches of this young Canucks season. McCann is tied for the team lead in goals along with the Sedins, Virtanen brings an element of physicality that this team desperately lacks, and Hutton has shown poise and confidence way beyond his years. Hutton leads all Canucks defencemen with eight points, which is good for fourth on the Canucks. His eight assists are second among rookies as he trails only Artemi Panarin of the Chicago Blackhawks.
Heck, with Tanev out, I'm just going to go ahead and call rookie Ben Hutton the #Canucks best defenceman.

— Iain MacIntyre (@imacSportsnet) November 9, 2015
One of the biggest question marks for the Canucks was goaltending, but Ryan Miller's spectacular October has held off criticism for the time being. He's hit a bit of a rough patch in November, but that could be attributed to playing too many games while Jacob Markstrom was on the shelf. With Markstrom back in the line up he should take some of the heat off of Miller. If Markstrom's first game is a sign of things to come, then the Canucks will be just fine.
The Canucks have shown up every night as they haven't lost any games by more than a goal this season. In typical Willie Desjardins fashion, this team can roll four lines which presents a challenge to its opponent every game. If at least one of their five overtime losses went the other way, they would be leading the division right now.
Charlie Brown's View of the Canucks
With only six regulation wins through their first 17 games, the Canucks are damn lucky to be tied for second place in the Pacific division right now. A major reason for their place in the standings has to do with the horrific starts coming from teams expected to finish higher than them in the division, in particular Anaheim and Calgary. If the Canucks hadn't accumulated five loser points there would be a much different discussion surrounding this team.
While the Canucks are staying competitive, their record in one-goal games is abysmal. Although all of their losses have come by one goal, they are now 2-5-5 in one goal games.
#Canucks have lost all 10 games this season by 1 goal. No team in NHL history has ever accomplished that feat to start a season.

— Sportsnet Stats (@SNstats) November 13, 2015
One of the main reasons for their success last season was that they won the special teams battle on most nights. Both their powerplay (11th, 18.9%) and penalty kill (2nd, 85.7%) were strengths for the Canucks in 2014-15. However this season they powerplay (14.8%, 24th overall) has hurt them more than it's helped them on most nights. The Canucks once strong penalty kill has taken a beating over the last few games and now sits 16th overall (79.6%). They aren't going to win many games in which both their powerplay and penalty kill stink.
https://twitter.com/forevercanuck/status/663517504409501696
What's even more troubling than their special teams woes is that the Canucks are worst in the league at holding onto a lead. They have the worst winning percentage when leading after two periods, with five wins in nine games in which they've led after forty. 17 teams are still perfect when going into the third with a lead, so the fact that the Canucks have blown four of those leads is troubling. They also aren't good at coming back in games since they haven't won when trailing after the first or second period.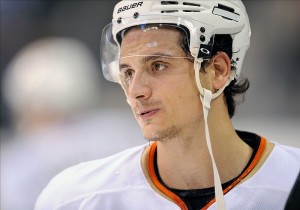 Their sub par defence may be to blame for the blown leads. Outside the top pairing of Alex Edler and Chris Tanev the Canucks defence looks shaky. Sure, Ben Hutton has impressed in his rookie campaign but Dan Hamhuis looks slower, Matt Bartowski has been beat cleanly on a few goals, and Yannick Weber barely looks like a regular NHL defender, nevermind a top four guy. Toss in pizza delivery specialist Luca Sbisa and this is a Canucks defence that can be beat.
The Verdict
Both of these views show what kind of team the Canucks are: a middle of the road team. Their point percentage through 17 games is at 55.9%, good for 15th overall. There are reasons to be excited about Vancouver's youth and competitiveness, yet their inability to close out games and get it done on special teams is going to sink this team if those trends continue.
Just like an episode of Sons of Anarchy, you know you're going to watch no matter how much it drives you insane, because you want to know how it's going to play out.
KPU Journalism Graduate. Trevor has been writing for The Hockey Writers since October 2014. He has contributed articles related to the Ottawa Senators, Vancouver Canucks, and other issues/stories regarding the game of hockey. Trevor currently lives in White Rock, B.C.