The 2018-19 NHL season is finally upon us and with it comes the frivolous task for writers like me to get you ready for the season and make some silly predictions for the Golden Misfits: Part Deux.
Much like last season, the Vegas Golden Knights will enter the season with something to prove. Last year, it was a group of castaways each with a chip on their shoulder banding together to form a potent force. They vowed revenge on their former teams and showed through their play that those teams were wrong to leave them exposed in the expansion draft, or for sacrificing them to protect other players.
As for this year? Well, the 2018-19 Golden Knights are out to show everyone that last season was no fluke. Making the Stanley Cup Final in your first season is a hard act to follow, but if any franchise can rise to the occasion, it's this one. Reinforcements were brought in to bolster a solid core and money was spent to keep key pieces in place.
But before we can dive into the storylines and predictions for the upcoming season, it's time to meet your 2018-19 Vegas Golden Knights.
New Trio: Paul Stastny, Max Pacioretty & Nick Holden
Most of last season's roster is intact with the exception of departed wingers James Neal, David Perron, and Tomas Tatar, as well as defensemen, Luca Sbisa. They have been replaced by a trio of new additions, center Paul Stastny, a sniper on the wing, Max Pacioretty, and the reliable, stay-at-home d-man, Nick Holden.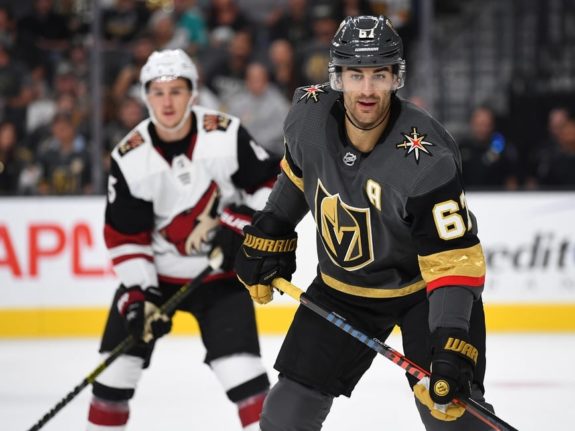 Stastny and Pacioretty are set to play together on the second line as long as the top line of Jonathan Marchessault, William Karlsson, and Reilly Smith stay healthy and maintain its chemistry and production. Stastny will inject a steady, two-way presence in the middle, while Pacioretty will be relied upon for speed and scoring.
The least flashy addition of the three, Nick Holden, brings a steady, smooth-skating presence to the back end, and will likely be paired with one of the Golden Knights' more aggressive defensemen, like the recently re-signed Shea Theodore. Though a lefty, Holden prefers playing on the right side, making him a natural fit for Theodore.
The Rest of the Roster
One question entering training camp was who would play on the right wing with Pacioretty and Stastny, and it looks like Erik Haula has claimed the gig, with the top competitor, Alex Tuch, beginning the season on injured reserve. Also on IR is center Cody Eakin, which made room for two forwards on the opening night lineup.
Oscar Lindberg will look to add some secondary scoring after a down year while remaining forwards Ryan Reaves, Ryan Carpenter, William Carrier, Tomas Nosek, and Pierre-Edouard Bellemare will grind opposing teams down with their speed and relentless forecheck.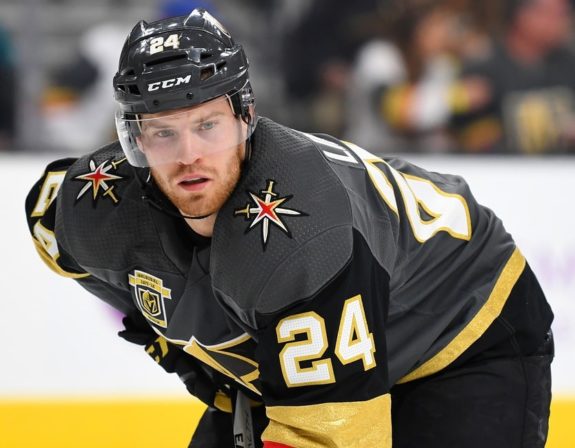 Theodore finally re-signed with the team during week two of training camp on a lucrative seven-year deal to shore up the back-end while Nate Schmidt is out serving a 20-game suspension. Colin Miller also re-signed during the offseason and returns alongside holdovers Brayden McNabb and Deryk Engelland. Jon Merrill, Brad Hunt, or the emergent Jake Bischoff will round out the opening night roster, as the trio seem poised to split time as the sixth defenseman depending on what coach Gerard Gallant sees.
The goalie duo of starter Marc-Andre Fleury and backup Malcolm Subban return as well, aiming to stay healthy after a tough first half of last season.
Five Storylines to Follow
1. Is This Team For Real… Still?
Despite winning the Pacific Division title and Western Conference championship, the Vegas Golden Knights still enter the season with many doubters. They rode an unbelievable wave of momentum all the way to the Stanley Cup Final but with that run over, another will need to begin. So what is the team's fuel this season?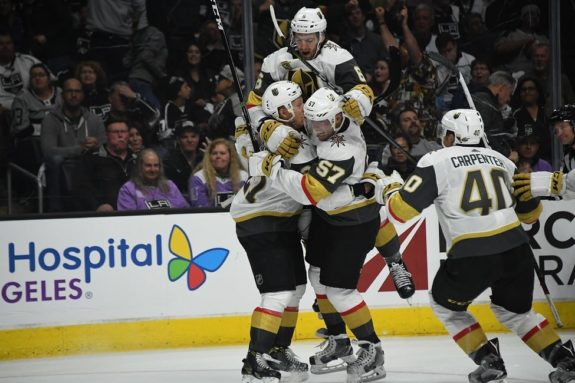 For many, it's proving that last season was no fluke. For some, it's proving that they're worth their weight in Gold, including those who inked big deals in the offseason.
2. Living Up to New Contracts
Many players on last season's Golden Knights were playing for cheap. Key contributors like Marchessault ($750,000), Karlsson ($1 million), and Miller ($1 million) played for peanuts while defenseman Shea Theodore ($863,333) finished up his entry-level contract. They've all been rewarded with big contracts and will look to prove that they deserve every penny. One, in particular, will be looking for a bigger payday.
3. Wild Bill's Big Gamble
Karlsson was likely offered a longer deal than the one year, $5.25 million contract he signed, but he's betting on himself this season. While another 43-goal campaign on a 23.4 shooting percentage seems out of the question, it will be interesting to see what Wild Bill can do for an encore. If he comes close, the Golden Knights will likely pay big bucks to make him a fixture in the black and gold for years to come.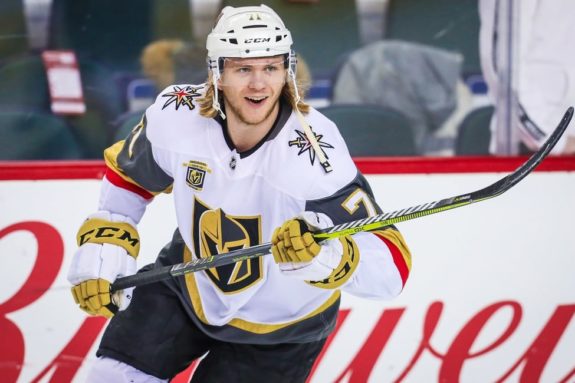 4. Continued Development of Top Prospects
Many of the team's young guns, including Nicolas Hague and Cody Glass but particularly Erik Brannstrom, dazzled in moments during the preseason, but the team's depth and early success mean that none of them will be rushed into the NHL lineup. In fact, the only rookie on their NHL roster is 24-year-old Jake Bischoff, who is likely to be the one sent down to the AHL once Schmidt returns.
Brannstrom and Hague will look to shore up their play in their own zone during their first season of North American professional hockey with the Golden Knights' AHL affiliate, the Chicago Wolves. Meanwhile, Cody Glass returns to juniors and will look to improve on the 102 points he put up last season for the Portland Winterhawks, and will hopefully receive an invite to represent Canada at the 2019 IIHF World Junior Championships.
5. Can Marc-Andre Fleury Continue His Stellar Play?
Once he returned from injury last season, Marc-Andre Fleury looked like his much-younger self and one of the best goaltenders in the league. But as the original face of the franchise and with a pricey contract extension in hand, can he build off last season and be consistent through an entire season? If the Golden Knights have a weak point, its defense, so Fleury will be called upon more often in the team's second season, especially in the early going without Schmidt.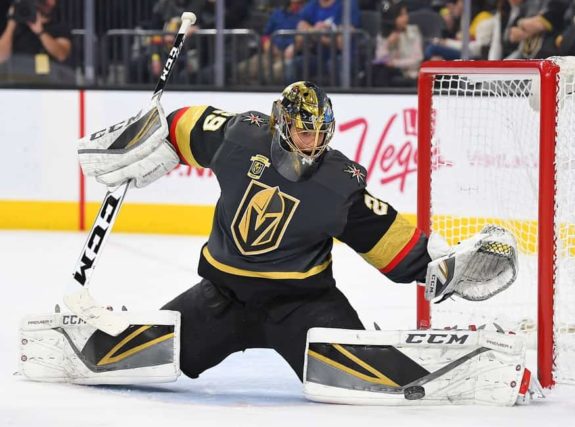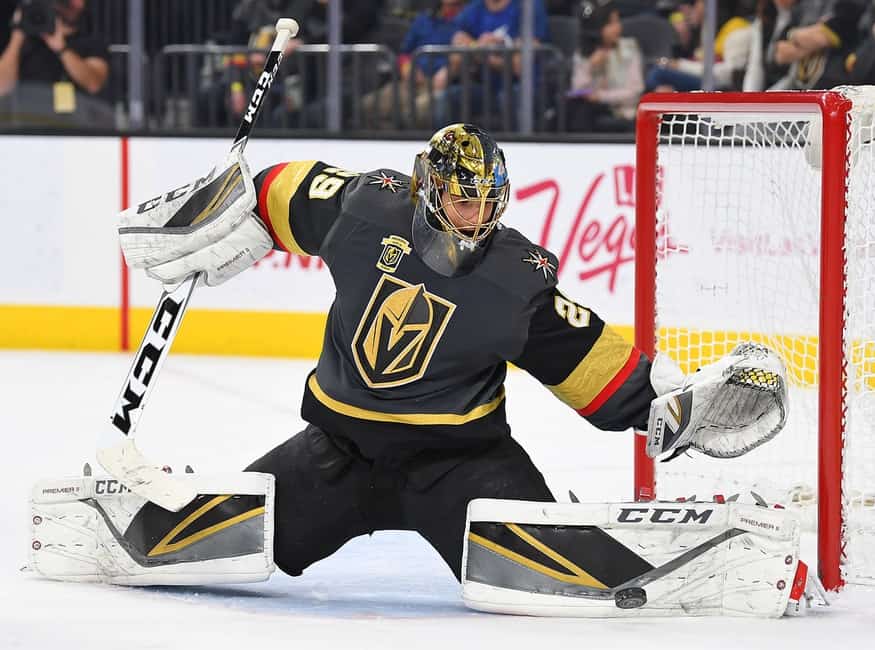 Three Bold Gold(en) Predictions for the Season
1. Golden Knights Will Return to the Playoffs but Won't Repeat as Division Champs
The Golden Knights 2.0 will be good but there are too many players that need to match or better their career-seasons for the team to repeat last season's run. I see them finishing second in the Pacific behind the San Jose Sharks. However, they will still be good enough to make the playoffs, and we've seen what can happen when they get there.
2. Golden Knights Will Make a Big Move at the Trade Deadline
Next season's free agent market is stacked with talent. With several players on teams that are not expected to compete this season and in the midst of rebuilds, it is likely that many, if not all, will be moved at some point. While the Golden Knights have plenty of depth up front, they may look to add more firepower before another playoff run.
Players such as Mark Stone (Ottawa Senators), Jeff Skinner (Buffalo Sabres), and Wayne Simmonds (Philadelphia Flyers) could be available, as well as the trio of Jordan Eberle, Brock Nelson, and Anders Lee of the New York Islanders, should the team decide to blow things up and start fresh following the departure of Tavares. Artemi Panarin of the Columbus Blue Jackets presents another enticing option and he may want out of Columbus. But one guy who seems to have "Vegas Golden Knight" written all over him is New York Rangers sparkplug, Mats Zuccarello.
However, the Golden Knights could use help on the back end and veterans Alex Edler (Vancouver Canucks) and Niklas Kronwall (Detroit Red Wings) may see their long tenures come to an end.
3. Wild Bill Will Prove His Mettle
No, he won't score 43 goals again in his career, but Karlsson will prove that last year was no aberration. Something along the lines of 25 goals and 60 points is a reasonable expectation and that, coupled with a continued commitment to minding his own end, will net Karlsson the long-term contract he deserves, making him the Golden Knights' highest-paid player in 2019-20.
This season won't be as "easy" as last year. The Golden Knights won't sneak up on anyone, they won't be as angry, and they won't all have career-best seasons but this is still a very good team that will make some noise.
A Hartford kid, John grew up on The Whale and Brass Bonanza. He first laced up the skates at age 3 and has rarely taken them off since. Now based in Orange County, John is taking his talents to the pond and providing coverage for the Anaheim Ducks as they begin their rebuild.