The Calgary Flames have multiple contract negotiations to deal with during the 2018-19 season. With a brand new season about to begin, there is still a lot of hockey to be played before these discussions take center stage, but the Flames would benefit from getting these deals done earlier in the year as opposed to waiting until the summer. Let's take a look at the top-three pending free agents in Calgary and some comparables within the Flames roster.
The Young Leader: Matthew Tkachuk
Calgary Flames forward, Matthew Tkachuk, is entering the final year of his entry-level contract which means he will be eligible for a significant pay raise come 2019-20. He was drafted sixth overall by the Flames in the 2016 NHL Entry Draft and was swiftly signed to a three-year, $5.325 million deal. He has now played two full NHL seasons and is blossoming into the type of player the Flames expected, with 97 points (37 goals, 60 assists) in 144 games. It's the intangibles that make Tkachuk so valuable. He has great hockey sense, a unique ability to draw penalties and plays with a rare tenacity and grit; as if drawing inspiration from a previous era of hockey.
While Tkachuk may not have the same explosive offensive upside as fellow 2016 NHL Draft standouts, Auston Matthews or Patrick Laine, the player considered by many as the 'best of the bunch' that year in terms of forechecking ability and net-front presence has lived up to his billing so far.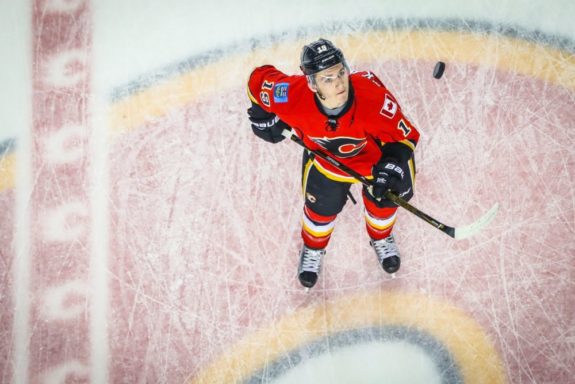 Tkachuk is coming off a 2017-18 campaign when he scored 24 goals, tied for second on the team with Johnny Gaudreau. Numbers like that should earn the 20-year-old a substantial extension, both in dollars and term, but what that contract will look like has yet to be determined. The Flames will need to be creative in order to hold on to their top youngster.
A Good Problem to Have
Tkachuk was recently named one of the Flames' alternate captains and it's rare to see a young player have the kind of impact he has had in his first two seasons. His entry-level deal only carries an annual cap hit of $925,000 and considering his level of production, this is a great return for the Flames. With 24 goals, 25 assists and 49 points in just 68 games last season, the Scottsdale, AZ native is showing no signs of slowing down. If he can stay healthy, it's plausible for him to reach the 30-goal mark this season. So what kind of deal can Tkachuk expect to seek next summer?
Flames top goal-scorer, Sean Monahan, is a good comparable. Both Tkachuk and Monahan are represented by Newport Sports Management, which means it's possible to see a push for a similar deal to Monahan's when Tkachuk's agent hits the negotiating table. Monahan signed a seven-year extension in 2016 worth $44.625 million, carrying an annual cap hit of $6.375 million. He scored 31 goals and added 33 assists (64 points) in 2017-18 and has averaged 27.6 goals per season through his five-year career.
With Dillon Dube and Juuso Valimaki earning a spot on the opening night roster, Matthew Tkachuk reminisces about his rookie training camp. pic.twitter.com/La3opwY8h1

— Calgary Flames (@NHLFlames) October 1, 2018
If Tkachuk can reach the 30-goal mark this season he could seek a deal within the $5-$6 million range and while it's safe to assume that he will get his extension, he isn't the only significant piece of the Flames' roster whose contract will need to be addressed before the 2019-2020 season. Two notable impending free-agents include 22-year-old forward, Sam Bennett (RFA) and veteran goaltender, Mike Smith (UFA).
The Enigma: Sam Bennett
Sam Bennett has not had the tenure that the Flames were hoping for when they drafted him fourth overall in 2014, the highest selection in franchise history. Heading into his fourth full NHL season with the Flames, Bennett needs to prove his worth this season or he may be skating in a different uniform by 2019-2020. He will be a restricted free agent at the end of the season and whether or not the Flames offer him an extension will rely on his play this year.
It will also depend on who Bennett the player really is. Is he a potential perennial 20-goal player or is it time to accept that he is turning into a defensive forward and penalty kill specialist? His offensive numbers have been declining each season since he scored a career-high 18 goals and 18 assists for 36 points in 2015-16. He scored just 11 goals last season, adding 15 assists for 26 points in 82 games. However, he has been steadily improving in the face-off dot and finished the year with a 54.3 percent success rate, which is comparable to his new teammate, Elias Lindholm.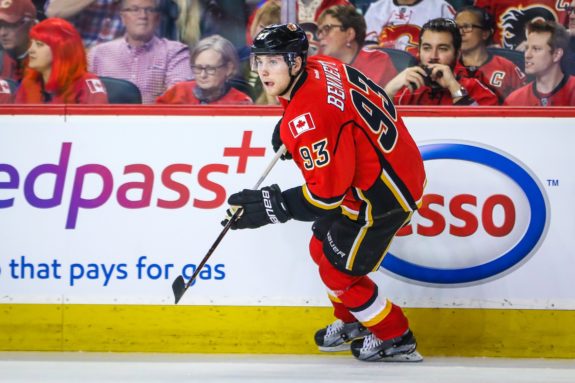 Lindholm scored 16 goals and 28 assists for 44 points in 81 games with the Carolina Hurricanes last season, operating at 54.5 percent on face-offs. While Lindholm is more consistent in terms of offensive production, Bennett has scored more goals (42) than Lindholm (38) over the past three seasons. Their virtually identical face-off ratings and total number of games played in 2017-18, make for an interesting comparison.
Related: NHL Pacific Division Preview 2018-19
The Flames recently inked Lindholm to a six-year deal valued at $29.1 million, which works out to $4.85 million per season. He was brought in to provide secondary scoring and face-off stability to the top six forward group. This is similar to the expectations that were placed on Bennett previously but the Flames are now looking to Lindholm to provide depth.
Where does that leave Bennett on the depth chart? He spent the majority of the 2018 preseason on the fourth line, so he will likely be used in a defensive, shut-down role again this season. He didn't excel in this role in 2017-18, posting a minus-18 rating, but there is still so much more that the Holland Landing, ON native needs to give. It is also worth noting, it's a contract year for Bennett.
Bennett will earn $1.95 million this season before becoming a restricted free agent in September 2019. Even if he has a career year, it's unclear if the Flames will be in a position to sign him to a deal similar to Lindholm's. Again, it all hinges on what type of player the organization expects Sam Bennett to be; and the kind of player he chooses to be in 2018-19.
The Grizzled Goalie: Mike Smith
Another conversation involves goaltender, Mike Smith. If he hadn't been injured at a crucial juncture in 2017-18, Smith may have provided just enough to propel the Flames into a playoff spot. In 55 games last season, Smith posted a 25-22-6 record, with a 2.65 goals against average (GAA) and a .916 save percentage (Sv%). The numbers aren't overly stellar on paper but if it wasn't for Smith, who stole countless games, the Flames' playoff hopes would have been dashed much sooner.
This season has a renewed sense of vigour and focus for the Flames, which may be beneficial for Smith, who is one of the more competitive personalities on the team. At 36-years-old, Smith is well seasoned but depending on his level of play, he could still be the obvious choice to backstop the Flames for a little while longer. Smith still has one year remaining on the contract he signed with the Arizona Coyotes and he will earn $4.25 million this season before becoming an unrestricted free agent this summer.
Related: Flames Need Net Depth for Season Success
When he was acquired from the Coyotes on June 17, 2017, Smith was expected to buy time for younger goalies in the Flames' system, like John Gillies, to develop into starters. It's not happening as quickly as hoped. On Tuesday (Oct. 2, 2018), Gillies was announced to start the season with the Flames' AHL affiliate, the Stockton Heat, he is expected to play the majority of games.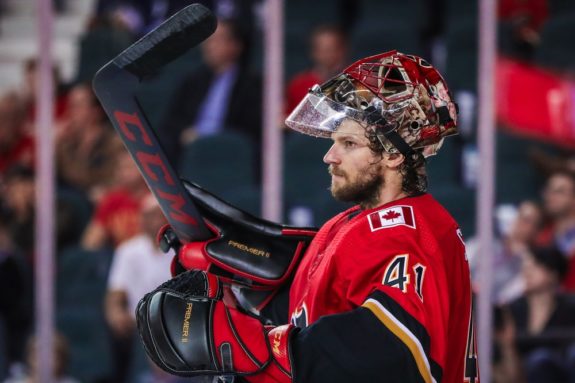 Although disappointing, it might be the best move for Gillies, as it will enable him to get in as many starts as possible. The Flames recently signed Gillies to a two-year deal at $750,000 per season and if the 24-year-old can make significant strides this season, his contract may make him the more attractive option moving forward.
Curtis Lazar (RFA), Garnett Hathaway (UFA) and Dalton Prout (UFA) will all need contracts at the end of 2018-19, as well.