After a 97-point season (44-29-9) the New Jersey Devils will be looking to make the playoffs for a second consecutive season as they begin their 2018-19 campaign. The 97 points left them fifth in the rugged Metropolitan Division, qualifying as a wild card and if they want to make it back-to-back playoff seasons they'll need to come close to duplicating that point total or improve on it. Another two points during the season and they would have been third in the division, rather than drawing the East's top seed in the opening round. Another three-four points and New Jersey could have had home-ice advantage in the opening round.
Here are three bold predictions that we believe will unfold during the Devils' 2018-19 season. Remember that if they happen we'll take all of the credit and if they don't – this article never existed and you never read it.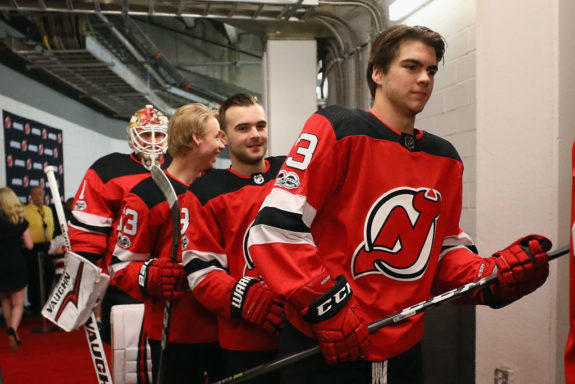 1: Matt Duchene Will Be a Devil
It's a pretty safe bet that the Ottawa Senators won't be in the playoff picture this season. With heavyweights like the Tampa Bay Lightning, Boston Bruins, and Toronto Maple Leafs in their division and a depleted lineup thanks to the trades of Erik Karlsson and Mike Hoffman, the Sens will be scuffling in the NHL's basement for the majority of the season. Good thing they have their first round pick next year right? Whoops. That pick is owned by the Colorado Avalanche as part of the trade that brought Ottawa Matt Duchene.
Duchene turns 28 on January 16 and shortly after he will be swapping Ottawa's red and black for New Jersey's. A package that includes the Devils' 2019 first round pick, 20-year-old Michael McLeod or 21-year-old Pavel Zacha and 23-year-old defender Steven Santini could be enough of a package to acquire (rescue) Duchene from the Senators, who is scheduled to be an unrestricted free agent on July 1. The Devils have enough assets to be able to make Ottawa bite on a deal when they dangle that first rounder.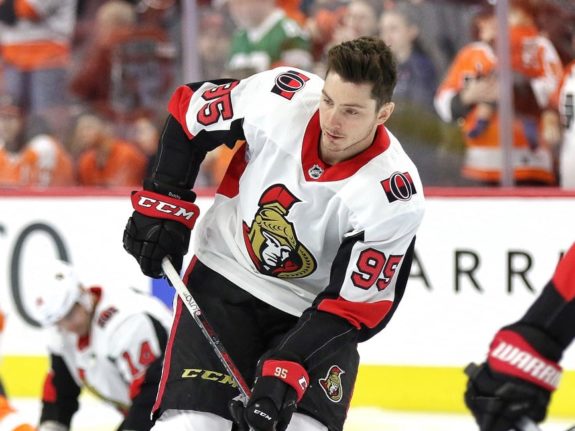 GM Ray Shero has built his teams through the draft and trades (see: Hall, Taylor; Vatanen, Sami) rather than free agency and this would give the Devils the second line center they so desperately need if they want to take the next step in their progression. They also have the cap space and cash to work out an extension with Duchene to make sure he is a part of the future in New Jersey alongside players like Taylor Hall, Nico Hischier, Sami Vatanen, and Will Butcher.
How much better would New Jersey's top-6 look when you add Duchene alongside Hischier, Hall, Kyle Palmieri, Marcus Johansson, and Jesper Bratt?
How much better would Ottawa's prospect pool look when adding Santini and Zacha or McLeod to Brady Tkachuk, Colin White, Alex Formenton, Thomas Chabot and Logan Brown?
2: A Playoff Encore
Last season the Devils surprised everyone by making the playoffs for the first time in six seasons. From their opening day 4-1 victory over the Avalanche on October 7 to their playoff-clinching 2-1 win over Toronto on April 5, New Jersey never relinquished their postseason spot. They finished last October winning eight of their first ten games and this season after returning from their game against the Edmonton Oilers in Sweden the Devils will be home for six of seven games with no back-to-back games; the lone road game is a bus trip to Philadelphia. 
Another hot start should be enough to propel the team to a good spot in the ultra-competitive Metropolitan Divison and they will be tested in November when they play only four of their 15 games at home – this month includes trips to Pittsburgh, Toronto, Winnipeg, Tampa Bay, and Washington.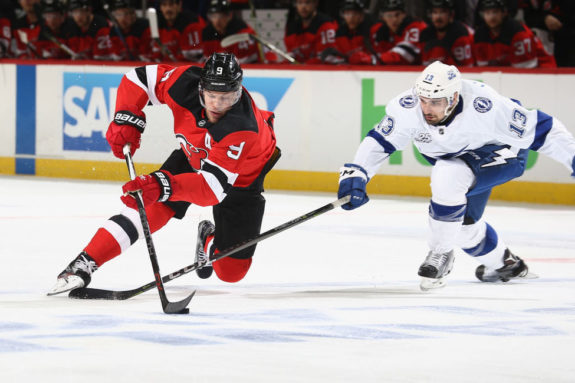 Hall will be looking to prove that last season's MVP campaign in which he exploded for 93 points was no fluke. Hischier will be a year older, a year wiser, and stronger. Johansson (hopefully) will have an injury-free season. Blake Coleman and Miles Wood will be looking to improve upon solid seasons that established them (and paid them) as regular NHLers. Vatanen will have more of an impact on the blueline, having gone through a full off-season as a New Jersey Devil, rather than joining them midseason. Butcher, like Hischier, will be aiming for more responsibility as he enters his second pro season. In goal, Keith Kinkaid will want to show the hockey world that his amazing run during the second half of last season was his true self and once his injury rehab is complete Cory Schneider will be trying to reclaim his status as one of the NHL goalies in the upper echelon. 
3: Nick Lappin Plays at least 41 games
After leading the Binghamton Devils in goals with 31 in 65 games (4th most in the AHL), Nick Lappin was thisclose to making the NHL roster this season. But fear not, he will be making the trip from Bingo to New Jersey in short order. The first time there is an injury the 25-year-old should be the first player called up. He's already played 49 NHL games with the Devils over the past two seasons, and if the aforementioned trade above does indeed happen, adding Lappin to the roster seems like a no-brainer.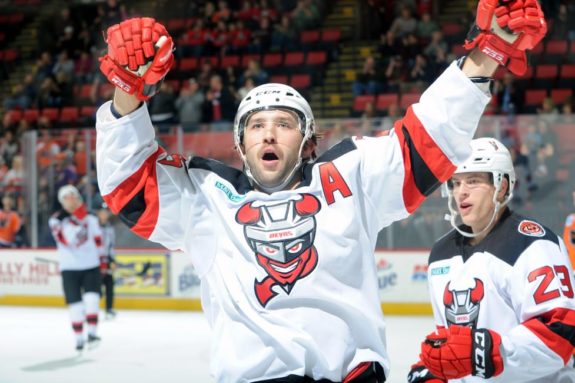 "He's around the net; the puck finds him, he finds the puck. When he gets those opportunities he's had a history – certainly since his time with me in the minors – he's shown he can put the puck in the back of the net," said current Devils assistant coach Rick Kowalsky who was Lappin's coach during the winger's three AHL seasons.
In addition to being the first man up if there is an injury or if John Quenneville or the newly-acquired Jean-Sebastien Dea should fail to produce or falter, Lappin is the odds-on favorite to get the call from Shero and Coach John Hynes to join New Jersey. He has shown he can put the puck in the net at both the NHL and AHL levels, but he still needs some minor adjustments in his overall game. He'll be ready when he gets that call this season.
Dan Rice is in his 9th year of reporting for THW & has covered NJ Devils home games for 15+ years at various websites. He began his journey working for legendary broadcaster/writer Stan Fischler from 2002-04 & completed an internship at the ECHL; he also has been writing features for the NWHL (nwhl.zone) website since 2016.