While star players like Steven Stamkos, Martin St. Louis and Vincent Lecavalier weigh out their options for the lockout,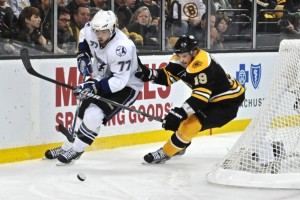 veteran forward Adam Hall and defenseman Victor Hedman have taken their game overseas to stay sharp for when the lockout is eventually lifted.
Stamkos, who had 60 goals in 2011-12, has been vocal in noting that he would give the NHL some time to work out negotiations before looking overseas for the 2012-13 season. St. Louis, who is 37 years old and isn't getting any younger, is particularly frustrated with the lockout. He is waiting out the lockout, but growing impatient, skating on his own and trying to stay in shape, hoping that the NHL and NHLPA can negotiate a new CBA agreement soon. Lecavalier has also expressed his frustration with the lockout. He's also noted that he isn't anxious to sign with a team in another league because he has a family now and it would be a more difficult decision than the one he had to make during the lockout in 2004.
Hall, who compiled 11 points in 57 games last season, is playing in Germany with the Ravensburg Towerstars. In two games played with the Towerstars, Hall has one goal for one point and an even rating.
Hedman has been impressive in the Kontinental Hockey League thus far. Hedman, who is playing with Astana Barys, has played in all eight games and has recorded six assists for six points. He also has a plus-six rating and has collected two penalty minutes.
After seeing the success of Hall and Hedman overseas and the quality of play over there, you couldn't help but wonder if this would influence the decisions of some of the Lightning's star players if the lockout withstands.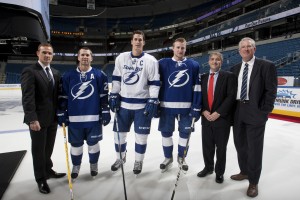 Although optimistic that the NHL will come to terms so they can start the season on November 2, I don't think it would be a bad idea for guys like Stamkos, St. Louis and Lecavalier to have something lined up just in case the lockout doesn't subside. With guys like Alexander Ovechkin, Zdeno Chara, Pavel Datsyuk, Ilya Kovalchuk, Evgeni Malkin and Pekka Rinne playing in the KHL, there definitely isn't a shortage of talent overseas, particularly in the KHL.
I'm as optimistic as the next hockey fan that the NHL will come to terms soon. However, if they don't, I wouldn't mind seeing players on the Lightning playing in the best league that is available. That way, there will be no question that they'll be at their best for the next time they can skate in the NHL again.
Let's hope it isn't next October.
Follow me on Twitter: @matt_metcalf