Analyses of Boston Bruins' prospect, Torey Krug inevitably begin with his stature. At 5'9, Krug must fight every day to prove his mettle while preparing for a league that simply doesn't have more than a handful of guys playing defense under 5'10.
Of course – height is just one piece of the puzzle. The breadth of his talent remains extremely impressive. Krug's puck-skills border on the elite. His vision and understanding of the pace of the game make him a dynamic weapon in-transition. Defensively, his reads are getting better by the day and he has the mobility to cover his man all over the D-zone. There are few holes in this blueliner's game.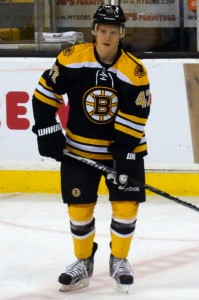 But there's an underrated element – his physicality. One doesn't anticipate a 5'9 speedy puck-moving defenseman to throw his body around, but one viewing of Krug is enough to prove otherwise.
In Friday night's matchup with Manchester, Krug consistently and fearlessly went to battle with opponents at or below the goal-line. Sure, his stick-checks and lane-defense appeared solid but his willingness to deliver hits deserved notice.
One sequence of events in the second perfectly illustrated his aggressiveness. After seeing Monarchs' forward Richard Clune knock the net over onto Svedberg (which he believed – at least at the time to be intentional), Krug engaged with bigger player and experienced fighter. While no gloves dropped, it was a definitive sign of the diminutive D-man's willingness.
"I went in," said Krug "…thought Clune knocked the net over on [Niklas Svedberg]. I went in – just to let him know I was there."
Krug asserts it's just part of his game: "Competing like the Bruins do has been my nature my whole life. I grew up with three brothers (fighting all the time) and it just comes natural to me, and when I'm doing that I'm playing on top of my game."
Of course, those efforts aren't without a price. Clune finished his checks on Krug throughout the rest of the match and hit him heavily and repeatedly. That failed to dissuade Krug, who remained diligent in his puck-retrievals and dedication to the body despite the target. To Krug, it's all part of the game – and he relishes the opportunity: "When guys are finishing their checks – when I'm finishing my checks – it keeps me in the game a little bit better."
In his first professional season Torey Krug hasn't looked at all out of place. Undoubtedly that stems from his appreciation for – and commitment to – the physical game.
Follow Bob Mand on Twitter at @HockeyMand