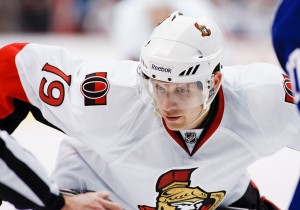 Jason Spezza was a much hyped junior sensation when the Ottawa Senators made him the 2nd overall pick in 2001 (Thanks Mike Milbury!). 11 years later and Jason Spezza has become a driving force for the Ottawa Senators and has overtaken team captain Daniel Alfredsson as the team's premier offensive catalyst. But things weren't always so smooth for Spezza he has definitely had his shares of ups and downs. Here are some of the defining moments of Jason Spezza's career:
3 Straight World Junior Disappointments
Jason Spezza was one of the rare Canadian Junior players to get to play in 3 World Junior Championships.  Spezza first made the junior team as a 16 year old an impressive accolade as only Wayne Gretzky and Eric Lindros had done it before him. Spezza played his first World Junior Championship posting a disappointing 2 assists in 7 games as Canada beat the United States to capture Bronze.  Spezza captured another bronze medal in 2001 but had a better showing with 6 points in 7 games and finally won silver after a heartbreaking loss to Russia in 2002 and posted just 4 assists in 7 games.
The 2004-05 NHL Lockout
Spezza was coming off an impressive 55 point campaign with the Senators in 2004 when the NHL shut down (sound familiar?) With one year left on his entry level contract Spezza took his talents to the Binghamton Senators of the AHL.  In Binghamton Spezza absolutely dominated and posted better than an assist a game rate and ended the season with 32 goals 85 assists for 117 points in 80 games, leading the league in scoring and winning the AHL MVP award. With new found confidence when the NHL resumed in 2005 Spezza took his game to the next level and posted 90 points in just 68 games finding chemistry with Dany Heatley.
The 2007 Playoffs
The 2006-07 season was the best by the Ottawa Senators to date, and Jason Spezza was a huge reason why. Once again dominating the regular season with 34 goals and 87 points in just 67 games, he took his game to the next level in the 2007 playoffs helping the Senators advance to the 2007 Stanley Cup finals with 20 points in 15 games.  In the Finals Spezza struggled and managed just 2 assists in 5 games as Ottawa lost the series and the championship 4-1 to Anaheim.
The 2010 Offseason
After posting 73 points in 82 games in 2008-09 and 57 points in 60 games in 2009-10 Senators fans were getting angry with Spezza's dip in production and continued bad defensive plays that he was regularly booed near the end of the 2009-10 season at home. In the 2010 offseason there were regular trade rumors that Spezza was on his way out and Spezza himself said he would not protest a trade from the Senators organization.
As we all know by now Jason Spezza did not ask for a trade out of Ottawa and this past season he was named a full time alternate captain of the Ottawa Senators and with the faith of his new coach Paul MacLean , Spezza flourished posting 84 points in 80 games his highest totals since 2008. Paul MacLean regularly leaned on Spezza when the team needed not only to score goals but also prevent them. Jason Spezza has come a long way from the junior sensation from Mississauga and Senators fans will remain happy as long as he calls Ottawa home.