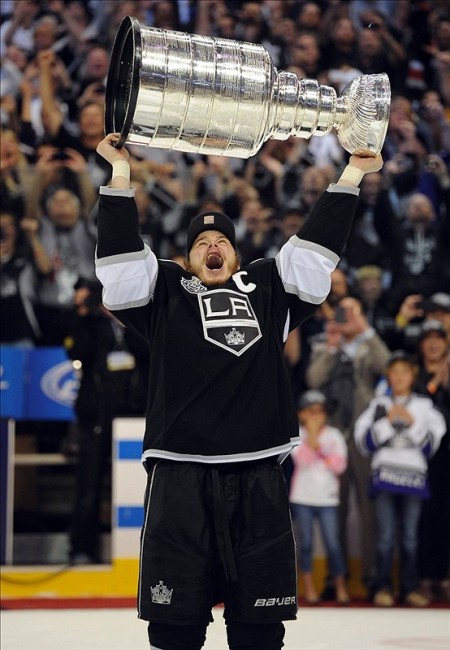 I've seen the Stanley Cup up close once in my life. I was twelve, and the Cup was visiting a local Sports Authority just outside Philadelphia. Wearing my Peter Forsberg "Who needs a spleen when you've got HART" t-shirt and my Colorado Avalanche cap, I stood in line with my mom for over an hour, yearning to finally see the silver chalice that my heroes had raised just a few years prior. It was the summer time, about two months until hockey was set to begin, and visions of Joe Sakic hoisting it once again swam in my mind.
Little did I know that there wouldn't be hockey that year. No Stanley Cup would be won.
I bring this up because for the past month, I had been planning on driving four hours to Ithaca, NY (where I attend Cornell University) to experience Dustin Brown's day with the cup. The native-Ithacan was quoted shortly after winning the Cup that he'd be taking his new friend to his hometown.
Unfortunately, I learned yesterday that the public event would only be from 9 AM to 12 PM and that there would be limited photo opportunities. Thus, even if I were to wake up at five in the morning and speed to Ithaca, I still might be too late to re-create my now-nine-year-old photo with the Cup. I'm certainly disappointed, and even a bit perturbed that there isn't an option to buy photo tickets in advance or something, but I understand that given the expected scope of the event, it's going to be hard to please everyone.
Still, I'm left wondering whether or not there this could be my last chance to see the Cup for quite some time. With labor negotiations ongoing, it has become somewhat likely that the NHL will not start on time this season. Does this mean that NHL fans should be ready for a repeat of the season-long 04-05 lockout?
Probably not. But you never know.
A little under two years ago, I saw Gary Bettman and Bill Daly participate in separate roundtable discussions at the Ivy Sports Symposium. Here's a brief recap of what Bettman said when the lockout topic was brought up.
Will there be another lockout?

Bettman: "I don't know"

Much of the early part of the discussion focused on Bettman, as he defended the NHL's decision to shut its doors in 2004-05.

Bettman: "If you're going to have a work stoppage, you better fix your problems"

Bettman mentioned that the NHL is the only business to close for an entire year and live to tell about it.

"If you have problems, you better address them because they're only going to get worse."
The NHL isn't even close to being in the same dismal stratosphere it was in seven years ago. The league has seen record revenues every year since the lockout, there is a huge TV deal freshly signed, and ratings continue to rise with each passing season. In other words, the NHL would be crazy to miss any amount of significant time in 2012.
And even if there is a short lockout, the most important thing is that the Stanley Cup is awarded. It's the greatest trophy in sports, not to mention the greatest celebration. Despite not being able to attend Dustin's day with the Cup, I can still imagine how special it will be for the Ithacans to see their hometown hero return to his roots.
A lockout won't be damaging. But a year without the Cup would be crippling.