Over the course of his career Shane Doan fell in love with the city of Phoenix as though it was his adopted home but now with several teams showing interest in the 36-year-old, he could be on the move.
Doan is not only perhaps the most famous player in Coyotes history, but also the only player left who relocated with the original Winnipeg Jets – before the Jets came back last spring – to Phoenix in 1996, just one year after he was drafted 7th overall.  Doan's stock has been on the rise in the past few weeks after some of the bigger names earned their money, causing teams like Detroit, Pittsburgh, and Philadelphia to reportedly send offer sheets his way.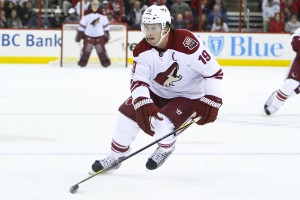 But for the Flyers, Doan could be exactly what the team needs.
Signing Doan at the right price would be much like the Jaromir Jagr experiment last season – an experiment that had moderate success, especially with team chemistry – except this time it could work out even better for Philadelphia.  Doan adds more than just his stats on the scoresheet.   In his 1198 career games, Doan has scored 318 goals and 788 points, but that simply doesn't tell the whole story.
Despite the fact that Doan was on some abysmal teams with the Coyotes, he offered something that can't be found in any boxscore – heart.  Once you've seen Doan play, there's no arguing that the guy is a competitor and will do just about anything to win, playing the game with plenty of emotion.
But it's not just his heart that makes him so appealing; it's also his veteran leadership.
Doan was the Coyotes' captain for eight seasons, battling through the lows while enjoying the recent highs – including the franchise's first-ever playoff series win.  Though he has only made two All-Star appearances, he's the kind of player that makes his linemates better.  He's an aggressive, physical, right winger who excels at forechecking and is capable of holding his own in battles along the boards.
If he joined the Flyers, he would join a team that was the 16th youngest last season and has only gotten younger this offseason with the departures of James van Riemsdyk and Matt Carle, plus the additions of Luke Schenn and potentially Shea Weber.
Doan could prove to be much more durable than Jagr too.  Over the last five seasons, Doan hasn't played less than 72 games – the amount Jagr played last season – which leads us to believe his body won't break down and that he can compete at the highest level for the entire season.
It has been reported that there is a four-year deal worth $30 million on the table for Doan, but it remains unclear from what team.  That amount might be a little too much for the Flyers' wallet, especially with how much money Weber will earn if – or when – the signing becomes official and it would certainly be a risk to sign him until he's 40-years-old.  One thing is for sure, Doan still has a couple of good seasons left in him, so he could certainly help any of the teams interested – especially in the spring months.
Ed is a die hard sports fan from Philadelphia who follows all of the city's local teams. He has written for a number of print and internet media sources and is a hockey junky. When he is not watching a game, he is spitting out useless trivia knowledge, or upholding his title as movie quote extraordinaire. You can follow Ed on Twitter @PhillyEdMiller.