Montreal Canadiens general manager Marc Bergevin announced earlier today the signing of his 2012 NHL Entry Draft first-round pick (3rd overall) Alex Galchenyuk to a three-year contract (2012-13 to 2014-15). Galchenyuk will make $925,000 next season plus performance bonuses if he manages to stick around the team instead of being sent back to his junior team.
In 2011-12, Galchenyuk, 18, missed the majority of the season due to a knee injury, playing only two regular season games with the OHL Sarnia Sting. The 6'1'', 195 lbs forward recorded four points in six games in the playoffs. In his first junior season in 2010-11, "Gally" ranked third in scoring with the Sting, with a total of 83 points (31 goals, 52 assists) in 68 regular season games.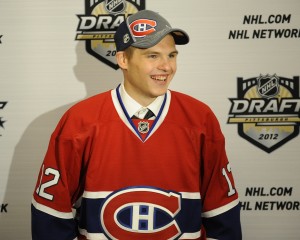 Born in Milwaukee, Wisconsin, Galchenyuk speaks perfect Russian, English and Italian fluently. Galchenyuk also lived in Switzerland for a year when he was 9 while his father, Alexander, played hockey. He learned French while he was there, though he said he has since lost his fluency. Still, the young superstar is planning on picking it up and has already addressed his fans in French on Twitter with the help of fellow Habs draftee Charles Hudon.
Galchenyuk even took the time to write in French to his fans on Twitter:
Landed in Montreal !! #commasava #savabein #HABS

— Alex Galchenyuk (@AGally94) June 27, 2012
The fans's newest idol will have every chance to make the team out of training camp in the fall. "He will decide where he plays next season," Bergevin said after the Canadiens drafted Galchenyuk third overall at the draft in Pittsburgh. However, since Galchenyuk only played eight games in 2011-12, he will most likely begin the season in Sarnia with the Sting, unless he has a tremendous training camp with the Habs. Another possibility would be for him to play his nine games with Montreal before being sent down to Sarnia, because if a prospect stays past nine games, he burns the first year of his newly signed entry-level contract, which is not a team wants.
Alex Galchenyuk at the draft.
Now, Habs GM Marc Bergevin will attend to the last matter at hand this week: the re-signing of RFA defenseman P.K. Subban, who will most likely sign a long-term contract extension with the team. Bergevin is scheduled to meet Subban's agent Don Meehan later this week.
Follow me on Twitter for more updates on the Canadiens and hockey in general and follow Alex at @AGally94.
A long-time Joe Sakic fan, Fred, 35, is a freelance sports writer and translator. Fred earned a Bachelor of Translation in 2002 at Laval University in Quebec City. He also writes on the Montreal Canadiens for HabsAddict.com and he is an associate editor and a baseball columnist on Dobberbaseball.com. He is also fluent in English, French and Spanish.