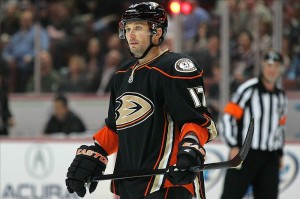 Remember a month back when Lubomir Visnovsky was first traded to the Islanders and he spoke about possibly leaving the Islanders to play in the KHL? He of course quickly backtracked to Newsday's Arthur Staple.
Just got off the phone w/ #Isles D Lubomir Visnovsky. Ready to come to camp and play. "This is my first choice, to play for the Islanders."

— Arthur Staple (@StapeAthletic) June 24, 2012
But now a full month after the trade went down Visnovsky is making is backtracking again. Multiple sources are reporting that Visnovsky has filed a grievance with the NHLPA looking to get the trade that sent him to the Islanders voided. His reasoning to get the trade voided? That a no-trade clause that was put in his original contract with the Edmonton Oilers is still valid since he did not exercise it when he was sent to the Anaheim Ducks.
To further add to the confusing nature of this situation was this quote from Visnovsky's agent to Arthur Staple:
"This isn't an issue with the Isles. It's a matter for the NHLPA/NHL to decide. He has a no-trade clause."

"It's not about Lubo saying he doesn't want to go to the Isles. He likes what they say. This is about establishing what's right."
So if we are to understand this correctly, its not that Visnovsky doesn't want to play for the Islanders, it's the principle of him being able to use a no trade clause that he didn't use the last time he got traded. He really wants to be on Long Island, except that he doesn't.
And as for what's right? That might have been bringing this up a month ago, not waiting until the draft and the majority of free agency has passed by to file a grievance. So now if in the nightmare scenario Visnovsky does get this trade voided the Islanders have to find a replacement from a weak group of free-agent leftovers headlined by Michal Rozsival and Pavel Kubina.
The Islanders have yet to say anything on the subject, but then again there really isn't much for them to say. It is another embarrassing off-ice event for a team that is getting very used to these occurrences. The Islanders are going to have to wait for this grievance process to play out and hope that at the end they still have the top-pair defenseman they traded for.
However, the chances that Visnovsky wins this grievance probably aren't great, so chances are this sideshow does nothing but confirm the belief of Islanders fans that nobody wants to play for their team. Hopefully once this is over Visnovsky can sit down with Evgeni Nabakov and hear about how the Islanders aren't the worst place to be.  Because even after all of the fighting that led to Nabokov coming to the Islanders he signed a contract extension to stay with the team.  So certainly there is hope for the Islanders-Visnovsky relationship as well.
Perhaps that will be the big take-away from all of this. The Islanders still have a long way to go to become an attractive destination to players. But when once you've been on the Island for a bit you realize things aren't that bad. Outside of the arena situation this is a pretty good area to be a professional athlete. The Islanders are literally a half an hour drive from New York City, a place that is on the top of nearly every athlete's wish list. Once that message gets out then maybe every player that gets traded to or otherwise acquired by the Islanders won't need to be dragged kicking and screaming.