Vlasic Praises Nieto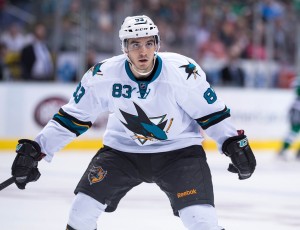 For the second game in a row, for the second win in a row, 21-year-old Sharks forward Matt Nieto found the back of an empty cage. This time it was a game winner with 11 seconds remaining as the Flyers had collided with their own goaltender after a breakaway rush by Patrick Marleau. Tommy Wingels followed up with a chance and then Nieto followed that up as goaltender Steve Mason had been knocked out of position. All Nieto had to do was put home the garbage for the 2-1 victory.
Despite a number of critics, Nieto has been stellar all season. Defenseman Marc-Edouard Vlasic, who also scored against the Flyers, was quick to praise the young forward after the game.
"Even though he hadn't scored in 22 games he's doing so many good things for us. He's one of our most consistent players" commented the Olympic defender. "Now he's scored two goals lately and he'll be heating up for sure."
Not only did Nieto tally the game winning goal, but he jumped up mid-way through the game to replace a shaken up Logan Couture. Couture, Tommy Wingels, and Patrick Marleau all helped facilitate Vlasic's goal that tied the game up at 1-1 in the second period. This trio was also defending the Claude Giroux line for majority of the game. While Sharks head coach Todd McLellan got away from that matchup with Couture unavailable, Nieto jumped up on the wing, Marleau slid into the middle, and the trio got an easier matchup. With the Thornton line taking over primary duties against Giroux and Jacob Voracek, Nieto, Marleau, and Wingels continued to get even more offensive looks at the net.
Needed Relief
Wingels was flying around all night, and on the game winner Nieto was strong enough to out-muscle his checker in the neutral zone as the puck popped out Marleau's way. Still one of the fastest players in the league, Marleau then burned the last Flyers defender to create those rebound opportunities.
Nieto is certainly relieved to be getting rewarded on the score-sheet."Last game I got an empty netter, it may not seem like much but it was huge confidence wise" commented Nieto after the win. "They come in bunches, I've been patient all year, just trying to stick to my game. The only way to get out of a [scoring funk] is to stay positive, everyone goes through it, that's hockey."
With guys like Raffi Torres, Tyler Kennedy, and James Sheppard suffering various injuries and Brent Burns on defense, the Sharks haven't had much speed on the forecheck this season. Nieto has been one of their only consistent speed threats in on the forecheck, creating turnovers and offensive zone time. It was nothing but bad luck that he only had six points through the first 24 games. Leading the team in corsi-for percentage essentially all year should equate to more points on the score-sheet. Thus far it hasn't happened but the last two games he has finally started to get some results to back up his terrific play.
The NHL game is getting faster and faster everyday, kids come into the league much better skaters than in past decades, and the Sharks are fortunate to have one of the best skaters in the league helping them create time and space on a regular basis.
Andrew has been credentialed to cover the Sharks since 2010 and the 49ers since 2012. He graduated with his BA in Broadcast Electronic Communication Arts in 2013 from San Francisco State University.