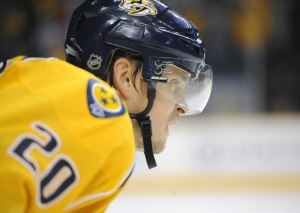 The Department of NHL Player Safety announced Nashville Predators defenseman Anton Volchenkov will be suspended four games for "an illegal check to the head" of Calgary Flames winger Michael Ferland in a 4-3 Flames win Friday night. Volchenkov will also forfeit $21,505.36, four games' worth of salary. That money will go to Players' Emergency Assistance Fund. The Flames announce prior to the suspension Sunday that Ferland suffered a concussion due to the hit.
Volchenkov has played in all 10 games this season, tallying two assists and a +2 rating.
Victor Bartley is expected to fill his spot in the lineup for the remainder of Nashville's road trip: Vancouver (Sunday), Winnipeg (Tuesday), Dallas (Thursday), and St. Louis (Saturday).
This is not the first time the native of Moscow, Russia has been suspended for a hit to the head. In 2011, Volchenkov was suspended three games for elbowing Zach Boychuk in the head. More recently in May 2013, he was suspended four games for elbowing Brad Marchand.
The Hit
With Volchenkov's aforementioned history with head shots, he is lucky it is just four games.
My initial thought of the hit was that Volchenkov deserved no more than a fine because it appeared as if Ferland ducked, but after seeing the full play (and not just the vine), it was clearly a dirty hit. His posture quickly turns from going for the puck to a forearm collision with Ferland's head.
As always, a great explanation from the NHL's Department of Player Safety.
Colin Fitts is a Nashville Predators staff writer and is a credentialed media member of the Chicago Wolves. From Nashville, Tennessee, Colin majors in journalism and public relations at Columbia College Chicago. Follow him on Twitter, @FittsTHW. Email: 22fitts [at] gmail [dot] com.