Last season, the Arizona Coyotes' offense was less than productive. In fact, inadequate was a more appropriate description.
In netting 209 goals during their 82-game slate, that averaged out to 2.54 per game and clearly not enough to qualify for the Stanley Cup playoffs. To elevate production, general manager John Chayka turned to a familiar face.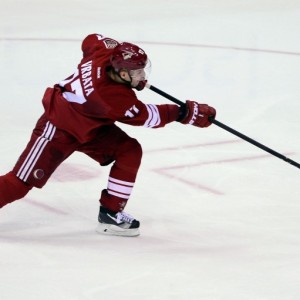 In signing veteran right wing Radim Vrbata in the off-season, the hope was that the offensive-minded native of Mlada Boleslav, Czech Republic could fill an important, scoring role. Coming into his third stint with the Coyotes, Vrbata brought a productive stick back to the desert, but also baggage.
Over his 14-year NHL career, Vrbata is known as a streaky player. Hot at times, and then disappearing for periods of time. Last season, the second year of a two-year deal with Vancouver, Vrbata hit rock-bottom. Scoring 13 goals in 63 games, that represented a significant decline from the 31 he pumped in a season before.
With his services no longer required in Vancouver, Vrbata reached out to the Coyotes and the reception was warm. Signing a one-year deal worth an estimated $1 million with incentive clauses, Vrbata came to training camp with a new attitude and familiar surroundings.
Starting strong in October, Vrbata picked up two goals in his first five games and added two assists in those contests. Since, his pace has been consistent.
Leading Scorer
Coming into the NHL All-Star break, Vrbata tops the Coyotes in scoring. The 22 assists in his first 47 games of the season easily surpassed the 14 helpers Vrbata accumulated all of last season.
From a personal standpoint, Vrbata tied a career high in points in a game with four against the Tampa Bay Lightning on Jan. 21. His linemates, center and fellow countryman Martin Hanzal and left wing Tobias Rieder picked up, as a line, 10 points in that victory over the Bolts.
For his part, Vrbata credits his resurgence on the Coyotes' ability to swiftly and intelligently move the puck. That's not always the case in each game, but when that happens, Vrbata is the beneficiary.
"When we move the puck well, we get chances," Vrbata told The Hockey News. "We need to keep it going and move fast. No, last year was not fun and it was tough to get up for each game. This team plays with purpose, and it's much different."
If Vrbata seems to be functioning on all cylinders, his linemates serve as incentive. Each of the three has a clear role, and together, Hanzal, Rieder and Vrbata have risen as the Coyotes' number one line.
"(Vrbata) is such a smart player, unselfish player, (Hanzal) is the grinder, and I try and use my speed," said Rieder after he scored the game-winner in overtime Monday night against the Florida Panthers. "We each have our job and when we do our job, good things tend to happen."
Coming into their final game before the All-Star break Thursday night at home against Vancouver, Vrbata has 11 goals but not likely to catch his career high of 35 tallies. That was set with the Coyotes during the 2011-12 season. Plus, Vrbata chipped in with another two goals in 16 Stanley Cup playoff games.
At this point, Vrbata appears on track for around a 25-goal season, and for the Coyotes, that number represents a welcome addition to their offense.