Predictions for the Washington Capitals' upcoming season are commonplace, and most of them revolve around the opening night lineup. However, the roster could look radically different this time next year. 10 players are in contract years, as three will be restricted free agents, while the other seven can test unrestricted free agency. Of course, some of these Capitals have more to prove than others. This article is the second of a three-part series (Part 1 here) and examines four players eligible for free agency and what they must do to earn extensions.
Joel Ward
Few players put up career-high numbers when they're 33, but Ward is part of that club. Known for his a solid two-way game, he most recently brought tremendous offensive upside to the table. Last season, he played a full 82-game season and was the Capitals' third-best scorer–both impressive feats, particularly for a player with the end of his career on the horizon. When the Capitals inked Ward to a four-year, $12 million deal, many believed he was overpaid as an aging third-liner. His 2013-14 campaign temporarily silenced critics but gave rise to a new concern: Can the numbers be repeated?
While it's nice to imagine that Ward will surpass expectations once again, reality has to come into play. Ward has one season left to prove that he's worth another contract–and the pay raise he'll be looking for. To achieve this, he needs to put up similar numbers (24G, 24A last season.) Possession isn't Ward's forte, so the emphasis here will be on racking up points. Doing so is a daunting task, given that an 18% shooting percentage isn't exactly sustainable and injuries are possible. However, he did play a full season for the first time in his NHL career. If Ward continues to defy age, he's poised to remain an impact player for the Capitals, who will be reluctant to re-sign another right wing.
How Trotz will juggle the Capitals' right wingers (Alex Ovechkin, Troy Brouwer, Eric Fehr, Tom Wilson, and Ward) is unknown. Wilson's ice time is projected to increase, which means he won't be shoved into an enforcer's role. It's hard to envision Brouwer playing on the third line, which means he could play on a theoretical top line with Ovechkin and Nicklas Backstrom (assuming Ovechkin lines up as a left wing.) Ward is too talented a player for fourth-line grinding work, and Trotz has expressed his desire to keep Ward and Chimera on the same line. Where does Ward fit? Who knows; there's always the possibility that he'll become part of the trade discussion.
Needless to say, there are a few hurdles in Ward's path to another contract with the Capitals. He'll have to overcome the disadvantages associated with his age, salary, and position. After two years of arguably failing to meet expectations, Ward far surpassed them in his last campaign–and in doing so, raised the bar even higher.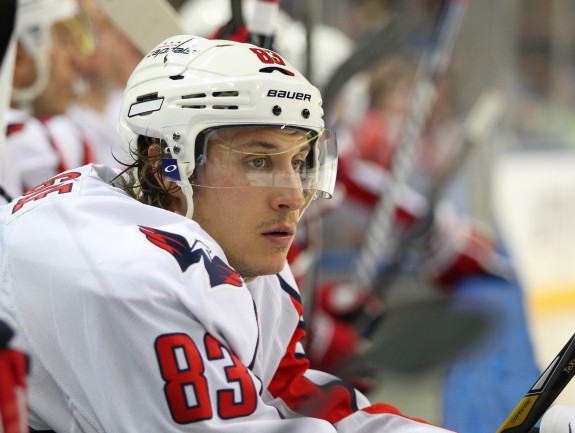 Jay Beagle
Offense is not a word associated with Beagle, whose career point total comes in at 27. He's better known as a grinding, defensive center, which is exactly the role he should play on the Capitals. For reasons unknown to mere mortals, Adam Oates infamously chose to play him as a top-line center near the end of last season. The results were far from stellar–linemate Ovechkin went a month without recording an even-strength point–and validated that Beagle is most efficient when deployed on the fourth line.
Unsurprisingly, Beagle excelled under Dale Hunter. Where he'll stack up under Trotz is anyone's guess, given his skill set. Beagle is a defensively responsible forward, the kind that kills penalties but lacks offense. He's the ultimate fourth-line center–and therefore replaceable. Enter Michael Latta, who signed a two-year deal in July. At 23, Latta lacks Beagle's experience but brings youth to an aging Capitals lineup. His offensive totals also look to be higher, and he's unafraid to drop the gloves.
With Latta locked up for the next two years, the odds of Beagle getting re-signed look slim. At this stage in his career, he won't blossom into a goal-scoring machine, nor an adept set-up man. If Beagle wants to remain in DC, he'll have to do what he does best: kill penalties, win faceoffs, and bring intangibles like grit to the Capitals' locker room. Trotz should give him the opportunity to do these things, but the pressure is on for Beagle. His penalty kill minutes dipped, as did the team's place among the league's best when shorthanded. The Capitals' PK finished 16th in the league, behind even the Edmonton Oilers. Beagle will have to reclaim his role as a critical part of the Capitals' PK unit. And given that NHL teams have started buying into advanced stats, upping his possession numbers wouldn't hurt–Latta trumps Beagle in this department as well, albeit in a small sample size.
Jack Hillen
Injuries severely limited Hillen's role with the Capitals, as he's played in 36 games over the past two seasons. While he's not exactly an impact player, the team's defense corps would have been better off with Hillen occupying one of the third-pairing slots. Assuming Hillen enters the upcoming season in good health, he'll be competing for limited ice time. The Capitals have six high-quality defenders ready (Alzner, Carlson, Green, Niskanen, Orlov, and Orpik), though Trotz might choose to dress a seventh defender.
That's where Hillen comes in. Injuries are inevitable, and he'll be counted on to fill holes in the lineup as needed. John Erskine looks to be Hillen's main competition, but Hillen's age (28) makes for better skating and durability. Big John turned 34 in June, and he too has been privy to injury. While the Hershey Bears have a handful of promising defensemen waiting in the wings, a veteran NHLer should have the best shot at ice time. Hillen's offensive contributions are minimal at best, but he can fill in on defense from time to time.
All signs point to Erskine not being re-signed, which could allow Hillen to stick around for another year or two. While injuries were by no means his fault, he'll first and foremost have to stay healthy to be in consideration for a contract renewal. How the Capitals will take into consideration his appalling possession stats is unknown, but improvement in that department never hurts. Truth is, the Capitals haven't seen enough of Hillen to make a fair decision on re-signing him. This season is pivotal for Hillen, whose attempt to crack one of the NHL's richest defense corps will be made tougher by the rise of prospects like Schmidt and Carrick.
Aaron Volpatti
When the Capitals first claimed Volpatti off waivers, most expected him to line up as a fourth-line winger. This was the case, and he also spent ample time in the press box to the surprise of no one. Last season, Volpatti played in a career-high 41 games and recorded two goals. Those two statistics were the only positive takeaways from his season, however. Volpatti got smoked whenever advanced stats were involved, and watching his play was often cringe-inducing. "Fringe player" is an apt description of Volpatti, who turned 29 in May.
However, Volpatti is a good fighter and isn't hesitant to throw around his six-foot frame. Size may not be his strongest point, but he definitely uses it effectively. Furthermore, he embodies grit, a quality often absent from the Capitals lineup. But how much are the Capitals willing to pay for intangibles? A lot, if you look at Brooks Orpik. But Volpatti will never deliver a comparable impact.
Volpatti's overall usefulness has been re-examined in light of the rumors surrounding Paul Bissonnette–specifically, that the Capitals are interested in signing him. Bissonnette is better known for his entertaining tweets than on-ice contributions, but his possession numbers are far more impressive than Volpatti's. Considering that neither player is poised to light up the team in scoring, their greatest contribution–besides fighting–should be driving play however possible.
Whether Bissonnette signs with the Capitals or not, Volpatti should strive to drive possession while retaining his fighting ability. If he clicks with his linemates and helps create plays or becomes difficult to play against, he deserves a good look from the Capitals come offseason.