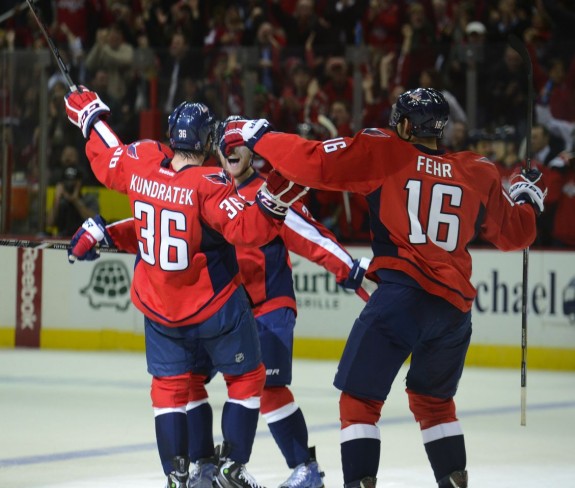 Predictions for the Washington Capitals' upcoming season are commonplace, and most of them revolve around the opening night lineup. However, the roster could look radically different this time next year. 10 players are in contract years, as three will be restricted free agents, while the other seven can test unrestricted free agency. Of course, some of these Capitals have more to prove than others. This article is the first of a three-part series and examines three players eligible for free agency and what they must do to earn extensions.
Marcus Johansson
While he's no Brooks Laich, Johansson brings versatility to the Capitals. He's capable of playing center, although his last two seasons have been spent as a left wing on the top line–and as the recipient of much criticism. Johansson has been dubbed a passenger, reaping the benefits of playing alongside Alex Ovechkin and Nicklas Backstrom and contributing little else.
From the advanced stats perspective, Johansson has never been a strong possession player (his career-best Corsi-for percentage is 49.9%.) This season, it came in at 48.3%. He also posted a career-low shooting percentage of 7.5%, which comes as no surprise. A reluctant shooter, Johansson rarely shot the puck and scored eight goals as a result. He quietly embraced the role of set-up man, however, and saw decent power-play time. His 36 assists were second-best among all Capitals and contributed to his point total (44), behind Ovechkin, Backstrom, and Joel Ward.
At this point in his career, Johansson has established his style of play. He's a skilled, speedy top-six forward who can rack up assists and play both wing and center. However, he has yet to firmly establish his role with the Capitals. Is he a top-line left wing? Is he a third-line center? With Johansson, it's hard to say. He's frequently criticized for not scoring enough goals, but his finesse would be wasted in a checking role.
At present, Johansson is in the running for second-line center. If he succeeds in this position, the Capitals will, without a doubt, rush to lock him up for another few years. Finding a long-term 2C has been an issue for multiple seasons, and remaining in-house wouldn't complicate the issue further. This is assuming, of course, that Johansson's play improves in the upcoming season. Should he fail to meet expectations or find a steady role with the Capitals, negotiations could get dicey.
Remember, too, that Johansson is one of the team's few left wings and an RFA. If he were a right wing, it's likely the Capitals would allow another team to extend a qualifying offer–barring a breakout season of sorts. Johansson's cap hit is $2 million, and he'll be looking for a raise. He can emphasize his value as a left wing, but with Andre Burakovsky set to join the Capitals this season or next, his role could be brought into question again. If Johansson signs with the Capitals again, it probably won't be for a long-term deal.
John Erskine
Last season was indicative of Erskine's abilities; specifically, how they were on the decline. Sure, Erskine brought a physical presence to the Capitals' blueline, but that need was addressed by signing Brooks Orpik. Erskine is now in the final year of his deal, and it's hard to picture him spending the season after in a Capitals uniform.
Erskine's slow skating has made him a liability. While a knee injury hampered last season's performance, he's 34 and won't be regaining any significant foot speed. Often shoved into a top-four role, Erskine frequently looked out of play and wasn't able to keep pace with the opposing team's forwards.
Erskine demonstrated some of his trademark physical play by racking up 56 penalty minutes (fourth-best on the team.) Given that Erskine played in only 37 games, that statistic becomes increasingly impressive. He also dropped the gloves twice–a task that was frequently relegated to Tom Wilson. However, Barry Trotz has emphasized diminishing Wilson's role as an enforcer and increasing his opportunities to develop into a power forward.
While this decision may appear to increase Erskine's value as a fighter, the Capitals have hard-nosed players who can step up if needed. Risking injury would be unwise for Erskine, who spent the end of the 2013-14 season in the press box. If he hopes to earn an extension, he'll have to maximize the little ice time he's likely to see. Both he and Jack Hillen are foreseeable press box regulars, considering how stacked the Capitals defense has become.
With a Corsi-for percentage of 45.7%, Erskine fails to impress even from a fancy stats perspective. The Capitals were a weak possession team, but that number is a standout–and not in a good way. Erskine has never been an offensive defenseman, so declining production is a non-issue.
But given the Capitals' blueline depth, signing him to an extension would be a mistake. They have a number of high-quality defenders, and the majority of their defensive core is young. There are a number of promising prospects in Hershey, and it's clear that Erskine has entered the twilight of his career. Brooks Orpik is a higher-quality defenseman and brings the same kind of physicality, although the two are similar in age (Orpik is 33.) Clearing Erskine's $1.9 million cap hit will free up space, which could be used to sign a second-line center or even re-sign Mike Green.
Eric Fehr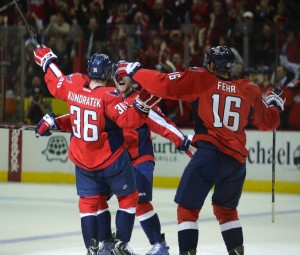 Fehr's 2013-14 performance was lauded for a number of reasons, namely his success as a member of the stellar third line. While his most notable contribution–centering Ward and Jason Chimera–didn't come until later in the season, Fehr frequently stepped up in unnoticed ways despite getting off to a slow start. He did struggle with transitioning from his natural right wing to center, particularly in faceoffs. Yet his 49.0% Corsi-for was among the Capitals' best, he provided offense (31 points), and he played a mix of even-strength, shorthanded, and power-play minutes.
Since his return to the Capitals, Fehr has arguably undergone a renaissance of sorts. Once plagued by injuries, he played in a career-high 73 games this season. He was nine points shy of matching his career-high in points (again, remember his November press box demotion.) Fehr has come to be a versatile role player for the Capitals, stepping up to fill in wherever needed.
Fehr should excel under Trotz, given the new coach's mentality and interest in playing Fehr at his natural position. Trotz has clarified that he doesn't subscribe to a particular coaching style; rather, he prefers to maximize the talent he already has. This approach should serve Fehr well, as he won't be boxed into a specific style of play. Considering the Capitals' offensive and defensive talent, Fehr can utilize his two-way game, whether he's counted on to notch points or take difficult starts in his own zone.
If Fehr's upward swing continues, it's likely the Capitals will re-sign him. His injuries are presumably a thing of the past; he can contribute as a member of any and all four lines; he has defensive skill to match offensive ability. His cap 2014-15 cap hit comes in at an affordable $1.5 million. Fehr's performance in past seasons merits a pay raise, but the Capitals should be able to meet a reasonable request.
Margaret covers the Washington Capitals for The Hockey Writers. She previously wrote for FanSided and has contributed to IAAM high school sports coverage. Contact her via Twitter or email at margaretstuart16@gmail.com.